RESERVE ONLINE IN MINUTES
RESERVE ONLINE IN MINUTES
Save 50% see how
No Truck Needed see why
No Heavy Lifting we can help load or move
200+ 5-STAR
REVIEWS
A+ BBB
RATING
LOWEST PRICE
GUARANTEE
Box-n-Go Storage & Moving - as Easy as 1-2-3
1
We Deliver
2
We Pick Up
3
We Store or Move
Store on your driveway or inside our secure facility. Load/unload only once. Ground level access.
I want to:
Are you a student?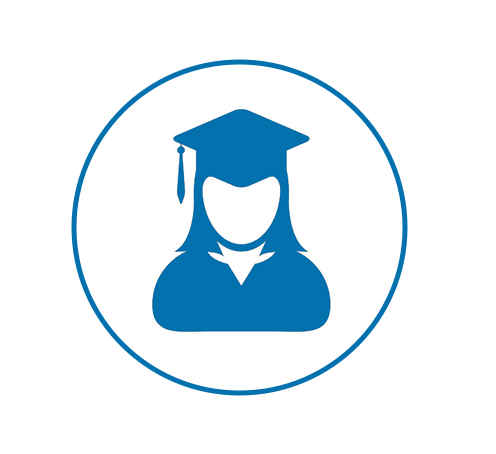 Available Sizes
Box-n-Go - XXL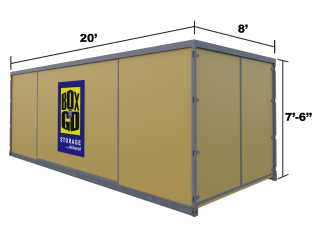 20' Container – all weather.
Perfect for 3-bedroom residence.
5-7 rooms, furniture, appliances, etc.
Learn More
Box-n-Go - XL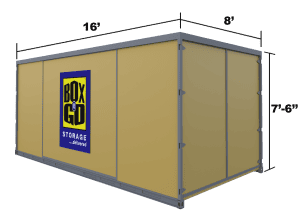 16' Container – all weather.
Perfect for 2-bedroom residence.
3-5 rooms, furniture, appliances, etc.
Learn More
Box-n-Go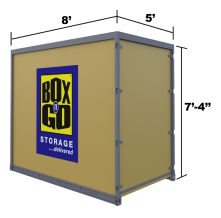 8' Container – all weather.
Modular – works for any need.
Each fits 1-1.5 rooms.
Learn More
I want to:
Are you a student?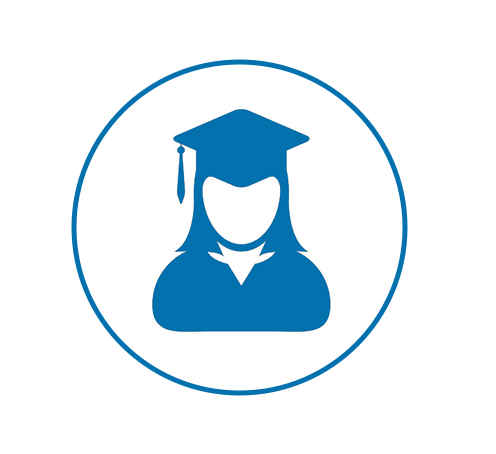 See How Our Services Can Work for You
I want to:
Are you a student?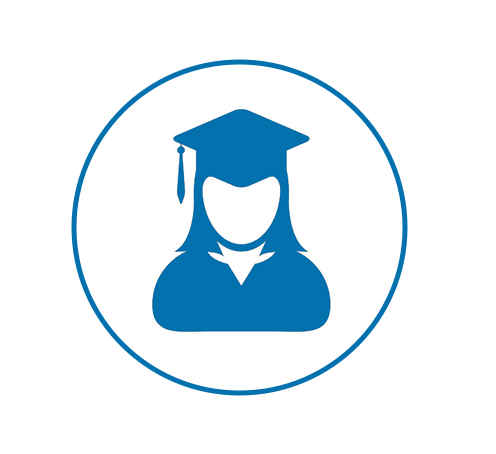 Our Services
Personal & Business Storage
Student Storage
Local & Nationwide Moving
Packing & Loading Help
Moving Boxes & Supplies
Do not see what you are looking for?
What Our Customers Think
I want to:
Are you a student?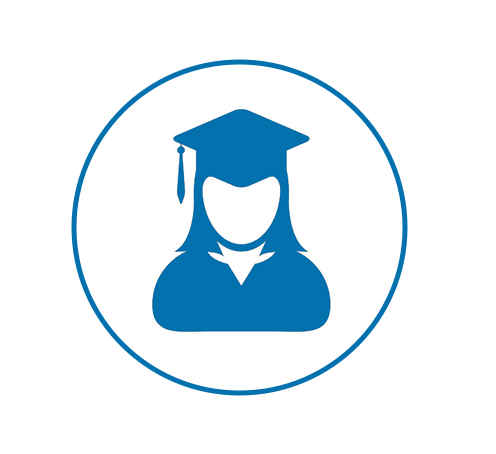 Why Box-n-Go? Here is Our Promise:
We are dedicated to deliver the best solution for almost any storage & moving need, with no gimmicks or hidden costs:
No truck to rent. We deliver storage to you!
Load/Unload only once.
Pay only for space you use.
Secure, climate-friendly facility.
Drive-up access
No Truck to rent…EVER!
Save money and time.
Reduce the risk of accidents and injuries.
No need to pay for gas, insurance & mileage!
Load ONCE Storage Solution!
You only need to load your belongings once!
No need to load and unload it all again into a storage unit.
All containers come with easy ground level access!
Pay Only for the Space You Use!


(if storing at our facility)
No not need to guess on how much space you actually need.
Order an extra 8' x 5' unit. Do not use it – do not pay for it.
Secure, Climate-Friendly Facility!
Highest degree of security and protection.
Our 8' x 5' units are breatheable – no mold or mildew.
No funky smell when your belongings return.
EASY Drive-Up Access!


(if storing at our facility)
Access your units at ground level.
No elevators, ramps, stairs to climb.
Schedule access appointment & drive straight to your units.
I want to:
Are you a student?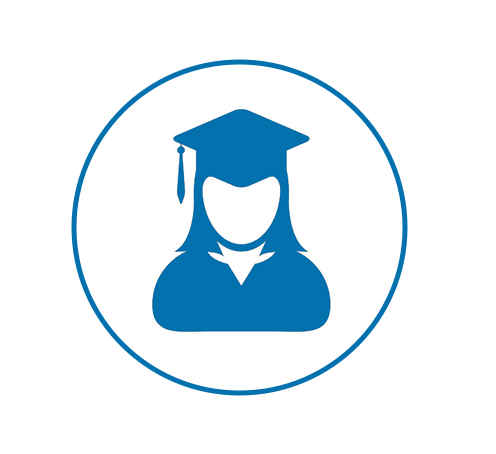 Compare Us to Companies Like PODS® Storage
Why choose Box-n-Go over PODS or similar companies:
PODS & Similar Containers
Large 8′ – 16′ units.
More expensive.
15' High 12′ Wide
Clerance Required
Can't deliver on steep incline
or narrow streets.
No rent proration or
term discounts.
National companies with
remote offices
Box-n-Go Advantages (See for yourself)
Pay only for the space you use.
Cost effective – as low as $59/mo.
Placement closer to your home.
Only 8.5′ x 8.5′ clearance required.
More convenient.
Box-n-Go can deliver almost anywhere.
Savings options.
Low monthly rate or a term discount
Personal service.
Locally owned and operated since 2006.
200+ 5-STAR
REVIEWS
A+ BBB
RATING
LOWEST PRICE
GUARANTEE
When it comes to self-storage, Box-n-Go Storage units and other companies like pods (PODS®) offer a tremendous flexibility and convenience for storage and moving. There are many companies offering portable storage. Of course among the companies like pods, PODS® is one of the industry pioneers and is the original. If you are looking for PODS® and services like Pods you can visit their site by clicking on this link. Box-n-Go Storage is not associated, sponsored or affiliated with PODS® Enterprises, Inc. PODS® is a registered trademark of PODS® Enterprises, Inc. In both cases, with Box-n-Go and self storage Pods (PODS®) or similar services companies, we deliver a storage container to you. In some cases several. You can pack on your own pace. There is no need to rent a truck and handle the belongings multiple times. However, when you search for self storage pods near me and like companies, consider the size of container you will need.
Yes, you read that right – we understand that the needs of one customer can differ from the need of another. Hence, we provide different self storage pods (if you want to call them that) solutions or services like pods to the customers. They accommodate about 1½ rooms of furniture and belongings. Companies like PODS® employ a much larger container. It's important to understand how these size and other differences can affect your storage experience. So, if you search storage pods near me, make sure you only choose us.
Why are We the Best Among Companies like Self Storage Pods Near Me(PODS®) and other Services Like Pods?
In order to better assist you in your decision, we have prepared the table below that summarizes the differences between Box-n-Go and companies like Self Storage Pods (PODS®) as well as offers you a quick glance at the advantages offered by Box-n-Go storage units and other services like Pods.
Please see for yourself how we stack up against PODS® and companies like them:
Notes:
When you compare us to companies like Pods (PODS®) you will find we Box-n-Go services offer competitive price compared to those of PODS®. Box-n-Go offers a scalable storage solution; order as many delivered as you want; pay only for the ones you use! We are the best when it comes to services like pods.
In most cases Box-n-Go is able to deliver an empty unit to you same day or the next. If you need several units – no problem. We can deliver! Its a different case with companies like a PODS®
Unlike companies like PODS® you can easily place Box-n-Go Storage near your house. It can be located about anywhere from the driveway to the backyard. Box-n-Go storage pods only take up a parking space which makes it easy to find a suitable location for them to make the packing easy and save you time! Companies like PODS® and others specialize in large size storage containers services. They have a special delivery system which don't deliver to places close to the house. With a large container storage concept (such as PODS® or Mobile MINI or 1800PackRat) the size and delivery methods for such a container prohibit the delivery and placement conveniently near your home or on sloped surfaces. Why take so much of risk when Box-n-Go is here?
We offer right size containers to meet your individual needs. Making it perfect for the urban neighborhoods condominium and apartment complexes and any place where parking is at a premium. Even the smallest container in the services like PODS® is too large for the individual needs. The large sized PODS® container will require more than one parking spot which may translate into an inconvenient placement further away from your apartment complex as well as unhappy neighbors. Now who wants that much of a headache? We take pride in saying that with Box-n-Go you can avoid all these kinds of problems! Just give us a call and we will provide you with the solutions depending on the number of belongings you need to store the type of items you need to store etc.
Unlike other companies like PODS® our large trucks can deliver up to 4 storage units at any one time without any extra cost to you. You can order as many storage units delivered to you as you wish and pay only for what you actually use. With PODS® you can only take delivery of one container at a time. So if you need more storage space you will have to be around to accept additional container deliveries as well as to pay the additional delivery fee. Thus Box-n-Go is the name to rely on when it comes to browsing for storage pods near me.
With our storage unit size you can utilize the storage space more efficiently. You will only pay for the units you end up using and will not have to pay for the extra space that you did not fill up with your belongings. Even the smallest PODS® are 40% bigger than our units. With services like Pods (PODS®) you will be paying for the entire storage unit whether you pack all of it or not. This could mean that you are paying for the space you are not using!
When searching for storage pods near me please consider that our storage units are sized 8'x5'x7' tall. Each is designed to accommodate about 1½ room of furniture and belongings. This makes it is very easy to separate and pack the items you are planning on storing. For example, you can separate your good high value and delicate furniture from smelly and dirty garden tools barbecue grills bicycles etc. Also, many people like to keep their belongings separate for one or two rooms to make loading or unloading into a new home easier.
A smaller storage unit makes it easier to logically sort through and separate your items while packing. So, when using our storage units you can quickly and easily find any particular item you have stored. The same task is much more difficult and time consuming finding an individual item when everything is packed in a much larger self storage pods near me PODS®-type "all in one" mobile storage container. You no longer need to empty the entire large storage unit (like PODS® or other large units) to find an item packed all the way in the back. Isn't that really convenient for you? And yes, if you are thinking about the accessibility then let me tell you that they are really accessible to you. Just book an appointment with us and we are here for you.
Smaller size storage units compared to other companies like pods are usually packed tighter. This will help to avoid damage from shifting while in transit. Large containers such as self storage PODS® and services like pods make it very difficult to load properly. They often require hold down straps to be installed inside. This will help them to prevent the items from shifting so that the container be partially filled. Unless the unit is properly packed the items may and will shift in transit resulting in damage to your belongings. So do not think anymore and contact Box-n-Go the one-stop solution to all your storage requirements.