RESERVE ONLINE IN MINUTES
RESERVE ONLINE IN MINUTES
Save 50% see how
No Truck Needed see why
No Heavy Lifting we can help load or move
200+ 5-STAR
REVIEWS
A+ BBB
RATING
LOWEST PRICE
GUARANTEE
Box-n-Go Storage & Moving - as Easy as 1-2-3
1
We Deliver
2
We Pick Up
3
We Store or Move
Store on your driveway or inside our secure facility. Load/unload only once. Ground level access.
I want to:
Are you a student?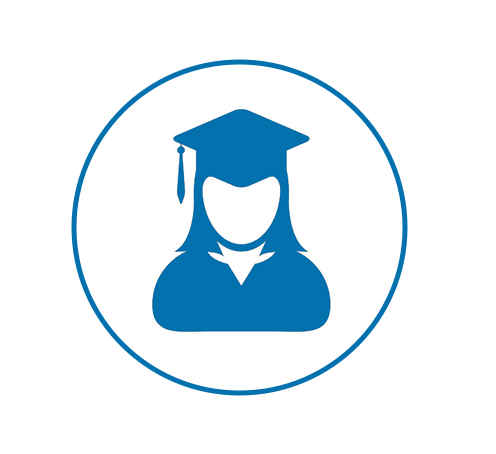 Available Sizes
Box-n-Go - XXL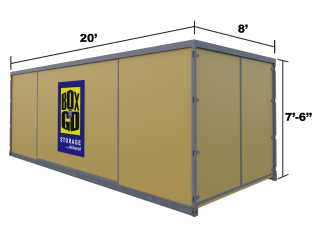 20' Container – all weather.
Perfect for 3-bedroom residence.
5-7 rooms, furniture, appliances, etc.
Learn More
Box-n-Go - XL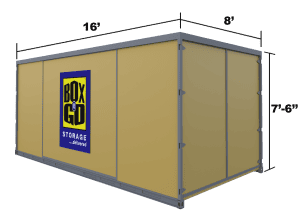 16' Container – all weather.
Perfect for 2-bedroom residence.
3-5 rooms, furniture, appliances, etc.
Learn More
Box-n-Go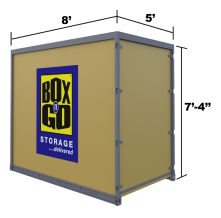 8' Container – all weather.
Modular – works for any need.
Each fits 1-1.5 rooms.
Learn More
I want to:
Are you a student?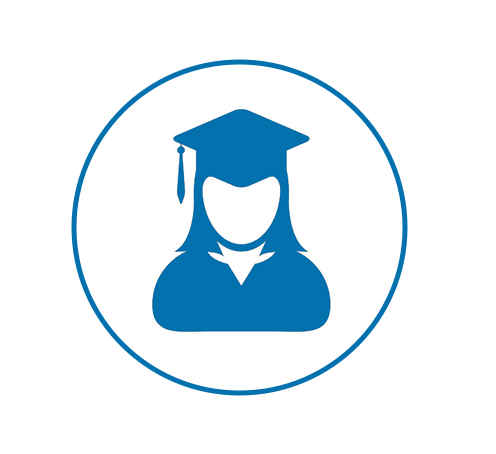 See How Our Services Can Work for You
Call or order online in minutes
We deliver storage to you
Pack at home, at your convinience
Store on your property or at indoor facility
Move locally or nationwide
I want to:
Are you a student?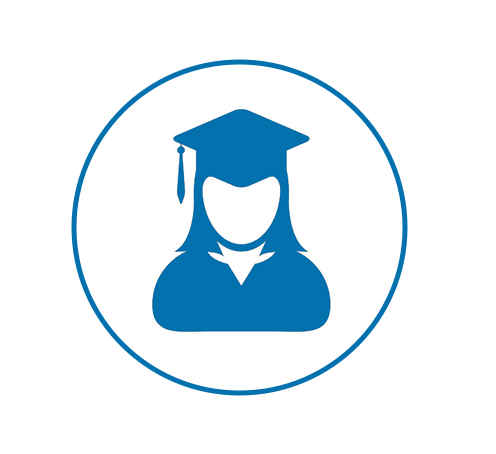 Our Services
Personal & Business Storage
Student Storage
Local & Nationwide Moving
Packing & Loading Help
Moving Boxes & Supplies
Do not see what you are looking for?
What Our Customers Think
I want to:
Are you a student?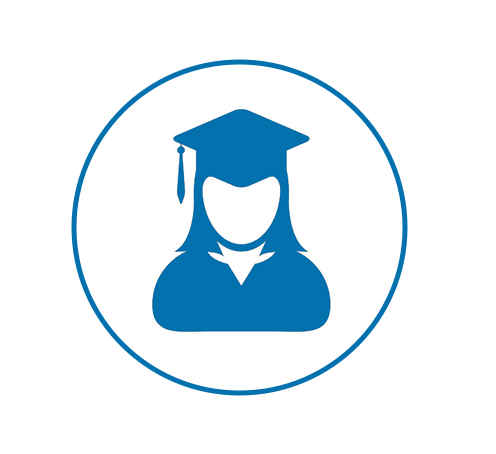 Why Box-n-Go? Here is Our Promise:
We are dedicated to deliver the best solution for almost any storage & moving need, with no gimmicks or hidden costs:
No truck to rent. We deliver storage to you!
Load/Unload only once.
Pay only for space you use.
Secure, climate-friendly facility.
Drive-up access
No Truck to rent…EVER!
Save money and time.
Reduce the risk of accidents and injuries.
No need to pay for gas, insurance & mileage!
Load ONCE Storage Solution!
You only need to load your belongings once!
No need to load and unload it all again into a storage unit.
All containers come with easy ground level access!
Pay Only for the Space You Use!


(if storing at our facility)
No not need to guess on how much space you actually need.
Order an extra 8' x 5' unit. Do not use it – do not pay for it.
Secure, Climate-Friendly Facility!
Highest degree of security and protection.
Our 8' x 5' units are breatheable – no mold or mildew.
No funky smell when your belongings return.
EASY Drive-Up Access!


(if storing at our facility)
Access your units at ground level.
No elevators, ramps, stairs to climb.
Schedule access appointment & drive straight to your units.
I want to:
Are you a student?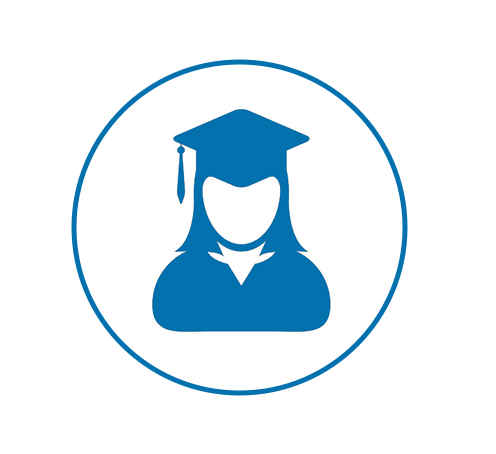 Self-Storage Units in the La Crescenta, CA Area
Going through a divorce is never easy. Even if you parted with your ex-spouse on good terms, your life is turned upside down. You may not be able to see your kids as often, you have lost the person who was your life partner and you probably have to move. In such a situation, you need to move from one home to another. And in this quest, you can only trust a reputed storage La Crescenta to store your belongings. An impending divorce usually means having to move items to another residence. But most people who split with their spouse end up getting a much smaller place. You may not be able to fit all your items in a one-bedroom apartment. That is why you are considering La Crescenta storage facilities. The problem is that all storage facilities does not offer the best amenities and value. Here are three common mistakes people make when they are getting divorced and choosing between storage units.
1. Choosing the Cheapest Option
When you consider La Crescenta storage, do not look at the lowest priced options and think you have found a great deal. There is a reason these storage units have knockdown prices – they are cutting corners. The facility will be old and unclean, the security is minimal, and you will have very limited access to your items. It is always best to assess a storage on its overall package. How much value are you getting? That matters a lot more than the monthly price that you see attached to each option.
2. Prioritizing Cost over Convenience
Convenience matters a great deal when picking between La Crescenta storage options. Yes, some storage unit has low price and decent facilities. But what about the convenience factor? You are getting divorced and you already have so much on your plate. Now you must rent a U-Haul, load up all your items from the house within a couple hours, drive that truck to a storage facility many miles away and then load everything into your storage space. That sounds exhausting. Is it worth saving a few dollars each month?
3. Thinking About the Short-Term
When picking between storage, think about more than the coming days. Yes, you may think that choosing a cheap place is the best way to get your items out now. But then you are stuck with a storage facility that is not offering you all the amenities and convenience that you want. It is much better to patiently go through all the options until you find the one that meets your needs. One options for divorced individuals is mobile storage. By hiring a mobile storage company such as Box-n-Go, you get so much more for your money. Say you are moving out of your house. Box-n-Go would send a storage container to your doorstep. Now you can fill up that container in the coming week, whenever you have free time. When the container is full, you can have the company pick it up and send it to your new address. Or you can have them store the container at a nearby facility, which is secure, easily accessible and offers premium features like ground level access. When the need comes for self storage La Crescenta you have an ideal solution using the services of
Box-n-Go Storage. 
If you no longer have an immediate requirement for keeping furniture in your home, storing it  is an excellent way to keep it secure and safe.  It is also an ideal solution when moving to a smaller home, needing extra room or preparing your home for sale. Typically, with a traditional storage, you will have to:
Pack and box up all your items.
Load your packed belongings into a truck or van.
Drive to the storage facility.
Unload your possessions.
Repack them into a self storage unit.
How safe is La Crescenta storage?
If you live in La Crescenta, you probably have a home security system to protect your home and belongings from theft and vandalism. However, some people are still skeptical about leaving their valuables at their home. They feel that thieves have become more clever and have ways to manipulate home security systems. Therefore they opt to put their prized possessions in storage in La Crescenta. With a state of the art security system, and around the clock surveillance,  storage in La Crescenta provides residents with a peace of mind.  They feel more comfortable knowing that their items are:
Safe
Secure
Free from vandalism and theft
Protected from debris and damage
And much more
While it's not ideal for many people to place their items in storage 91214, it's becoming a normal thing to do.  The residents don't have to worry about an intruder in their home, and they can go to the storage and retrieve their items at any time.
Convenience of storage La Crescenta
Although cost is one of the main factors in renting storage La Crescenta, residents do have to consider other features and benefits when considering a deal from a local storage facility. There are other points that can either improve or reduce the benefits in using a storage facility.
Choose a storage La Crescenta site that is accessible to you. This is very important if you need to gain access to goods in the storage unit frequently.
If you will need to access your storage unit after business hours, look for storage facilities that give you 24 hours a day, 7 days a week access to your unit.
Ask about the security measures installed in the facility and in each storage unit.
Many facilities have security cameras, a dedicated gate and code for each unit, and alarms.
It is vital that your unit has walls and a ceiling that conceal your items.
Lastly, inquire about special services that can add convenience to using the facility. Some facilities offer online bill payment and can receive deliveries for you.
There are also some that include free use of their moving trucks. One service that covers these factors and adds many benefits is the services of
Box-n-Go Storage.
  They will deliver mobile units for storage La Crescenta to any address.  These containers provide an ideal way to store by allowing you to place your belongings in the container in your own time.
Storage La Crescenta offering more than safety
While many people place their items in La Crescenta storage for safety reasons, the storage in the 91214 area offers so much more. In addition to having a secured security system, you can also expect the following when you place your belongings in  storage:
Ground level access at no cost to you
Quick and easy ground level access to your items, however by advance appointment
Pick-up and delivery of your packed storage units in the 91214 zip code and surrounding areas
Portable storage units that prevent mold and mildew
Affordable monthly rent
College student discounts
Free (limited ) coverage protection plans
If you are searching for storage La Crescenta, search no further. You came to the right place. 
Box-n- Go storage
can provide you with all your moving and storage needs today! When starting a family the addition of a baby turns their whole world upside down! With La Crescenta Storage service from
Box-n-Go Storage
 is all you need. One of the key decisions is where to establish a nursery to become the child's future bedroom. One option is to free up a room in your home for the nursery by using La Crescenta storage. Residents can use the services offered by
Box-n-Go Storage
.  They will deliver a mobile unit anywhere for self storage. Using La Crescenta storage, families can then use the storage container as an ideal way to make room for a nursery by allowing you to place your belongings in the container in your own time. When you are an expectant couple all your time is precious!
Compare Box-n-Go to Other Self Storage Options
When it comes to self storage, you have many options. While Box-n-Go offers the ultimate self storage convenience, do not just take our word for it. Drive around. Check out the below local facilities, which also offer exceptional services:
US Storage La Crescenta – 4454 Lowell Ave, La Crescenta, CA 91214
Public Storage La Crescenta –

 

6400 Foothill Blvd

CV Mini Storage La Crescenta – 4441 Cloud Ave, La Crescenta, CA 91214
US Storage Centers La Crescenta Montrose – 3708 Clifton Pl, Montrose, CA 91020
US Storage Centers La Crescenta – 6400 Foothill Blvd
Call Box-n-Go storage and reserve your space today!
When it comes to protecting your items, you can't go wrong by placing them in a safe and secure  La Crescenta storage unit.  Whether you have collector's items, antique furniture, electronics, instruments and more, you can have a peace of mind knowing they are safe and sound in our La crescent storage warehouse. Call
Box-n-Go
storage and discover why so many residents prefer to place their items in our storage, just a short drive away from the La Crescenta. Box-n-Go provides self-storage units to the following zip codes in La Crescenta, CA: 91020, 91214. Find a La Crescenta portable storage unit near you! Box-n-Go services many cities and neighborhoods around you, including:
Lake View Terrace, CA
,
La Canada Flinttridge, CA
,
Sunland, CA
,
Tujunga,CA
,
Montrose, CA
, as well as many other places around
Los Angeles, CA
and
Orange County, CA
.