RESERVE ONLINE IN MINUTES
RESERVE ONLINE IN MINUTES
Save 50% see how
No Truck Needed see why
No Heavy Lifting we can help load or move
200+ 5-STAR
REVIEWS
A+ BBB
RATING
LOWEST PRICE
GUARANTEE
Box-n-Go Storage & Moving - as Easy as 1-2-3
1
We Deliver
2
We Pick Up
3
We Store or Move
Store on your driveway or inside our secure facility. Load/unload only once. Ground level access.
I want to:
Are you a student?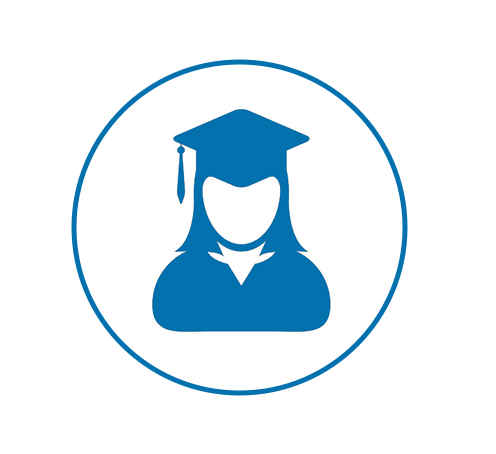 Available Sizes
Box-n-Go - XXL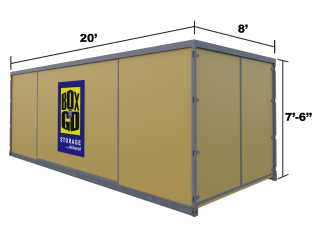 20' Container – all weather.
Perfect for 3-bedroom residence.
5-7 rooms, furniture, appliances, etc.
Learn More
Box-n-Go - XL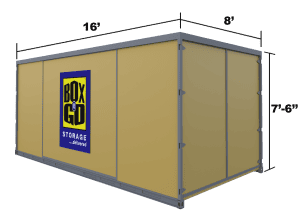 16' Container – all weather.
Perfect for 2-bedroom residence.
3-5 rooms, furniture, appliances, etc.
Learn More
Box-n-Go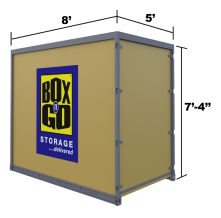 8' Container – all weather.
Modular – works for any need.
Each fits 1-1.5 rooms.
Learn More
I want to:
Are you a student?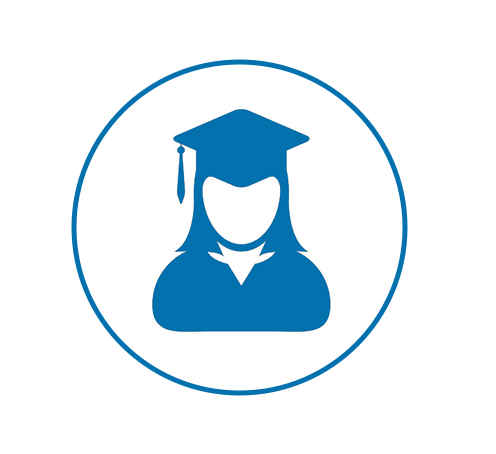 See How Our Services Can Work for You
I want to:
Are you a student?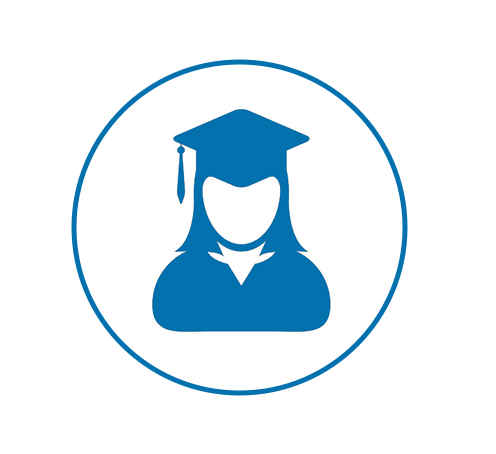 Our Services
Personal & Business Storage
Student Storage
Local & Nationwide Moving
Packing & Loading Help
Moving Boxes & Supplies
Do not see what you are looking for?
What Our Customers Think
I want to:
Are you a student?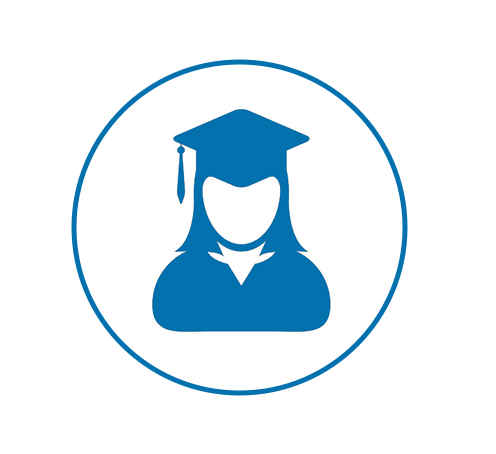 Why Box-n-Go? Here is Our Promise:
We are dedicated to deliver the best solution for almost any storage & moving need, with no gimmicks or hidden costs:
No truck to rent. We deliver storage to you!
Load/Unload only once.
Pay only for space you use.
Secure, climate-friendly facility.
Drive-up access
No Truck to rent…EVER!
Save money and time.
Reduce the risk of accidents and injuries.
No need to pay for gas, insurance & mileage!
Load ONCE Storage Solution!
You only need to load your belongings once!
No need to load and unload it all again into a storage unit.
All containers come with easy ground level access!
Pay Only for the Space You Use!


(if storing at our facility)
No not need to guess on how much space you actually need.
Order an extra 8' x 5' unit. Do not use it – do not pay for it.
Secure, Climate-Friendly Facility!
Highest degree of security and protection.
Our 8' x 5' units are breatheable – no mold or mildew.
No funky smell when your belongings return.
EASY Drive-Up Access!


(if storing at our facility)
Access your units at ground level.
No elevators, ramps, stairs to climb.
Schedule access appointment & drive straight to your units.
I want to:
Are you a student?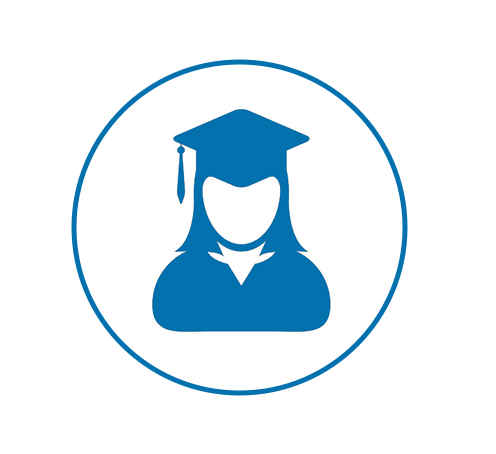 Self Storage Units Winnetka, CA 91306
Searching for storage facilities in Winnetka, CA? Why let an opportunity to save time, effort, and money go by the wayside? You can call the friendly, courteous staff at Box-n-Go. Moving to a new place is supposed to be exciting. You get to start a new chapter of your life in a new and unexplored setting. What's not to love about that? However, if you are not careful, a lot could go wrong during this move. Learn how a top-quality local self-storage facility like Box-n-Go's can help.
Here are three common myths most people have about storage units:
Myth #1: "I have to rent a moving truck to move my stuff"
We're all familiar with the hassle of moving from one home to another. We have to call and beg our friends and family to help us move.
Rent a truck
to carry our valuable items. Do it all in one day because the patience of our friends can evaporate and the fees involved in renting that truck can get expensive. At Box-n-Go in Winnetka, you can call our storage facility staff and they will send you the storage containers you need right to your driveway. Now you can load up the storage units at your own pace. Meaning you need fewer friends and family to come by and help. Furthermore, when your containers are filled, our truck will come by and pick them up, then take them to our climate-friendly storage facility for safekeeping until you are ready to move into your new home. Think about it, you don't have to rent a truck and drive it across town or the country anymore.
Myth #2: "Self-storage facilities can't help me sell my home"
Actually, a good storage locker serving the Winnetka area, like Box-n-Go's, can help you improve your chances of selling your home. Most real estate agents will tell you that a house filled with items is harder to sell. Since buyers want to see homes that are nearly empty so they can project what they want in the home. By using Box-n-Go's Winnetka storage facility for your extra items, you declutter your home and improve your chances of selling.
Myth #3: "My storage center only has so much space for my items"
Really? With Box-n-Go's mobile storage units in Winnetka, you can use as many containers as it takes to store your items safely at our centrally located, secure self-storage facility. Why limit yourself to one while cramming the rest of your stuff in the attic or basement when you can free up all that space by using two, three, or more of our solid storage containers? We are here to help you with your storage needs.
Search for Box in Go storage units in Winnetka, CA and discover the difference!
Once you are ready to move in, just give us a call and we'll deliver your storage containers straight to your new driveway so you can unload them at your own pace as well. Moving is never simpler than when you have Box-n-Go storage units near Winnetka to help.
Discover how self-storage facilities can help you avoid common moving and storage woes, such as:
This is one of the most common complaints from homeowners during a move. It can be very frustrating, especially if you lose something that was of economic or sentimental value. More often than not, the items either get forgotten at the old address or lost in transit. In some cases, haphazard packing will have you thinking you lost an item when what really happened is that you just packed it in the wrong box. Wouldn't it be great if you could find a Winnetka storage facility, or one nearby, to store your things? That's what we offer at Box-n-Go with our temporary
storage units in Winnetka. Call us today to find out more. 
The only other moving nightmare that can match lost property is damaged property. Can you imagine taking such great care in the packing process only to find your china broken or your precious artwork ripped? This, unfortunately, happens a lot and is a result of mishandling the items during the move.
If you work with a shady moving company based in the Winnetka area, this is one horror story that might just become your reality. Delayed deliveries are incredibly inconvenient and frustrating. These could leave you sleeping on the floor of your Winnetka home or eating cereal in a cup simply because the rest of your stuff is taking longer to arrive than you had expected.
·       Inadequate storage space in the new place
Finally, you might find that your favorite couch doesn't fit in your new living room. Or the closet simply cannot handle your large collection of shoes. This is not a good way to start off in a new home. In this case, chances are that you will end up with a whole lot of clutter around the house. It is an eyesore that will definitely take away from the place's beauty. Unless you decide to find
suitable storage in Winnetka to manage your stuff.
3 ways it helps to rent self-storage units in Winnetka: 
Proper handling of your property
Professional moving companies in Winnetka, CA have equipment designed to aid with careful handling and transport of delicate property. It could be fragile china, electronics, or even mirrors. Whatever the case, you can rest assured that they will take good care of your stuff, ensuring that everything arrives in one piece.
A good moving and storage company also helps you pack your property in such a way that accounting for different items is easy. It could be kitchenware all in one box, documents in another, toys in their own storage unit, and so on. This ensures that it is easy to find stuff when you move into your new Winnetka home.
·       Extra storage space for your extra stuff
This is where
your Winnetka storage units
come in handy. You may choose to have anything that doesn't fit in your new place sent to your Winnetka storage facility. That way, as you settle and find more storage space you can slowly move the items into your house. This makes the move a lot easier and more convenient for you.
Reserve storage units in Winnetka and discover the difference!
It goes without saying that a lot can go wrong when you are moving, whether to Winnetka or to anywhere else. However, affordable self-storage facilities in the Winnetka area are available to help make the transition smooth. You get to use the extra storage space not only during the move but long after for convenient storage of extra junk. So as you look for your new home, remember to keep an eye out for storage locations in Winnetka that can relieve your burdens—like Box-n-Go! See for yourself how spacious our low-cost Winnetka
storage units
really are!
Our mobile storage units in Winnetka have everything you need and more!
For all of your Winnetka storage needs, call Box-n-Go and let our friendly, courteous staff help you find the right space for the right price. We're sure you'll be pleased with our self-storage unit prices in Winnetka. See why many customers stop their search for storage units near Winnetka, CA when they find us! Box-n-Go's moving and storage services are also available in the following local communities:
Reseda, CA
,
Northridge, CA
,
Canoga Park, CA
,
Warner Center, CA
,
Tarzana, CA
,
Woodland Hills, CA
, and other towns throughout
Los Angeles
and
Orange County
.