RESERVE ONLINE IN MINUTES
RESERVE ONLINE IN MINUTES
Save 50% see how
No Truck Needed see why
No Heavy Lifting we can help load or move
200+ 5-STAR
REVIEWS
A+ BBB
RATING
LOWEST PRICE
GUARANTEE
Box-n-Go Storage & Moving - as Easy as 1-2-3
1
We Deliver
2
We Pick Up
3
We Store or Move
Store on your driveway or inside our secure facility. Load/unload only once. Ground level access.
I want to:
Are you a student?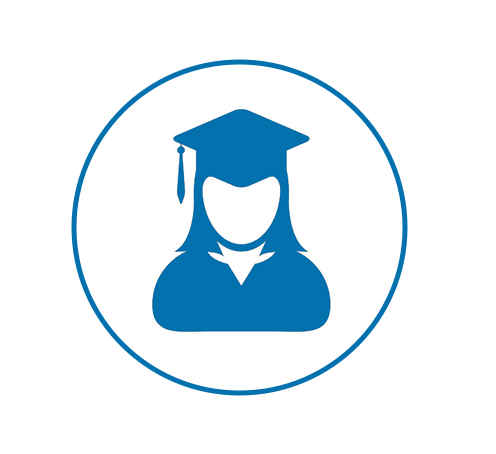 Available Sizes
Box-n-Go - XXL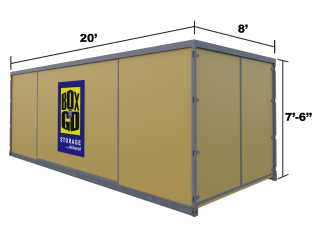 20' Container – all weather.
Perfect for 3-bedroom residence.
5-7 rooms, furniture, appliances, etc.
Learn More
Box-n-Go - XL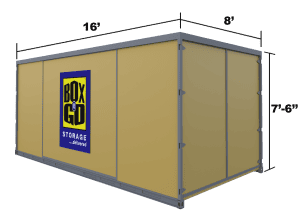 16' Container – all weather.
Perfect for 2-bedroom residence.
3-5 rooms, furniture, appliances, etc.
Learn More
Box-n-Go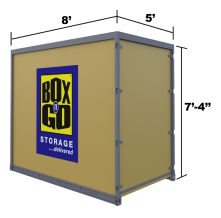 8' Container – all weather.
Modular – works for any need.
Each fits 1-1.5 rooms.
Learn More
I want to:
Are you a student?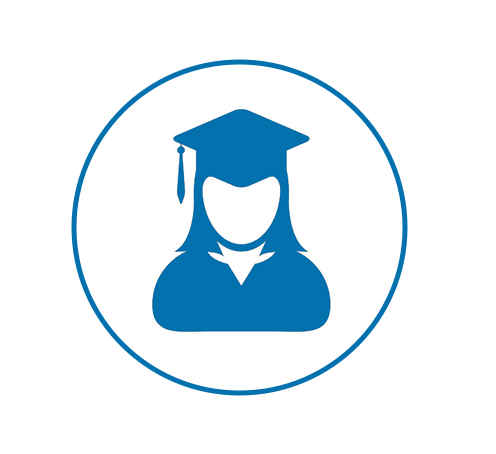 See How Our Services Can Work for You
I want to:
Are you a student?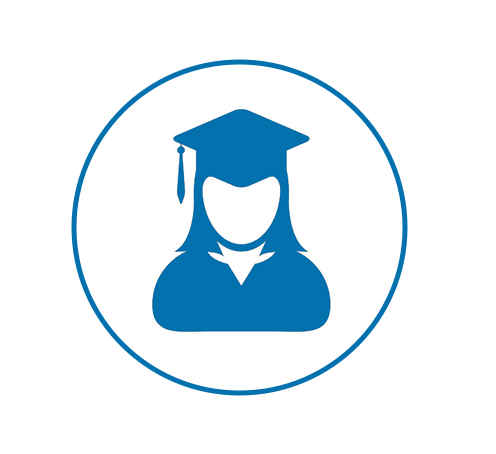 Our Services
Personal & Business Storage
Student Storage
Local & Nationwide Moving
Packing & Loading Help
Moving Boxes & Supplies
Do not see what you are looking for?
What Our Customers Think
I want to:
Are you a student?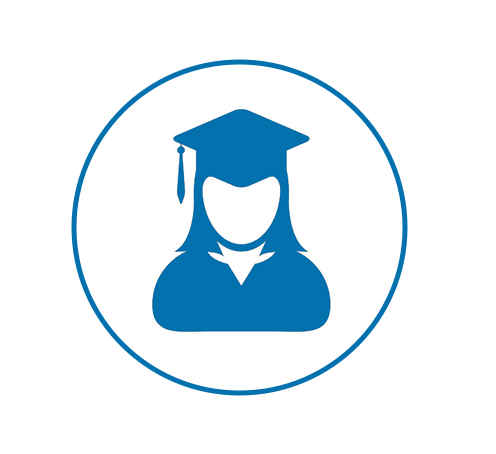 Why Box-n-Go? Here is Our Promise:
We are dedicated to deliver the best solution for almost any storage & moving need, with no gimmicks or hidden costs:
No truck to rent. We deliver storage to you!
Load/Unload only once.
Pay only for space you use.
Secure, climate-friendly facility.
Drive-up access
No Truck to rent…EVER!
Save money and time.
Reduce the risk of accidents and injuries.
No need to pay for gas, insurance & mileage!
Load ONCE Storage Solution!
You only need to load your belongings once!
No need to load and unload it all again into a storage unit.
All containers come with easy ground level access!
Pay Only for the Space You Use!


(if storing at our facility)
No not need to guess on how much space you actually need.
Order an extra 8' x 5' unit. Do not use it – do not pay for it.
Secure, Climate-Friendly Facility!
Highest degree of security and protection.
Our 8' x 5' units are breatheable – no mold or mildew.
No funky smell when your belongings return.
EASY Drive-Up Access!


(if storing at our facility)
Access your units at ground level.
No elevators, ramps, stairs to climb.
Schedule access appointment & drive straight to your units.
I want to:
Are you a student?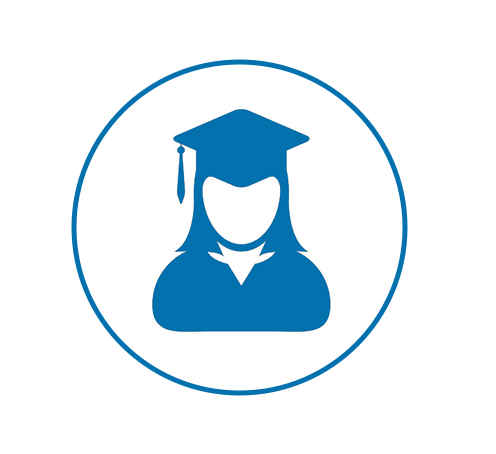 Portable Self Storage in Capistrano Beach, CA
Storage near and around Capistrano beach is always important to the residents as well as office owners of the area. Whether summer or just the lifestyle, people love to live there. And Box-n-Go has filled the niche for the folks living near the beach, by meeting them fully. Therefore, self storage Capistrano Beach CA has all the answers to your questions. Storage units also come in handy for office furniture and technology when businesses must downsize. Any storage facility that caters to businesses, as well as private residents, will have competitive rates. However, it is more likely that the most of the facilities won't be the safest for your belongings. But keeping stored items safe from all the outside elements is important. And businesses will often pay any extra fees to ensure they get that. Keeping these demands in mind, self storage Capistrano Beach CA by Box-n-Go brings you convenient solution for storage of your belongings. Are you opting for them? Then be rest assured, you are going to get the best worth of your money.
Self Storage Capistrano Beach CA for home and business
Another misconception is that storage in this area can't be convenient or easy. On the contrary, imagine having a storage company that will deliver a storage unit directly to your home. Divorcees, who need storage, will find it convenient without wasting time while traveling around. Hence, the facility will be very appealing to them. Families with a newborn babies will discover it especially helpful. They don't have to be far away from the child. And yet they can clear the room they need. Additionally, when you're done packing your belongings, simply contact
Box-n-Go Storage
to come. They will pick-up the the units of self storage Capistrano Beach CA. Yes, it is possible to find this much of convenience when you are looking for storage facility. And that too at the most affordable price. To get this, you just have to find the right facility of self storage Capistrano Beach CA.
Security that storage units Capistrano Beach CA Offer
Finally, many believe that their belongings are safe just because they are in a storage unit. However, simply being in a storage unit does not prevent theft. And only a truly secure storage facility will be able to provide the protection you want for your items. If a padlock is all that stands between your belongings and a criminal, then security is clearly lacking. But good security isn't just protecting your items from theft. It's protecting them from inside as well. For instance, moisture is the enemy of stored items. This can lead to permanent damage on priceless family heirlooms and antiques. Having the proper security is paramount to keep your belongings safe. And knowing that they'll stay safe while you leave them in the unit, you will get immense mental peace.
Capistrano Beach Storage
When you are placing your belongings into Capistrano Beach storage, it is vital that they are prepared correctly to ensure they remain pristine. After all, many of us have spent our working lives paying for these goods so want to treat them well.
Box-n-Go Storage
offers mobile storage units delivered to your location. You are then in full control of the preparation of your items before you pack them into your unit. The following tips will ensure you pack your unit without any problems. Are you looking for storage units? Then self storage Capistrano Beach CA is an ideal option for you. You will get to take advantage of the services provided by
Box-n-Go Storage
. They will deliver any number of mobile storage units to your location for you to carefully pack your goods into them. Follow some guidance for your items outlined below.
1. Furniture
Wax or polish all wood furniture to keep moisture from damaging the wood. Use a mattress bag to protect your mattress from getting dented or other damage. Wrap furniture legs with packing material to prevent scratching. Cover all furniture in old linens. Try not to stack or lean furniture against walls of the unit so air will circulate.
2. Electronics
Try to use original packaging or similar sized box. Wrap electronics as you would with glass or other fragile items to ensure they are protected from shock damage.
3. Fragile Items
Wrap glass items individually, several times with packing material to prevent breakage. Do not use newspaper as ink from newsprint can transfer.  Place packing material on bottom, sides and top of boxes and fill all gaps to provide extra protection in transit. Mirrors and all glass framed items should be stacked on the edge in addition to being wrapped. Mirrors and framed art should be wrapped in bubble wrap for protection and mark them as fragile.
4. Metal Items, Tools, Appliances
These are best wiped down with oil to protect and prevent the possibility of rust. Thoroughly clean tools, bicycles, and metal items before storage. Use oil or a rust protector to prevent them from rusting. Clean appliances and furniture before storing them. You must keep doors on refrigerators and other appliances slightly ajar to prevent mildew. A good tip is to use the inside of appliances for additional storage space.
5. Garden Equipment
Drain the fuel tank of any powered equipment like lawnmowers to stop odor and fire risk. Empty trash cans make great places to store long handled garden tools such as hoes, rakes and shovels. In this case, make sure metal is protected as above. These guidelines will help ensure trouble free storage of your belongings in self storage Capistrano Beach CA. Once your items are prepared and packed the unit is collected at a time convenient to you and taken to a secure storage facility. This gives you the additional benefit in driving your belongings to have to unpack then repack as you would in a standard self-storage warehouse. Therefore, a stress-free option to Capistrano Beach storage is available to you.
Storage Prohibited Goods List
Aerosol cans
Ammonia
Ammunition
Car batteries
Charcoal, lighter fluid
Chemistry sets
Kerosene
Liquid bleach
Loaded guns
Matches
Nail polish or Nail polish remover
Paint thinners
Paints/varnishes
Pesticides
Poisons
Pool chemicals
Propane or Butane tanks
Weed killer
Cleaning solvents
Darkroom chemicals
Fertilizer
Fire extinguishers
Fireworks
Fuels/oils
Household batteries
Collectibles
Cash
Items of Sentimental value
Live Plants
Try Box-n-Go for self storage Capistrano Beach CA
In conclusion, Box-n-Go Storage is a one-of-a-kind company, offering self storage Capistrano Beach CA services that make the process quite easy. Our customer service experience is second to none and debunks any misconceptions people have during the storage process.  Now that you know the myths and misconceptions of storage, you can find the right storage company with just a little bit of research, in your areas. In addition to it, with the right services, for the right price, rest easy knowing you'll get the most for your money. Also, you will get a peace of mind knowing your items are safe. While we are confident that we offer the best service value, do not just take our word for it. Compare us to the competition:
Storage Solutions – 34190 Camino Capistrano, Capistrano Beach, CA 92624
American Mini Storage Capistrano Beach CA – 25801 Victoria Blvd, Capistrano Beach, CA 92624
Price Self Storage – 32992 Valle Rd, San Juan Capistrano, CA 92675
A-1 Self Storage – 33000 Valle Rd, San Juan Capistrano, CA 92675
The convenience of Box-n-Go services is also available in the nearby cities and communities: 
Aliso Viejo, CA
, 
Corona Del Mar, CA
, 
Ladera Ranch, CA
, 
Laguna Hills, CA
, 
Laguna Niguel, CA
, 
Laguna Woods, CA
, 
Dana Point, CA
, 
San Clemente, CA
, 
San Juan Capistrano, CA
and many more, including all of
Orange County, CA
and
Los Angeles, CA
.