RESERVE ONLINE IN MINUTES
RESERVE ONLINE IN MINUTES
Save 50% see how
No Truck Needed see why
No Heavy Lifting we can help load or move
200+ 5-STAR
REVIEWS
A+ BBB
RATING
LOWEST PRICE
GUARANTEE
Box-n-Go Storage & Moving - as Easy as 1-2-3
1
We Deliver
2
We Pick Up
3
We Store or Move
Store on your driveway or inside our secure facility. Load/unload only once. Ground level access.
I want to:
Are you a student?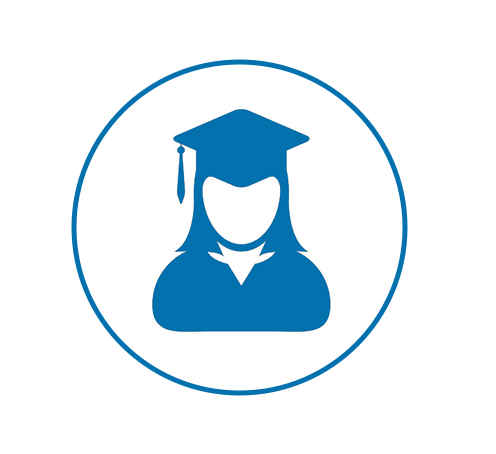 Available Sizes
Box-n-Go - XXL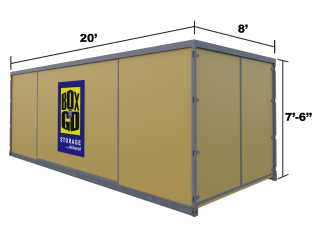 20' Container – all weather.
Perfect for 3-bedroom residence.
5-7 rooms, furniture, appliances, etc.
Learn More
Box-n-Go - XL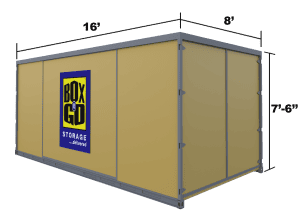 16' Container – all weather.
Perfect for 2-bedroom residence.
3-5 rooms, furniture, appliances, etc.
Learn More
Box-n-Go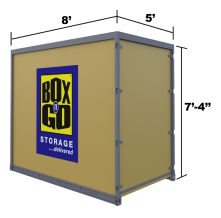 8' Container – all weather.
Modular – works for any need.
Each fits 1-1.5 rooms.
Learn More
I want to:
Are you a student?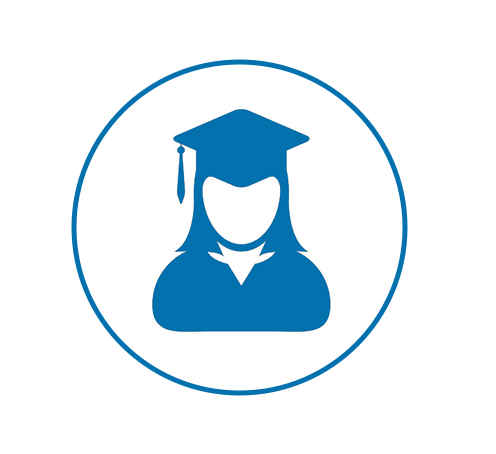 See How Our Services Can Work for You
I want to:
Are you a student?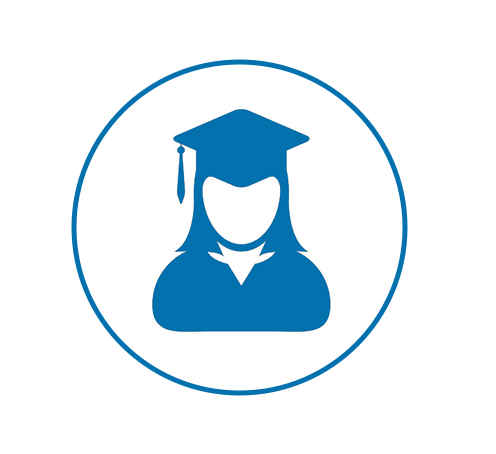 Our Services
Personal & Business Storage
Student Storage
Local & Nationwide Moving
Packing & Loading Help
Moving Boxes & Supplies
Do not see what you are looking for?
What Our Customers Think
I want to:
Are you a student?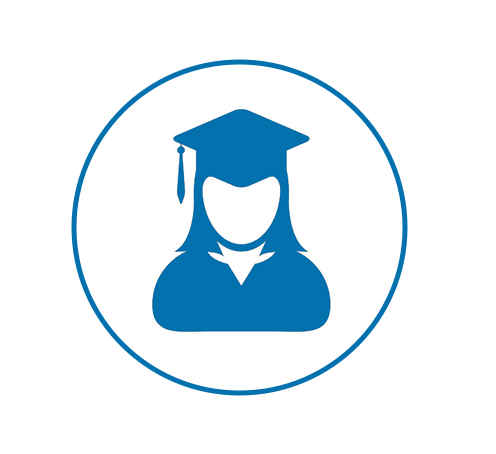 Why Box-n-Go? Here is Our Promise:
We are dedicated to deliver the best solution for almost any storage & moving need, with no gimmicks or hidden costs:
No truck to rent. We deliver storage to you!
Load/Unload only once.
Pay only for space you use.
Secure, climate-friendly facility.
Drive-up access
No Truck to rent…EVER!
Save money and time.
Reduce the risk of accidents and injuries.
No need to pay for gas, insurance & mileage!
Load ONCE Storage Solution!
You only need to load your belongings once!
No need to load and unload it all again into a storage unit.
All containers come with easy ground level access!
Pay Only for the Space You Use!


(if storing at our facility)
No not need to guess on how much space you actually need.
Order an extra 8' x 5' unit. Do not use it – do not pay for it.
Secure, Climate-Friendly Facility!
Highest degree of security and protection.
Our 8' x 5' units are breatheable – no mold or mildew.
No funky smell when your belongings return.
EASY Drive-Up Access!


(if storing at our facility)
Access your units at ground level.
No elevators, ramps, stairs to climb.
Schedule access appointment & drive straight to your units.
I want to:
Are you a student?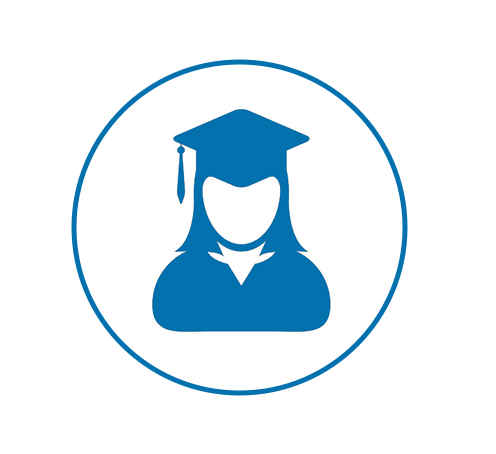 Self Storage Units in Orange, CA
If you are a resident of Orange, CA, storage units are available with several options. The most flexible approach is to use mobile storage units from
Box-n-Go
. With our Orange storage units, you will get a convenient and affordable solution for storing your belongings. Whether you need to move across the country, make space in your home, or simply need to store some of your belongings, Box-n-Go can help you. Call today to rent at our state-of-the-art Orange storage facility. We provide quality storage units in Orange, CA to businesses and residents alike. Many Orange residents prefer to choose our self-storage company because of the convenience we provide. Why? We are not a traditional storage facility. We are different from typical storage places because we make it as easy as possible for all of our clients to have a stress-free experience.
Self-Storage Facilities in Orange, CA – Why Are We Different?
Self storage is required for many reasons, such as if your spare bedroom has become a junk room, or you can't get the car into the garage anymore. It is also used when moving home and storage is needed for belongings until you can move into your new residence. When you're dealing with traditional self-storage facilities, it's usually a tedious and expensive process. If you decide to go the traditional storage route, you may be spending more money and time than necessary. Most local self-storage facilities work like this:
Rent a moving truck
You pay for gas, mileage, and insurance for the moving truck
Pack your items; load them in the truck
Drive to the storage facility, unpack your things
Store them in a storage unit
Pay for the storage even if you don't use all the available space
You have limited access to your belongings
Your items are subject to dust, debris, and damage
We Can Provide You with Climate-Controlled Storage Facilities in Orange
One of the main drawbacks of using traditional self storage is the level of work required by the individual "self"! Remember you will have to:
Pack and box up all your items
Load your packed belongings into a truck or van
Drive to the self-storage facility
Unload your possessions
Repack them into a self-storage unit
Traditional storage locations in Orange, CA are quickly becoming a thing of the past. Many individuals are looking for more affordable, safe, and easy storage solutions. This is where Box-n-Go comes in. While we provide storage in Orange, we do things a lot differently. Our main goal is to make sure you have a pleasant moving and storage experience. This is why we make it easy for you to pack and store your items with us. Instead of just providing storage facilities, we actually provide you with storage units in Orange. The way the self-storage Orange process works with Box-N-Go is like this:
You don't have to rent a truck
We deliver you one or several storage containers based on your needs
You pack the storage containers with your valuables
We come directly to your home and pick up your storage containers
Tell us where to take your belongings
We either take your belongings to our state-of-the-art warehouse or to the next destination you requested
Orange Storage Units When Decluttering
Most households consider the kitchen the heart of a home. It is where we prepare, store, and often eat our food. For the modern family it is often in constant use and therefore needs to run as efficiently as possible as time is often at a premium. Keeping the kitchen clutter-free requires the optimal use of storage. You can make use of
Box-n-Go Storage
to help to keep the kitchen clear, but as a first option follow these guidelines before taking this route:
Keep any rarely used appliances tucked away in cupboards, drawers or cabinets and not on countertops. Only necessary items that are used daily should be kept on countertops.
Furthermore, consider selling, donating, or disposing of unused items.
Do not keep duplicate sets of utensils, plastic containers, and dishes; this will liberate space.
Use specially designed racks to store items like trays, cookie sheets, and cutting boards upright in cabinets.
If possible, install sliding drawers and stacking shelves to give easier access and visibility inside cabinets.
Add kitchen utensil trays to reduce clutter in your drawers.
Moreover, keep the regular daily used items stored close to the dishwasher for quick and easy clean-up.
If these guidelines still leave you with a cluttered kitchen, moving containers is a great solution.
Some Helpful Packing Tips for Storage
When they rent self-storage units from us,
Box-n-Go
customers have the time-saving advantage of packing their mobile container at their own address in their own time. Following the tips below will make your packing easier:
Small boxes are best. Large boxes can become too heavy. It is easier to use several smaller boxes rather than big heavy ones. Try to keep all boxes under 50 pounds to make sure they're manageable.
Keep all pairs and components together. Items like furniture screws, mirror bolts, and other hardware should be bagged and taped to the piece with which they belong. Leads and cables for any electrical items should be coiled and taped to its device.
Take inventory. Label boxes clearly by using permanent marker to write the contents on the top and side of each box so they're easy to identify. Label the boxes with the room which it is destined for and always use "Fragile" when appropriate.
Fabric is your friend. To cut back on the amount of bubble wrap you have to buy, use textiles like socks, towels, and bed sheets to fill excess space in boxes.
Fill boxes in layers. Put the heavy items on the bottom, medium weight next, and the lightest items up top. Use crushed paper or pieces of cardboard between the layers as dividers.
Following these guidelines will help ensure a trouble-free experience when you reserve storage units in Orange, CA.
Let us help you with all your Orange CA Self Storage needs today!
With
Box-n-Go
, a mobile storage unit is delivered to your address. You can then pack and load it at your own convenience. The storage unit has floor-level loading, so access is much easier. Once packed, the unit is collected and taken to a secure Orange storage facility. This process saves you from having to pack and unpack your boxes twice. You will have no need to rent a truck to transport your belongings. Finally, Box-n-Go is the best option for stress-free, low-cost one-stop moving and storage services. Therefore, you don't have to worry about spending extra money on unnecessary mileage, gas, and insurance. You also can take your time for packing to make sure you have everything in place and well organized. It can be a challenge choosing from all the storage and moving companies in Orange, CA. However, if you do your research, you will soon discover that Box-n-Go's Orange storage facility is the most viable solution for your moving and storage needs. Call us and ask about our current self-storage unit prices in Orange, CA.
Compare Box-n-Go to Other Storage Services
There are lots of options when it comes to storage and moving services. However, you have to do your homework and compare your options before you finalize your selection. We highly recommend for anyone looking for temporary storage to check out facilities in person. See what their storage services and units look like. Know if you will be required to provide the insurance. See if they can offer the loading help. Understand what the move-in process is like. Do you have to rent a truck? What are the move-out notice requirements? How often are the self-storage prices raised? All these factors are important. We invite you to drive by the below facilities and see your options yourself:
Public Storage Orange CA – 601 N Main Street, Orange, CA 92868
Storage West – 681 S Tustin St #301, Orange, CA 92866
US Storage Centers – 1460 N Main St, Orange, CA 92867
One Stop Storage Orange CA – 157 N Wayfield St, Orange, CA 92867
Outback Self Storage Orange CA – 1934 E Taft Ave, Orange, CA 92865
Public Storage in Orange CA – 623 W Collins Ave, Orange, CA 92868
Box-n-Go
provides self-storage units to the following ZIP Codes in Orange, CA: 92705, 92706, 92782, 92856, 92857, 92859, 92861, 92863, 92864, 92865, 92866, 92867, 92868, 92869. Find an Orange portable storage unit near you! Join the growing list of local customers—from
Fullerton
, CA,
Anaheim Hills, CA
,
Garden Grove
, CA,
Placentia
, CA,
Santa Ana
, CA,
Villa Park, CA
,
Irvine
, CA,
Tustin
, CA, and
other towns
—who come to Box-n-Go to reserve storage units in
Orange County, CA
and
Los Angeles, CA
that they can rely on.