RESERVE ONLINE IN MINUTES
RESERVE ONLINE IN MINUTES
Save 50% see how
No Truck Needed see why
No Heavy Lifting we can help load or move
200+ 5-STAR
REVIEWS
A+ BBB
RATING
LOWEST PRICE
GUARANTEE
Box-n-Go Storage & Moving - as Easy as 1-2-3
1
We Deliver
2
We Pick Up
3
We Store or Move
Store on your driveway or inside our secure facility. Load/unload only once. Ground level access.
I want to:
Are you a student?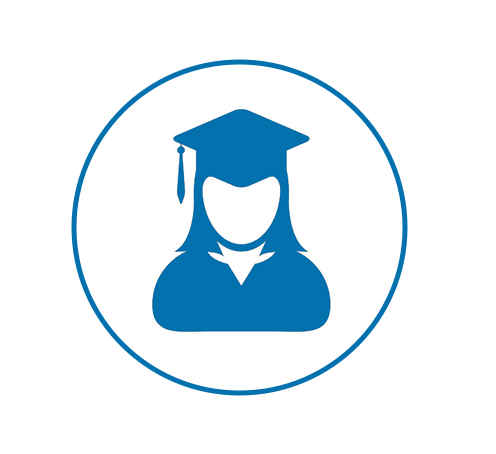 Available Sizes
Box-n-Go - XXL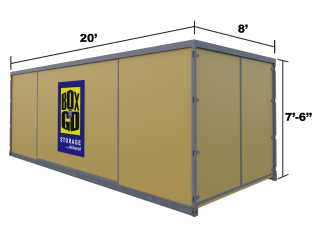 20' Container – all weather.
Perfect for 3-bedroom residence.
5-7 rooms, furniture, appliances, etc.
Learn More
Box-n-Go - XL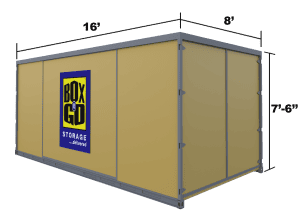 16' Container – all weather.
Perfect for 2-bedroom residence.
3-5 rooms, furniture, appliances, etc.
Learn More
Box-n-Go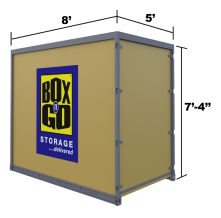 8' Container – all weather.
Modular – works for any need.
Each fits 1-1.5 rooms.
Learn More
I want to:
Are you a student?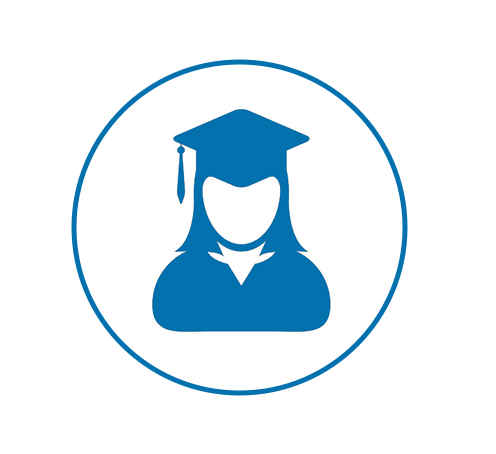 See How Our Services Can Work for You
I want to:
Are you a student?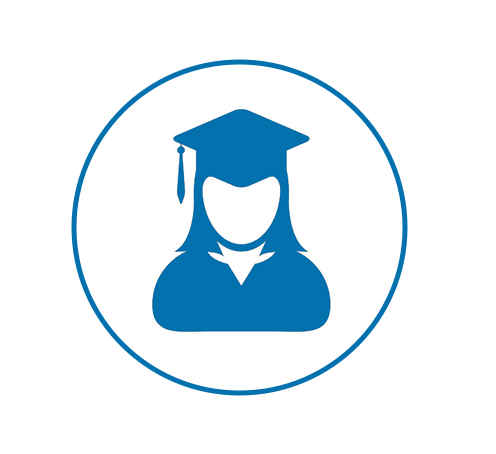 Our Services
Personal & Business Storage
Student Storage
Local & Nationwide Moving
Packing & Loading Help
Moving Boxes & Supplies
Do not see what you are looking for?
What Our Customers Think
I want to:
Are you a student?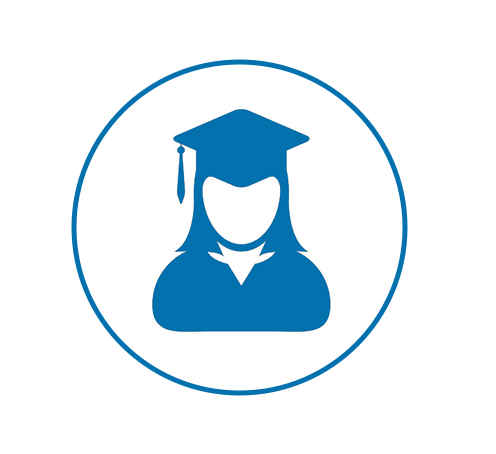 Why Box-n-Go? Here is Our Promise:
We are dedicated to deliver the best solution for almost any storage & moving need, with no gimmicks or hidden costs:
No truck to rent. We deliver storage to you!
Load/Unload only once.
Pay only for space you use.
Secure, climate-friendly facility.
Drive-up access
No Truck to rent…EVER!
Save money and time.
Reduce the risk of accidents and injuries.
No need to pay for gas, insurance & mileage!
Load ONCE Storage Solution!
You only need to load your belongings once!
No need to load and unload it all again into a storage unit.
All containers come with easy ground level access!
Pay Only for the Space You Use!


(if storing at our facility)
No not need to guess on how much space you actually need.
Order an extra 8' x 5' unit. Do not use it – do not pay for it.
Secure, Climate-Friendly Facility!
Highest degree of security and protection.
Our 8' x 5' units are breatheable – no mold or mildew.
No funky smell when your belongings return.
EASY Drive-Up Access!


(if storing at our facility)
Access your units at ground level.
No elevators, ramps, stairs to climb.
Schedule access appointment & drive straight to your units.
I want to:
Are you a student?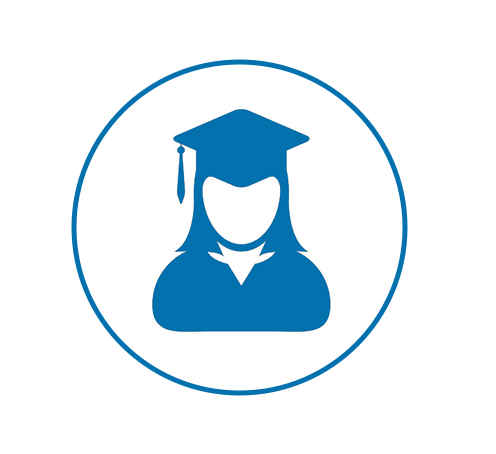 Secured Storage Units in Garden Grove, CA
When you are considering storage facilities in Garden Grove, CA, Box-n-Go is the answer. Offering the most innovative results with their mobile storage units delivered to your location. You can then pack the storage unit at your own convenience. Box-n-Go's storage units in Garden Grove, CA offer affordable, easy, secure self-storage solutions. Whether you are moving across the country or to another area of California, we help make the experience a breeze with our moving and storage services. Box-n-Go's Garden Grove storage facility is clean, secure, and safe. Self storage has become a common service sought out by a host of households, businesses, and individuals.
Box-n-Go Storage
is an innovative and flexible supplier, offering low-cost storage units in Garden Grove, CA. They will deliver any number of storage units to any location. These storage containers offer ground-level access for easy loading. You can also pack at your convenience. Since the storage units themselves can remain at your location as long as you wish, you can decide what and when to load.
Rent Self-Storage Units in Garden Grove, CA
However, it's important that you load your storage units properly. Proper loading is essential for a good self-storage experience. Follow the below packing tips to make your storage efforts go smoothly. Most of the tips are common sense. We have a lot of other guidelines and tips here on this site to help you with your packing and loading. Of course, if you do not feel like you want to pack, you can always ask us to provide the professional packers or loaders to help you. In fact, we have the loaders who will load your storage containers on a flat-rate basis. This way you do not have to worry about keeping track of time. Or even if you have an extra set of stairs.
Self-Storage Facilities in Garden Grove, CA
If you combine different weights of items in one box, always put the heaviest items on the bottom and mark the box "this way up."
Packed boxes should only weigh as much as you can lift comfortably; for most people that's around 30 lbs. Do not forget to bend your knees when lifting the heavy items.
Make sure all your packed boxes are sealed with packing tape. Keep the tops flat so they can be easily stacked. Also, use a professional grade tape. It adheres much better and your boxes will stay closed. This is very important. A weak tape may result in the flaps opening while you are carrying the box—and your belongings may fall out.
Ensure you have all the packing materials you need before you start: boxes, tape, covers, etc. We strongly recommend you get professional quality boxes and materials. While these are more expensive, they are much stronger and are designed specifically for moving.
Mark each box clearly with the content's description. Maintain a written list as you pack your storage unit.
Disassemble bed frames and other large furniture. Keep them together, however, with tape or twine. Keep fixtures in a bag and tape them to the items.
Wrap dishes and other glassware individually with paper and pad the box with packing paper or bubble wrap.
Why Choose Box-n-Go Cheap Storage Units in Garden Grove, CA?
While there are many storage locations in Garden Grove, CA, not all of them are alike. Furthermore, a traditional storage facility may usually require more time and effort. If you put your items in a traditional storage facility, most likely you will have to rent a truck, unload the truck, pay for extra space, and pay extra for ground-level access. The ideal storage facility is also one that allows you to make appointments that can accommodate your busy schedule. You should also be able to visit the facility and look at the units without being obligated to rent them. If you follow these tips, you will be able to get the best monthly storage rental rates and terms. At Box-n-Go in Garden Grove, CA, we understand how expensive and stressful the moving experience can be. This is why we offer innovative, affordable storage solutions that accommodate your needs. Our customers in Garden Grove, CA have access to an efficient, flexible solution: mobile self-storage units. The mobile storage unit when packed is then collected at your convenience to be placed in our secure self-storage facility. They only have to pack or unpack once.
What Can You Expect from Our Local Self-Storage Facilities?
At Box-n-Go, we take pride in being an innovative self-storage company that offers residents and businesses convenient, low-cost storage options. It's easy to reserve storage units in Garden Grove, CA from us! When you choose our Garden Grove storage facility, you can expect the following:
Delivery of portable storage units to your business or home
Pickup of your packed storage units and deliver it to our warehouse or your new destination
Provide you with breathable units that prevent mold and mildew
Make sure your items are safe in our secured storage
Choose Box-n-Go secured climate-controlled storage facility in Garden Grove, CA to store your belongings
Box-n-Go offers moving and storage services in the following Garden Grove, CA ZIP Codes: 92840, 92841, 92842, 92843, 92844, 92845, 92846.
Storing Electronics
Technology plays an ever-increasing role in our home lives. Many of us have several computers in our households containing precious photos and other memories on them. When the time comes for them to be placed in storage, they have to be given special treatment. Garden Grove, CA residents can use the mobile storage units supplied by
Box-n-Go Storage
. Follow these guidelines to ensure your computer and data are stored successfully.
Back up your data. Be sure to back up all your important files and programs. Store the backup disks with your original program disks and keep them in a secure container or on an internet storage site.
Remove all media floppy diskettes, CD-ROMs, tapes, etc.
Shut down your computer before turning it off or unplugging any cables.
Carefully unplug all power cables and peripheral connecting cables. Make a note of what devices the cables were plugged into by writing it on a piece of masking tape and attaching the tape to the cable.
Carefully unplug the monitor and pack with bubble wrap.
Disconnect the printer, open the cover, and remove ink cartridges, laser toner cartridge, or ribbons from any printers.
Once carefully packed, your mobile storage unit is collected and taken to a secure storage facility. So when looking for self storage, Garden Grove residents have the option of mobile storage without any commuting to a remote storage locker.
Customer Service Matters
In conclusion, storage facilities should have great customer service. You should not have any difficulties contacting someone at your storage facility. The person should also be knowledgeable and communicate with you courteously. If you happen to leave a message, it is essential that the
customer service
representative calls you back promptly. Call us at Box-n-Go, and ask us about our self-storage unit prices in Garden Grove, CA today! Our flexible secured self storage in Garden Grove starts as low as $59 a month. The following 6 tips for storage units will ensure you pack your unit without any problems.
Use boxes that are uniform in size, as it makes them easier to stack. Ensure heaviest boxes are at the bottom.
Leave gaps for access in between the boxes and furniture in your storage unit so you can easily get to the items without moving anything around.
When storing a lot of boxes fill them to the top, use padding or crumpled newspapers. This ensures boxes do not collapse if anything's placed on them.
If you're putting any metal objects into storage it is best to treat them for rust protection by wiping them down with an oily rag.
When storing a refrigerator or similar appliances leave the door ajar. This will prevent mold from growing inside.
Under no circumstances should you keep anything flammable or combustible in your storage unit. This means no gasoline, oil, cleaning fluids, or paint thinner.
Box-n-Go Storage in Garden Grove, CA
Box-n-Go is considered the leading edge when it comes to innovations in storage. Years of research through trial and error have helped to push the portable storage industry forward. Compare us to other, traditional options in and around Garden Grove, CA. Drive by the below self-storage facilities, check them out, and see how they stack up against Box-n-Go:
Public Storage Garden Grove – 7482 Garden Grove Blvd, Westminster, CA 92683
Extra Space Storage Garden Grove – 7392 Garden Grove Blvd, Westminster, CA 92683
Garden Grove Secured Storage Garden Grove – 13632 S Euclid St, Garden Grove, CA 92843
All Space Storage Garden Grove – 11382 Trask Ave, Garden Grove, CA 92843
Santa Storage – 11284 Westminster Ave, Garden Grove, CA 92843
SmartStop Self Storage Garden Grove 92641 – 12321 Western Ave, Garden Grove, CA 92841
Box-n-Go
provides low-cost self-storage units to the following ZIP Codes in Garden Grove, CA: 90680, 92840, 92842, 92844, 92846, 92703, 92841, 92843, 92845. Find a Garden Grove portable storage unit near you! Join the constantly growing list of local customers—from
Fullerton
, CA,
Anaheim Hills, CA
,
Placentia
, CA,
Santa Ana
, CA,
Orange
, CA,
Villa Park, CA
,
Irvine
, CA,
Stanton
, CA,
Westminster
, CA, and
other towns
—who come to us to reserve low-cost storage units in
Orange County, CA
and
Los Angeles, CA
that they can rely on.