RESERVE ONLINE IN MINUTES
RESERVE ONLINE IN MINUTES
Save 50% see how
No Truck Needed see why
No Heavy Lifting we can help load or move
200+ 5-STAR
REVIEWS
A+ BBB
RATING
LOWEST PRICE
GUARANTEE
Box-n-Go Storage & Moving - as Easy as 1-2-3
1
We Deliver
2
We Pick Up
3
We Store or Move
Store on your driveway or inside our secure facility. Load/unload only once. Ground level access.
I want to:
Are you a student?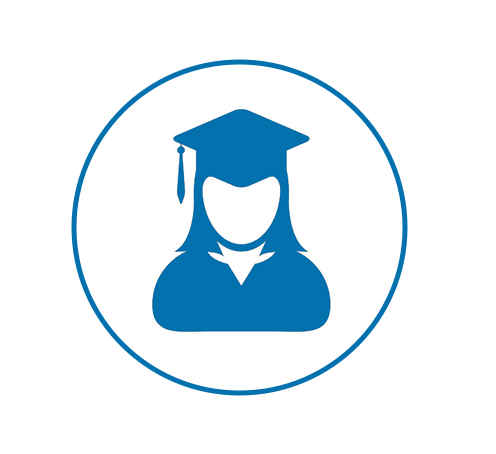 Available Sizes
Box-n-Go - XXL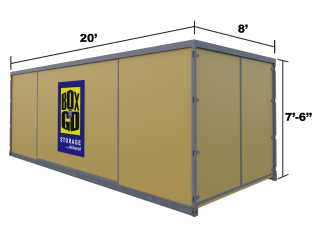 20' Container – all weather.
Perfect for 3-bedroom residence.
5-7 rooms, furniture, appliances, etc.
Learn More
Box-n-Go - XL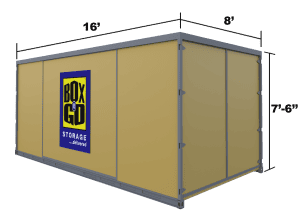 16' Container – all weather.
Perfect for 2-bedroom residence.
3-5 rooms, furniture, appliances, etc.
Learn More
Box-n-Go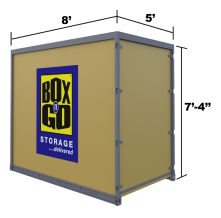 8' Container – all weather.
Modular – works for any need.
Each fits 1-1.5 rooms.
Learn More
I want to:
Are you a student?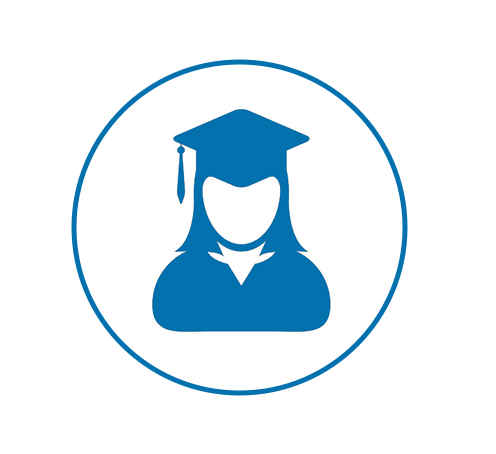 See How Our Services Can Work for You
I want to:
Are you a student?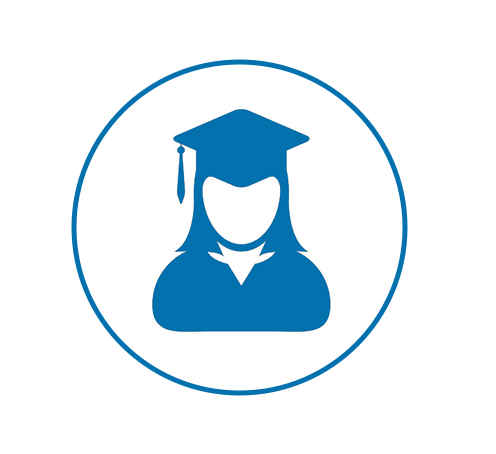 Our Services
Personal & Business Storage
Student Storage
Local & Nationwide Moving
Packing & Loading Help
Moving Boxes & Supplies
Do not see what you are looking for?
What Our Customers Think
I want to:
Are you a student?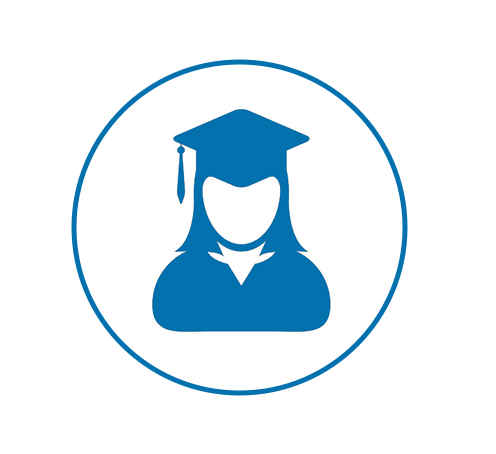 Why Box-n-Go? Here is Our Promise:
We are dedicated to deliver the best solution for almost any storage & moving need, with no gimmicks or hidden costs:
No truck to rent. We deliver storage to you!
Load/Unload only once.
Pay only for space you use.
Secure, climate-friendly facility.
Drive-up access
No Truck to rent…EVER!
Save money and time.
Reduce the risk of accidents and injuries.
No need to pay for gas, insurance & mileage!
Load ONCE Storage Solution!
You only need to load your belongings once!
No need to load and unload it all again into a storage unit.
All containers come with easy ground level access!
Pay Only for the Space You Use!


(if storing at our facility)
No not need to guess on how much space you actually need.
Order an extra 8' x 5' unit. Do not use it – do not pay for it.
Secure, Climate-Friendly Facility!
Highest degree of security and protection.
Our 8' x 5' units are breatheable – no mold or mildew.
No funky smell when your belongings return.
EASY Drive-Up Access!


(if storing at our facility)
Access your units at ground level.
No elevators, ramps, stairs to climb.
Schedule access appointment & drive straight to your units.
I want to:
Are you a student?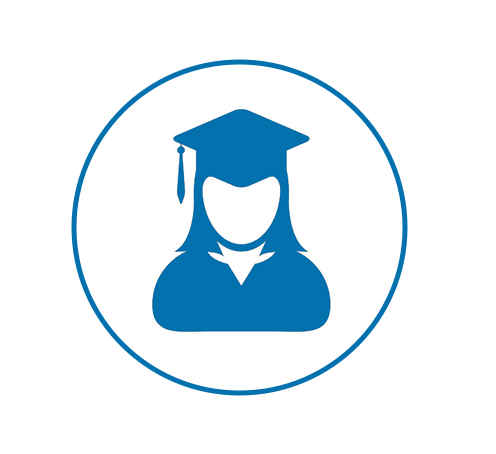 Self Storage Units in Belmont Shore, CA
Searching for storage Belmont Shore or storage units 90803? If you are like many Belmont shore residents, you are probably looking for storage space to store all of your extra items. While most storage facilities are used for moving and relocating, still, many people are realizing that they can use storage for much more than a temporary holding space. Therefore, if you are on the fence about placing your items in storage, here are some ideas for you. Here is why you should start searching for storage places 90803 or storage Belmont Shore. Because when you find the right fit, you will be able to free up space in your home or business:
Storage 90803 as an Inventory room
If you own a business, even if it's a small mom and pop shop, you know how limited space can be. This is why many business professionals use a self storage unit to hold their important documents. Even inventory, overstock, and office furniture all can be stored. Hence begin your search for storage units 90803. Choose Box-n-Go as your business storage provider of choice today.
Storage Belmont Shore as a Wardrobe storage
If you have a wardrobe like Kim Kardashian, and not enough closet space, you can store your clothes in a storage Belmont Shore space. This is the ideal solution, because, whenever you are ready to wear your favorite things, you can retrieve it out of storage easily.  Look for storage units 90803 online and discover Box-n-Go is the storage solution you have been looking for!
Business Storage
Many self storage facilities have understood that while traditionally, self storage Belmont Shore survived by catering solely to the needs of households, businesses also have storage needs. self storage Belmont Shore now offer Business storage options that represent the perfect way for businesses to make sure that they don't have to deal with excess items on their properties. They can rather rely on the services of the self storage Belmont Shore to take care of such needs. The reason why it's such a lucrative option is because public storage 90803 allows businesses to store their items for less than half of what they would otherwise be paying to manage those items on their own properties. self storage Belmont Shore allows businesses to have ample amount of free space on their current locations and not worry a bit about the safety and sanctity of their stored items.
Safe storage facility 90803
What do we mean by safe storage near 90803? You have little children in your home, hence you know they can be inquisitive and wreak havoc. This is why many people who have special collections, memorabilia and heirlooms search for storage Belmont Shore. They want to keep their valuables safe and out of harms way.  And, as a result search for storage Belmont Shore. Storage that offers a safe and simple way to do just that!  Search for storage facility 90803 and store your favorite items with Box-n-Go today!
Self Storage for Students
The life of an average student has also changed thanks to self storage Belmont Shore. Now students don't have to worry about their items when they go out of the country for a tour, have a semester exchange or even move to a new place. Self storage Belmont Shore takes care of their items so they don't have to. There's a special option for students that not only allows them to store as much as they'd like to but also gain a special discount that would not be available to other customers. Another benefit of these public storage Belmont Shore is that they're located near college and University campuses, making them an even friendlier option for students. So, now you know how self storage Belmont Shore can com handy.
College student storage– Most college dorm rooms are small. The average college students has more items than their college dorm room can handle, as a result. This is why many new and seasoned college students search for 90803 storage unit. Finding the right storage solutions near their college is not difficult. It is important, however, to make sure they can have access to some of their most favorite things, yet without having to clutter their dorm space.
Military storage
It's a truth that there's no particular structure to the life of a military man. They can be deployed to another part of the globe and asked to report in a week. In such cases, public storage Belmont Shore help these military men not only gather their necessary items but gives them special discounts as well. the public storage Belmont Shore also offer quick service to get all their items wrapped up before they leave. Using the public storage Belmont Shore will ensure a tension free journey for the duties regarding their items.
Compare Portable Storage to Public Storage Belmont Shore
Of course to take full advantage of all of the above features you would have to use portable storage units. One of the best providers is
Box-n-Go
. All you have to do is to call us at 877-269-6461. Self storage Belmont Shore by Box-n-Go is at your door. While we firmly believe that Box-n-Go brings unmatched benefits and features to you, do not just take our word for it. We urge you to drive by the below facilities and compare for yourself:
Studebaker Self Storage – 698 N Studebaker Rd, Long Beach, CA 90803
Store-N-Save –

 

319 Olive Ave, Long Beach, CA

Public Storage – 4295 Outer Traffic Cir, Long Beach, CA
Security Mini Storage – 1336 Newport Ave, Long Beach, CA
Long Beach Security Storage – 1430 E Anaheim St #3775, Long Beach, CA
Public Storage – 1917 Long Beach Blvd, Long Beach, CA
Make sure to find out more than just about the pricing. Learn about the amenities available to you. Find out if the facility can receive items mailed to you. Also, it is important to know about their access process. Similarly, it is vital to know if they require you to purchase insurance. This is because your monthly price will be affected. You need to know about their move in and move out process. Learn as much as you can so that you can properly compare the services and facilitates you are considering.
Look for storage facility 90803 online and choose Box-n-Go for all of your storage needs.
Whether you are storing your favorite things or simply making more space in your home, you can be assured that Box-n-Go will provide you with spacious, flexible and affordable storage solutions. Call Box-n-Go at 1-877-269-6461 and reserve your storage unit today!
In addition, Box-n-Go's convenient and affordable self storage services are also available in the following neighboring cities:
Artesia, CA
, 
Carson, CA
,
Cerritos, CA
,
Harbor City, CA
, 
Hawaiian Gardens, CA
,
Lakewood, CA
,
Long Beach, CA
,
Signal Hill, CA
,
Wilmington, CA
other part of
Los Angeles, CA
as well as all of
Orange County, CA
.
 Article tags: storage Belmont Shore, storage space near 90803, storage near me 90803.