RESERVE ONLINE IN MINUTES
RESERVE ONLINE IN MINUTES
Save 50% see how
No Truck Needed see why
No Heavy Lifting we can help load or move
200+ 5-STAR
REVIEWS
A+ BBB
RATING
LOWEST PRICE
GUARANTEE
Box-n-Go Storage & Moving - as Easy as 1-2-3
1
We Deliver
2
We Pick Up
3
We Store or Move
Store on your driveway or inside our secure facility. Load/unload only once. Ground level access.
I want to:
Are you a student?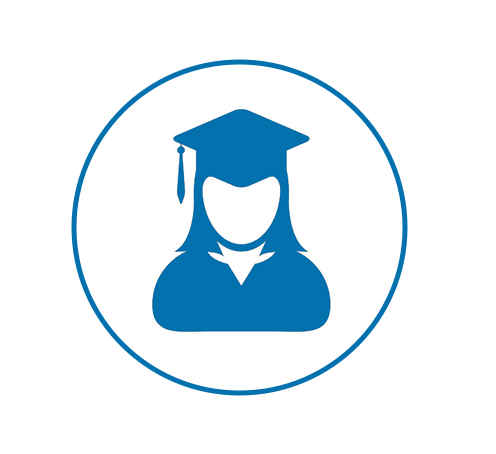 Available Sizes
Box-n-Go - XXL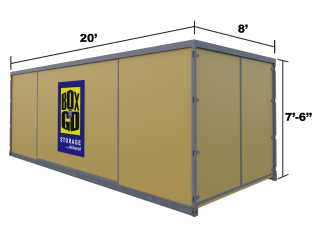 20' Container – all weather.
Perfect for 3-bedroom residence.
5-7 rooms, furniture, appliances, etc.
Learn More
Box-n-Go - XL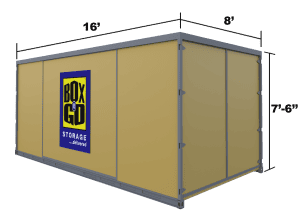 16' Container – all weather.
Perfect for 2-bedroom residence.
3-5 rooms, furniture, appliances, etc.
Learn More
Box-n-Go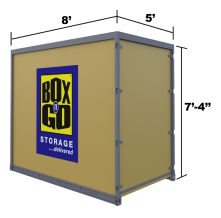 8' Container – all weather.
Modular – works for any need.
Each fits 1-1.5 rooms.
Learn More
I want to:
Are you a student?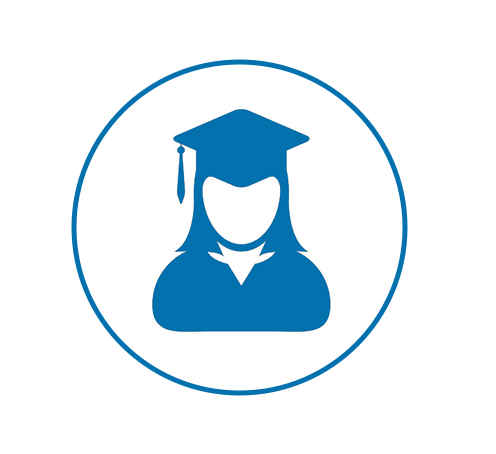 See How Our Services Can Work for You
I want to:
Are you a student?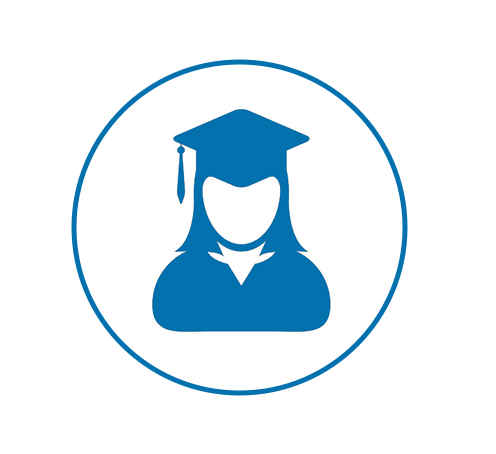 Our Services
Personal & Business Storage
Student Storage
Local & Nationwide Moving
Packing & Loading Help
Moving Boxes & Supplies
Do not see what you are looking for?
What Our Customers Think
I want to:
Are you a student?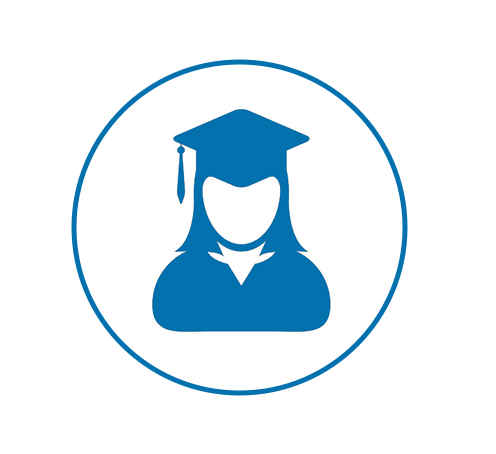 Why Box-n-Go? Here is Our Promise:
We are dedicated to deliver the best solution for almost any storage & moving need, with no gimmicks or hidden costs:
No truck to rent. We deliver storage to you!
Load/Unload only once.
Pay only for space you use.
Secure, climate-friendly facility.
Drive-up access
No Truck to rent…EVER!
Save money and time.
Reduce the risk of accidents and injuries.
No need to pay for gas, insurance & mileage!
Load ONCE Storage Solution!
You only need to load your belongings once!
No need to load and unload it all again into a storage unit.
All containers come with easy ground level access!
Pay Only for the Space You Use!


(if storing at our facility)
No not need to guess on how much space you actually need.
Order an extra 8' x 5' unit. Do not use it – do not pay for it.
Secure, Climate-Friendly Facility!
Highest degree of security and protection.
Our 8' x 5' units are breatheable – no mold or mildew.
No funky smell when your belongings return.
EASY Drive-Up Access!


(if storing at our facility)
Access your units at ground level.
No elevators, ramps, stairs to climb.
Schedule access appointment & drive straight to your units.
I want to:
Are you a student?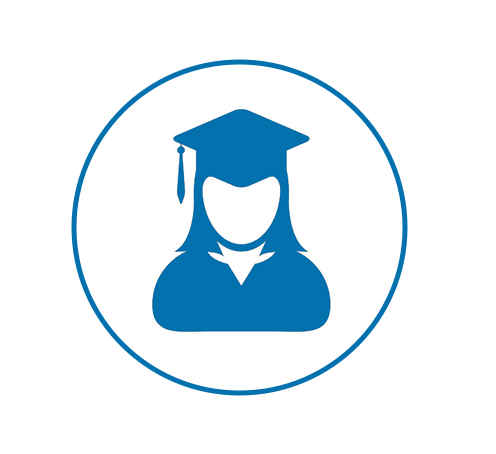 Self Storage Units in Covina, CA
Are you searching for portable storage units? Call Covina Self Storage
When it comes to searching for Covina self-storage services, many people often wonder what the best option for them may be. Should they place their items at an actual Covina storage facility or should they follow the trend of renting portable storage units? There are many reasons you might need to use cheap storage units Covina CA. Whether you're moving and only need space for a while, or you want to store some things longer, self storage Covina CA is your solution. Even so, there's more to it than just renting any unit and throwing you items inside. By planning ahead and following some simple tips, you can get the most out of your unit. Also you'll ensure your belongings stay safe and secure.
Rent the Right Size
The first step toward making efficient use of cheap storage units near Covina California is to make sure you rent a unit that suits your needs. Renting too little can mean having to cram things together, which can risk damage. Renting too large means you'll be left with extra space. And more importantly, you'll be paying more than you need to for self storage units Covina CA. The best way to approach this issue is to get everything together that will be going into the unit and measure the total space you'll need. Employees of storage units Covina can usually help you decide how much space you will need.
Gather Your Packing Supplies
Once you found cheap storage Covina CA to rent and selected the appropriate size, it's time to think about packing. For items that will need to be boxed, be sure to buy quality boxes that are sturdy. Also, try to use the same size boxes for everything to make stacking easier. Next, you'll need permanent markers, packing tape, industrial strength plastic wrap, bubble wrap, and packing popcorn.
Keeping Your Storage 91722 Unit Safe and Clean
If you're storing anything that's powered by fuel, make sure you drain all of the fuel from the device. Additionally, look for leaks that need to be secured, so you don't end up with an oil or grease stain in your unit. Tie up any loose hoses and secure connections, as well. Finally, clean the device thoroughly. While this may be a time consuming process to go through, it will limit the risk of fire and reduce the likelihood that the device will leave a stain. Also, you might want to lay down an old rug or towel upon which you can park the device. If it does leak something, it will be better to have something to catch the leak, instead of risking an additional fee that you'll have to pay to the self storage units Covina CA for the damages.
Be Meticulous About Labeling
This is where your record keeping talents come in handy. Mark each box with which room the box belongs in with a permanent marker. This will make it easier when you move out of the unit. Additionally, write down the contents right on the box, which can help you locate specific items. Finally, maintain a master inventory on a separate piece of paper, so you'll know which items are in which boxes. It may help this process to assign a number or code to each box. While this may seem like a complex procedure, especially if you only plan to occupy self storage units Covina CA briefly, you'll be glad you did it in the event of damage. If there's a fire, flooding, or some other catastrophe, you'll need that inventory list to help you file a claim.
Make Use of Pallets if you are using Traditional storage near 91722
You can pick up wooden pallets for only a few bucks apiece, or you may be able to find broken pallets for free. If you lay pallets down on the floor, before moving your belongings into the self storage units Covina CA, you can protect boxes and furniture from damage in the event of flooding or leakage from one of the adjacent storage units Covina. Additionally, you can set a couple of pallets up against the walls of your cheap storage units near 91722. You can slip brooms, shovels, rakes, and similar items between the wooden slats to keep them standing. This will prevent you from making a clutter in your storage units Covina.
Protect Against Dirt, Dust, and Critters
Cheap storage units Covina CA aren't as secure as a house or apartment, as far as pests are concerned. Insects and rodents may get into your unit in the evening hours. Additionally, self storage units near 91723 can be dusty places that gather dirt faster than you might realize. Fortunately, there are ways to protect against these contaminants. By wrapping everything in industrial strength plastic wrap, you'll protect against dirt and living pests. If you wrap your boxes and your furniture well, insects and rodents are far less likely to get in while your items are stored in self storage units Covina CA.
Arranging Your Items in the Self Storage Units Covina CA
When it does come time to move into the storage units 91724, plan ahead to store your items in the most efficient way. This means keeping items you may need towards the front of the unit. Furniture should go in first, followed by boxes and crates. When you move the boxes in, stack them at least three high and leave a walkway between the stacks, so you'll have easier access to each box. This will eliminate the need to move everything out of your self storage units Covina CA each time you need something.
Invest in Renter's Insurance
No matter how long you expect to occupy cheap storage units Covina CA, obtaining renter's insurance is always a smart move. Insurance will protect your property in case of damage or theft. Your losses can be reimbursed. In most cases, the rental agreement you enter into with the self storage units Covina CA will clearly state they aren't liable for damage or losses. So if you don't sign up for the insurance, you're risking an expensive loss. It's better to have the protection and not need it than to end up losing your valuable belongings. There are any number of reasons to rent a storage unit near 91722, but these suggestions can be useful in any situation. Don't face a mess when you move out! Plan ahead and pack your unit in an efficient manner. The goal is to keep everything neat, orderly, and safe. That way, your belongings will be in the same condition the day you move out as they were when you moved in. This will help you have a positive experience and save you money along the way.
Here is why portable storage units at a Box-n-Go Covina storage near 91723 are ideal!
Portable storage in Covina has made it easier than ever for individuals to save time and money during their moving and storage process. Our self-storage near 91724 is attractive to many because it's:
Affordable
Convenient
Flexible
How does Box-n-Go Self Storage work?
You see, when you search for portable storage in Covina, there is no need to rent a moving truck or hire movers.  The way it works is simple; Your Covina storage company will send a portable storage unit to your home for you to pack all your items. Once you pack all your items in the storage unit, you call your Covina storage and let them know it's ready for pick up.  Your Covina storage sends out drivers to come pick up your packed unit.  They can either deliver it to their storage facilities in 91724 or to wherever you need them to go.
Covina Storage Facilities are a good idea for those who are:
Moving out of Covina or out of the state
In need of both long-term and short-term storage rentals
Attending college
Relocating for a job
On a budget
Don't have enough time
Compare Box-n-Go to other storage providers
One Stop Storage Covina – 1432 N Barranca Ave, Covina, CA 91722
Public Storage Covina – 2710 E Garvey Ave S
AAA Quality Self Storage Covina – 216 E Arrow Hwy, Covina, CA 91722
Public Storage 91722 – 791 S Azusa Ave
Covina Self Storage – 1101 N Azusa Ave, Covina, CA 91722
Extra Space Storage Covina – 318 N Vincent Ave, Covina, CA 91722
U-Haul Moving & Storage of Covina – 1040 N Azusa Ave, Covina, CA 91722
Public Storage 91724 – 211 W Allen Ave
Call our self-storage facility and reserve your portable storage unit today!
When it comes to storing your precious belongings, you want a convenient and flexible option that doesn't break the bank.
Box-n-Go
offers you a viable solution with our low-cost portable storage solutions. Whether you are moving across town or across the country, you can feel at ease knowing we will provide you with cheap storage space for your needs. There's no need to put your trust in any of those fly-by-night storage companies you might find.
Call
us today and discover why so many local residents prefer our Covina storage units for rent! Finally, compare a traditional way of storing to Box-n-Go cheap storage units Covina CA. With Box-n-Go many of the above concerns disappear. We take care of the most difficult tasks, so you do not have to. Just call us at 877-269-6461. As the leading storage and moving company in Covina, CA,
Box-n-Go
provides affordable large and small
self-storage
units to the following ZIP Codes: 91722, 91723, 91724. Our customers come from all over the area, including
West Covina
,
Baldwin Park
,
Irwindale
,
Azusa
,
Glendora
,
San Dimas
,
Pomona
,
Walnut
,
La Puente
, and
Los Angeles
. We servcie all of
Orange County, CA
too! Find some Covina mini storage units near you!