RESERVE ONLINE IN MINUTES
RESERVE ONLINE IN MINUTES
Save 50% see how
No Truck Needed see why
No Heavy Lifting we can help load or move
200+ 5-STAR
REVIEWS
A+ BBB
RATING
LOWEST PRICE
GUARANTEE
Box-n-Go Storage & Moving - as Easy as 1-2-3
1
We Deliver
2
We Pick Up
3
We Store or Move
Store on your driveway or inside our secure facility. Load/unload only once. Ground level access.
I want to:
Are you a student?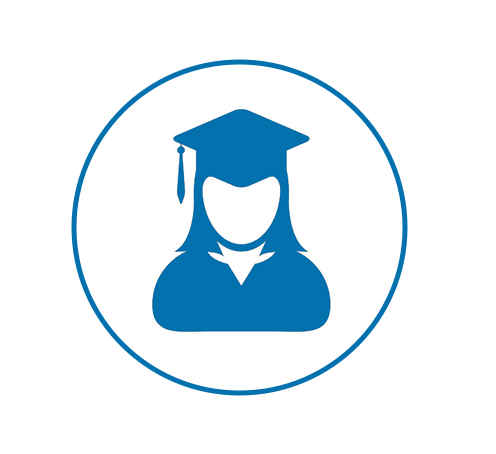 Available Sizes
Box-n-Go - XXL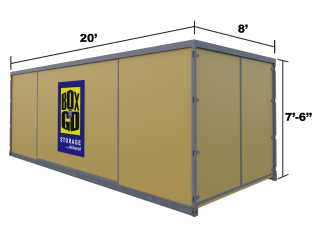 20' Container – all weather.
Perfect for 3-bedroom residence.
5-7 rooms, furniture, appliances, etc.
Learn More
Box-n-Go - XL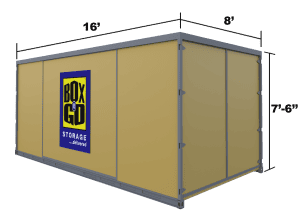 16' Container – all weather.
Perfect for 2-bedroom residence.
3-5 rooms, furniture, appliances, etc.
Learn More
Box-n-Go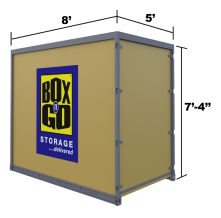 8' Container – all weather.
Modular – works for any need.
Each fits 1-1.5 rooms.
Learn More
I want to:
Are you a student?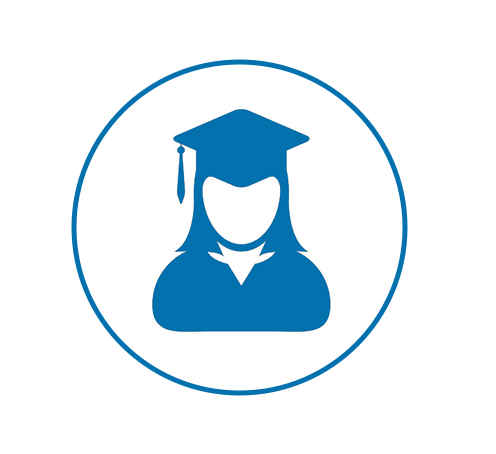 See How Our Services Can Work for You
I want to:
Are you a student?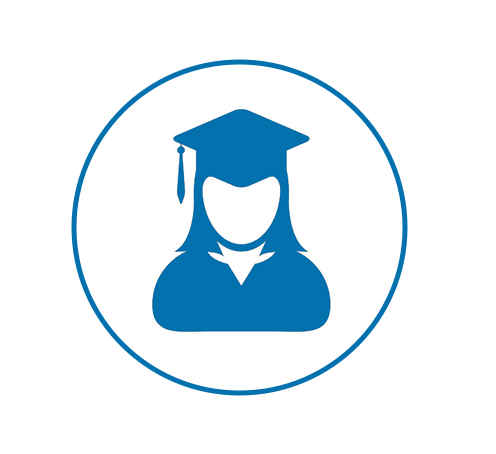 Our Services
Personal & Business Storage
Student Storage
Local & Nationwide Moving
Packing & Loading Help
Moving Boxes & Supplies
Do not see what you are looking for?
What Our Customers Think
I want to:
Are you a student?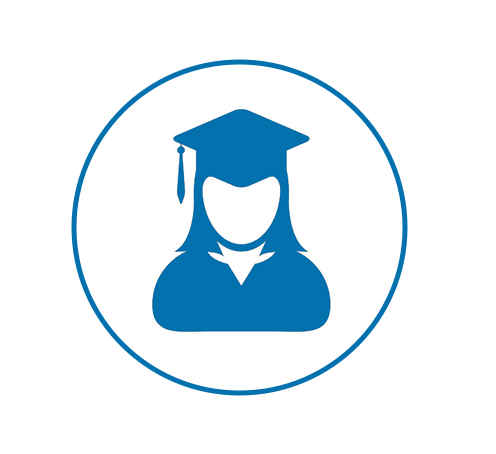 Why Box-n-Go? Here is Our Promise:
We are dedicated to deliver the best solution for almost any storage & moving need, with no gimmicks or hidden costs:
No truck to rent. We deliver storage to you!
Load/Unload only once.
Pay only for space you use.
Secure, climate-friendly facility.
Drive-up access
No Truck to rent…EVER!
Save money and time.
Reduce the risk of accidents and injuries.
No need to pay for gas, insurance & mileage!
Load ONCE Storage Solution!
You only need to load your belongings once!
No need to load and unload it all again into a storage unit.
All containers come with easy ground level access!
Pay Only for the Space You Use!


(if storing at our facility)
No not need to guess on how much space you actually need.
Order an extra 8' x 5' unit. Do not use it – do not pay for it.
Secure, Climate-Friendly Facility!
Highest degree of security and protection.
Our 8' x 5' units are breatheable – no mold or mildew.
No funky smell when your belongings return.
EASY Drive-Up Access!


(if storing at our facility)
Access your units at ground level.
No elevators, ramps, stairs to climb.
Schedule access appointment & drive straight to your units.
I want to:
Are you a student?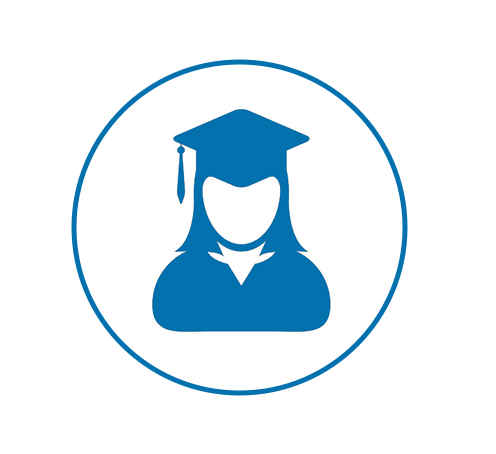 Cheap Storage Units in Huntington Beach, CA
Considering self-storage units in Huntington Beach, CA for the first time? This article will ensure your first experience is child's play and amusingly simple. Every household and individual has additional furniture and other belongings they would prefer not to throw away. If you have something similar that you want to store, you can rent self storage in Huntington Beach, California. Read on to know more about our secure self-storage units.
Things to consider when selecting your storage facility near Huntington Beach, CA
With public storage facilities in Huntington Beach, you have the option to free up space in your household or office. The management of the typical public storage facility will give you a key or code for your access. There's no need to call the manager of the property to ask permission to open the unit for you. Many people often think that Box-n-Go's rental space in Huntington Beach is limited and there are only a few items that can be stored. There are many items both large and small that can be placed in storage, however. So what type of storage units are you looking for? Box-n-Go storage units in Huntington Beach are easy to find and easier to use. The flexibility of our innovative moving system is second to none. Therefore, nobody can give you a better deal on storage units in Huntington Beach, CA. If you want to learn more about Box-n-Go Storage in Huntington Beach, CA, here are a few things to know.
What Can I Store with Box-n-Go Storage Units in Huntington Beach?
Furniture (sofas, end chairs, beds, tables, etc.)
Clothes (designer dresses, shoes, handbags, etc.)
Artwork and paintings
Business files and documents
Electronics
Instruments (pianos, French horns, flutes, etc.)
Whether you need to store small or large items, Box-n-Go's self-storage facility has you covered. We offer affordable storage units near Huntington Beach for a wide variety of items.
Climate-Friendly Storage in Huntington Beach, CA
Self-storage facilities can experience damaging temperature and moisture fluctuations if not regulated properly. This could in turn cause irreparable damage to your possessions. Exposure to too much heat in a closed space may warp or distort some stored materials. Moisture can cause rust to form on metal contents. Other possessions to be mindful of include furs, electronics, linens, musical instruments, and expensive antiques. Matters are entirely different with our storage units for rent in Huntington Beach, CA from
Box-n-Go
. Box-n-Go offers self-storage units in Huntington Beach, CA that are breathable and capable of preventing issues with moisture. Additionally, Box-n-Go storage units are warehoused in a commercial-grade, insulated, climate-controlled building. So temperature spikes in the summer are of no concern.
Choosing the Right Self-Storage Facility in Huntington Beach
While looking over a self-storage unit, make sure it is the right size. You don't want to cram all your precious belongings into a tight space and damage them in the process. Also, the self-storage unit should not be so large that you end up paying for space you do not need. Size is an important consideration when it comes to self storage.
Self Storage Units Huntington Beach CA – Managing your possessions
Your storage containers will have to be arranged in such a way that retrieving them is easy. Also, labeling your boxes is necessary to know which item is where.
Storage Unit Huntington Beach – Using Boxes
You need to place labels on your boxes. These may include 'This Way Up' signs or the like. Also, placing labels on all 4 sides of a box could make things more convenient. You can utilize the storage unit in such a manner that the well-taped boxes are enough to prevent things from falling out. Furthermore, it is advisable to use a uniform size of boxes that you can stack upon each other.
Storing
Store possessions that you don't use too often at the very back of your public storage unit in Huntington Beach, California. Make sure those items that you need often are at the front and easily accessible. Also, make aisles so that walking in between your stored items is made easier. The boxes that are the heaviest should be placed at the bottom of a stack.
The Do's and Don'ts of Using Self Storage
Put plastic sheets, pallets, and tarps around on the floor of the unit. This would prevent the stored boxes from getting wet in a flood. This is particularly essential if your unit is on the ground floor.
Furthermore, try using shelving to make your self storage 92647 units more organized and efficient.
Remember to pack enough items within each box to ensure they don't get crushed. Your Huntington Beach storage facility 92647 will naturally not be responsible for the damages that occur to your possessions.
Leave refrigerators open to stop mildew and mold from appearing.
Don't forget removing oil from any machines before they are stored in self storage. This adds to the safety of your possessions at a public storage facilities near 92649.
Do not pack all the boxes against the walls of the self-storage unit. This, again, will prevent mold and mildew from appearing. Place these boxes at least an inch from the back of the wall. This will also make a form of ventilation to protect the boxes.
What to Expect
A typical self-storage facility in Huntington Beach, CA provides security via gated access, which is always under video surveillance. Unfortunately, once the person is behind the gate, they are free to roam around and do whatever they please. So security would largely depend on the type of people entering the facility. This is not the case with a container storage system, such as Box-n-Go's. Box-n-Go offers drive-up access. This access is available only in a special area and by appointment only. Customers are not allowed inside the facility where all the storage units are kept.
Loading Tips for Self Storage
Follow the guidelines below to make packing for public storage in Huntington Beach, CA a breeze.
Sports Equipment
Over the years, many of us accumulate a lot of fitness equipment. You want to clean them and wrap them to avoid damage and warping while kept in self storage. Dismantle any heavy sports equipment, like a multi-gym. The heavy equipment is usually bulky. By taking it apart, you can gain the valuable space inside your storage places 92647.
Yard Items
Gardens are full of wooden and stone furniture, children's swings, slides, pots, and other cumbersome and fragile but heavy items. Pack them well. Dismantle them into the smaller parts where possible.
Drain any fuel and other liquids from mowers and other powered equipment like chainsaws, because the fuel not only smells bad but is hazardous.
Pack with weight in mind, especially tool kits, to ensure they are not too heavy. Basically, make sure you can carry each part. It's just common sense.
Be aware of any inflammable or hazardous materials.
Be sure to wrap your smaller items to protect them.
Valuables and Personal Documents
Pack these separately and keep them with you. However, do not store passports and other personal papers. Once your items are packed, we collect the mobile storage 92649 unit and take it to a secure public storage facility in Huntington Beach, CA. There is no need to commute to a storage center 92647. The storage containers come to you instead.
Discover Why Locals Prefer Low-Cost Storage Units from Box-n-Go
It can be hard to place your valuables in storage. But with Box-n-Go's cheap 92649 storage units in Huntington Beach you have an affordable and safe self-storage locker 92647 solution. You can put your mind at ease. Here at Box-n-Go, we can provide you with the following:
Portable self-storage near 92649, so no loading and unloading twice.
Ground-level access to all your items at no extra charge, because it's easy on your back.
Pick-up and delivery of your storage units near 92649.
Delivery service of your storage containers across the country.
Units that will help prevent mold and mildew.
State-of-the-art surveillance and security to prevent theft.
Compare Traditional Storage Services to Box-n-Go
Need Huntington Beach storage? You should consider
Box-n-Go
Storage. We have over 150+ five-star reviews that you can check to see that our storage services are legit. Other than this, we have an A+ BBB rating and have served over 11K customers. Come to us for easy storage solutions at affordable rates. We deliver and move your belongings nationwide. We also offer:
Load-assisted public storage
Full-service loading
In-home pick-up service
Perfect student storage 92647 solutions
Household and business storage
Local moving
Long-distance moving
When you are considering storage lockers in Huntington Beach, California, we hope you will give serious thought to
Box-n-Go Storage
. We deliver these mobile storage units 92647 to your location. This allows you to pack the units at the ground level. There are no ramps to worry about, no lifting of your heavy furniture pieces to the truck bed. Do not just take our word for it. Compare for yourself:
Public Storage Huntington Beach CA – 8885 Riverbend Dr, Huntington Beach, CA 92647
Storage Outlet Huntington Beach – 8620 Hamilton Ave, Huntington Beach, CA 92646
Huntington Beach Public Storage – 2065 Placentia Ave
Extra Storage Huntington Beach – 17692 Sampson Ln, Huntington Beach, CA 92647
Public Storage near 92646 – 2099 Placentia Ave
Seacliff Self Storage – 18100 Kovacs Ln, Huntington Beach, CA 92648
Public Storage 92647 – 17952 Gothard St, Huntington Beach, CA 92647
A1 Storage 92647 – 17292 Gothard St, Huntington Beach, CA 92647
Security Public Storage – 7676 Slater Ave, Huntington Beach, CA 92647
Benefits of Using Box-n-Go
No need to rent a moving truck
Flexible delivery/pick-up schedule
Pack and load at your own pace
Free ground-level access at your self-storage facility in Huntington Beach
Pay only for the space you use
Convenient ground-level loading
We Provide Low-Cost Huntington Beach Storage Units via Box-n-Go!
For those who are looking for storage solutions in Huntington Beach,
Box-n-Go Self Storage
is the company you want. Take the hassle out of moving and storage. In just a few easy steps you can have your items stored away safely and conveniently. Access your unit at your leisure, however, by appointment only. Empty it when you are ready. Give us a call or contact us today. Find out for yourself why so many locals reserve storage units in Huntington Beach through Box-n-Go! By comparison, traditional storage places can be very tricky. If you opt for cheap storage space near 92649, you may not get what you need, but some storage locations in Huntington Beach may leave you spending way more than you need to. These are some of the most common mistakes people make when they rent self-storage near 92649, plus some tips for avoiding them. Here are the 5 most common mistakes made by customers who opt for traditional storage near me 92649 places.
1. Miscalculating Space
Arguably the most common storage unit mistake is simply miscalculating space, whether it's the size of the unit or the amount of space in the home you're moving to. It can be hard to look at your belongings and determine how large of a unit you need. Try to choose your storage unit based on the size of your largest items, and use one of the calculators available online if you need to. And remember, it's always better to have a bit of extra room than not enough.
2. Not Insuring Items
In general, owners of public storage places aren't responsible for your belongings. If something is lost or damaged, you're out of luck. This is why it's important to insure your belongings. You can generally find this type of coverage available under homeowners' and renters' insurance policies.
3. Rushing Things
You probably don't want to spend hours packing things away in your storage container, but investing more time in packing can save you time later. If you haphazardly throw all your things into storage units, you'll have a much harder time getting them out. Chances are you'll spend more time dealing with storage units if you skimp on the time you spend packing.
4. Focusing on the Price
While it can be tempting to look for the most affordable self-storage unit prices in Huntington Beach, you don't want to focus solely on the fees.  Because the most important thing when looking for storage units is to find one that works for you in regards to size, access, and location. If you're trying to decide between two storage facilities, make sure to select the one with the storage features you need. You can also expect to pay higher self-storage prices if you're looking for climate-controlled storage or unusually large storage units.
5. Not Considering Moving Truck Size
It may sound trivial, but the size of your moving truck is just as important as choosing the right storage units. Moving trucks come in a wide range of sizes just like storage units because some people need more space to move their belongings. The problem is that these larger trucks can be too large to fit in the aisles of a storage facility. Before you go looking for storage units in Huntington Beach and rent a moving truck, make sure the truck you're going to rent will be able to maneuver around the storage facility you choose. Box-n-Go provides self-storage units to the following zip codes in Huntington Beach, CA: 90742, 92605, 92615, 92646, 92647, 92648, 92649. Find a Huntington Beach portable storage unit near you! For further information contact Box-n-Go Storage on their
website
, or call 877-269-6461. You can come across Box-n-Go containers in many cities and neighborhoods around you:
Seal Beach, CA
,
Los Alamitos, CA
,
Westminster, CA
,
Newport Beach, CA
,
Newport Coast, CA
,
Costa Mesa, CA
,
Fountain Valley, CA
and many other cities in
Orange County, CA
and
Los Angeles, CA
.
Self Storage Units in Huntington Beach
Moving to California or anywhere else is always about organizing temporary storage space. Surely you would want to move only some things at once to a new address. How, then to deal with these items while you settle the legal and other important issues? Traditional storage methods with hiring a car, organizing loading and unloading, and delivering cargo several times to the warehouse and back are expensive.
Where to order self-storage units in California?
A modern service for renting mobile containers for self-storage and moving Box-n-Go will save you a lot of time, effort, and money. Mobile constructions for cheap rental are delivered directly to the customer's doorstep for loading. The filled unit can remain in place near the house for as long as required or immediately be collected for placement in a secure facility. We maintain maximum flexibility in terms of cooperation. Our customers can have constant access to their units during the company's business hours.
Ready-made solutions for the rent of space
Box-n-Go will help you organize the storage of your items and their movement to any city. Mobile warehouses are the best solution in terms of convenience and accessibility.
The storages in 5′ × 8′ sizes are available to rent in Huntington Beach, Ca. You can always order additional units, and we will calculate the modular units in the quantity you need and pick up the extra ones. Call us, and we will bring storage units right to your doorstep.