RESERVE ONLINE IN MINUTES
RESERVE ONLINE IN MINUTES
Save 50% see how
No Truck Needed see why
No Heavy Lifting we can help load or move
200+ 5-STAR
REVIEWS
A+ BBB
RATING
LOWEST PRICE
GUARANTEE
Box-n-Go Storage & Moving - as Easy as 1-2-3
1
We Deliver
2
We Pick Up
3
We Store or Move
Store on your driveway or inside our secure facility. Load/unload only once. Ground level access.
I want to:
Are you a student?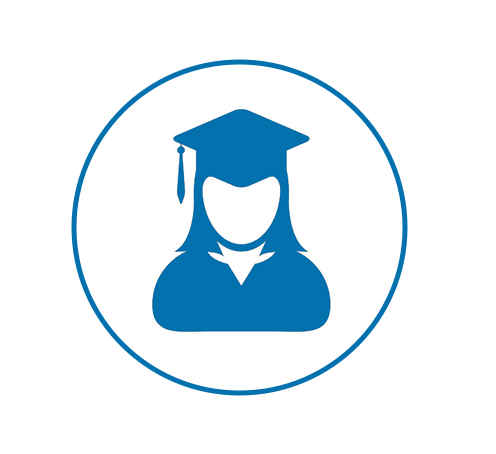 Available Sizes
Box-n-Go - XXL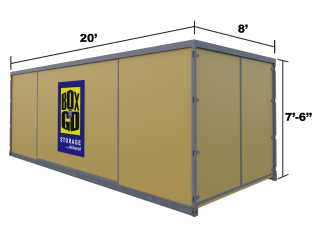 20' Container – all weather.
Perfect for 3-bedroom residence.
5-7 rooms, furniture, appliances, etc.
Learn More
Box-n-Go - XL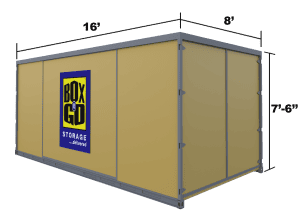 16' Container – all weather.
Perfect for 2-bedroom residence.
3-5 rooms, furniture, appliances, etc.
Learn More
Box-n-Go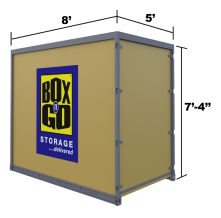 8' Container – all weather.
Modular – works for any need.
Each fits 1-1.5 rooms.
Learn More
I want to:
Are you a student?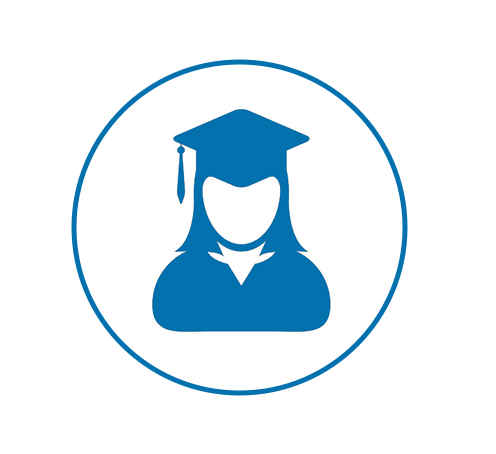 See How Our Services Can Work for You
I want to:
Are you a student?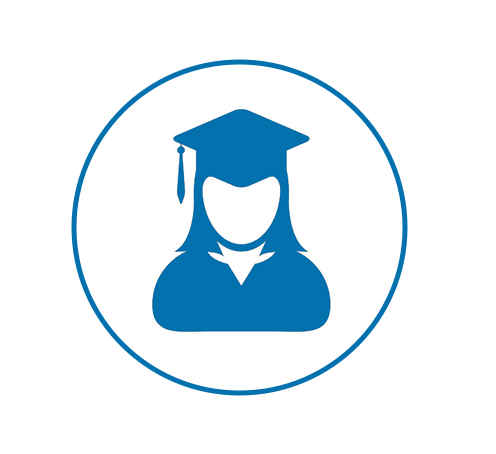 Our Services
Personal & Business Storage
Student Storage
Local & Nationwide Moving
Packing & Loading Help
Moving Boxes & Supplies
Do not see what you are looking for?
What Our Customers Think
I want to:
Are you a student?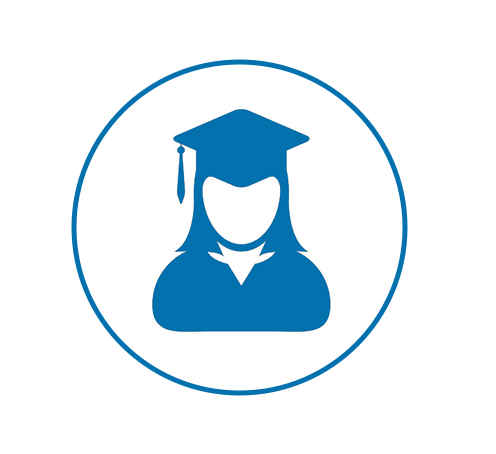 Why Box-n-Go? Here is Our Promise:
We are dedicated to deliver the best solution for almost any storage & moving need, with no gimmicks or hidden costs:
No truck to rent. We deliver storage to you!
Load/Unload only once.
Pay only for space you use.
Secure, climate-friendly facility.
Drive-up access
No Truck to rent…EVER!
Save money and time.
Reduce the risk of accidents and injuries.
No need to pay for gas, insurance & mileage!
Load ONCE Storage Solution!
You only need to load your belongings once!
No need to load and unload it all again into a storage unit.
All containers come with easy ground level access!
Pay Only for the Space You Use!


(if storing at our facility)
No not need to guess on how much space you actually need.
Order an extra 8' x 5' unit. Do not use it – do not pay for it.
Secure, Climate-Friendly Facility!
Highest degree of security and protection.
Our 8' x 5' units are breatheable – no mold or mildew.
No funky smell when your belongings return.
EASY Drive-Up Access!


(if storing at our facility)
Access your units at ground level.
No elevators, ramps, stairs to climb.
Schedule access appointment & drive straight to your units.
I want to:
Are you a student?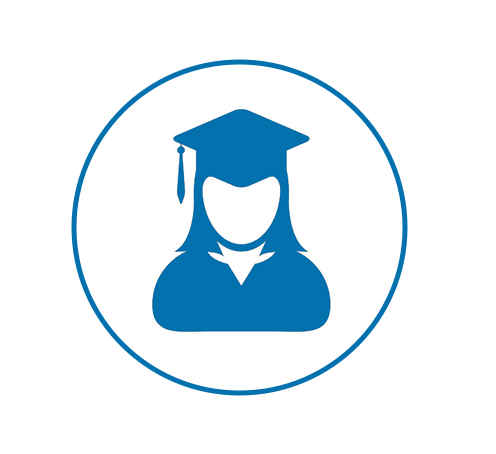 Self Storage in Upland, CA
Many small business owners in the Upland area assume that if they were to use local self-storage facilities to store some items, it would make life a lot easier. However, the truth is that many of the cheaper storage facilities in Upland and neighboring towns present many issues, even if you may not realize it at first. Here is a list of six serious issues with self-storage facilities that could affect your business.
Lack of Security Results in Lost Items
The cheaper storage locations in Upland often take shortcuts to offer those low prices. And that often means they have zero security at their storage facility. Therefore, anyone can waltz in at night, cut open locks to the storage units, and take the items they want to steal. No one can stop them as no cameras or guards are set up.
2. Climate-Control Issues May Damage Items
Another major concern with many Upland facilities is the lack of climate-controlled storage conditions. If your business is keeping sensitive items that could get damaged by extreme weather, it may not be a good idea to keep items in these storage places. Hence, it may be better to find companies that offer features like climate control, so you can have peace of mind regarding the safety of your items. Keep in mind that climate-control issues rarely arise when you use mobile storage units. This is mostly due to the fact that mobile storage units are usually insulated, industrial-grade buildings. Therefore, temperature is usually very steady inside these climate-controlled storage places.
3. Inconvenient Locations Present More Problems
You may have noticed that many Upland public storage facilities are located far away from the major downtown spots. It results in a long drive whenever you need to load up the storage unit or take items out. And when you mix in the limited hours at many self-storage facilities, it can be tough for a business to quickly get items they need. Hence, many businesses have started looking at mobile storage units as a better option. A mobile storage facility like Box-n-Go can send containers to a business to be filled up, emptied, or accessed at random moments. As a result, it is so much easier and more convenient to store items using this method.
4. Price Hikes Can Break Your Budget
Ever noticed how your storage unit costs inexplicably rise after a few months of use? Many storage companies use this tactic, as they lure customers in with low introductory prices only to raise them after a while. And since the customers already filled the storage units, they will just pay the prices instead of questioning the tactic.
5. Unpaid Bills Result in Auctions of Items
The worst issue that some businesses experience with their Upland storage facility is how a couple missed payments can result in an entire unit being auctioned off. All the items from that storage unit are sold to someone else, who then owns the items. For businesses that could face financial difficulties in the future, it is a risk to place valuable items in these kinds of self-storage facilities.
6. Moving Companies Shutting Down
Should you use a moving company for your monthly storage rental needs, your belongings may be at risk. When movers can provide affordable storage services, they are still movers. Their business is very volatile and they may shut down altogether. What happens when an Upland storage facility shuts down? It usually means that customers have a limited window of time to get their items out of the storage units. This is another reason why going with a reputable, nationwide mobile storage company like Box-n-Go is a better idea. You will know that company is not going anywhere—and you get easy access to your items!
Your Protection and Coverage Needs Are Taken Care of with Box-n-Go
The time has come for you to search for storage units in Upland, and you are not sure what to do. There are many storage facilities around Upland; however, you are still wary and uncertain about your options. The first thing you should do is ask about the different types of protection coverage you need. Whether you are storing furniture, antiques, collector's items, or household things, it's important that you have some form of coverage to protect your items from damage.
Upland storage units from Box-n-Go
While some self-storage facilities have their own coverage plans they can offer you, it's always a great idea to see what kind of coverage you can get on your own, however. Don't overlook the protection plans available for your self-storage units in Upland, CA. In some cases, they may benefit you in case disaster strikes. The most common types of disasters that can occur are:
Robbery/Theft
Fire
Natural disasters (storms, tornadoes, earthquakes)
This is why it's imperative that you search for protection options that cover and protect your items in case one of these events occur while your belongings are placed inside storage units in Upland. This is where Box-n-Go can be helpful for you.
What you can place in our storage units in Upland, CA
When most people discover that Box-n-Go offers portable storage units that can be delivered anywhere, they often fear that the storage containers are too small.  This is simply not the case. While everyone has different needs, and we offer different size storage units, most of our containers can fit a wide variety of furniture, instruments, and household items. So, if you are worried about what our storage units can store, here is a short list of some of the items that Upland residents place in our self-storage facility:
Living room furniture
Dining room furniture
Bedroom furniture
Kitchen appliances
Outdoor lawn equipment
Outdoor/Patio furniture
Electronics
Computers
Jewelry
Instruments
Before you rent self-storage units, consider maximizing the current use of space in your home.
Utilize Hidden Space
Use any space underneath the stairwell. It can be fitted with doors, shelves, or drawers. Extra cupboards can be inserted in non-structural walls. Windows and space between windows can be surrounded by shelves.
Reorganize Rooms and Furniture
By thoughtfully rearranging furniture you can make a room look more spacious and enhance functionality. Redecorating with brighter color schemes and lighting can brighten up a small space and give an illusion of space. Strategic use of wall mirrors will give an illusion of doubling or tripling the space you already have.
Call Box-n-Go to reserve storage units in Upland, CA
If you still need Upland storage units, contact
Box-n-Go Storage
. They can deliver mobile storage units to any area location. This is a great convenience because they offer several benefits over traditional storage services.
As you can pack the units at your own convenience, you will be assured your goods are always kept in the best condition. Follow some of the many tips on this site to ensure this.
We collect and take the units to a secure self-storage site on your schedule. This means that you only need to pack and load your items once rather than load and unload your possessions at both ends.
You don't need to ensure a tiresome commute to a remote facility, so you save a lot of time.
No need to hire a truck to transport your goods.
When it comes to storing your items, it doesn't matter what you place in our facility. All that matters is that you have an affordable storage option near your home in Upland. Whether you are storing your items for a short-term vacation or a long-term move, you can rest assured that
Box-n-Go storage
in Upland can provide you with a variety of low-cost solutions that you can rely on.
Call
our storage facility and reserve your space today!
Compare for your self
We are firmly convinced that Box-n-Go offers the best value for your dollar when it comes to long- and short-term storage solutions. We think you'll be happy with our self-storage unit prices in Upland. However, there may be situations that require a use of another local facility. Just in case, here are some of the best local storage places that you can visit and compare:
Public Storage Upland CA – 127 S Euclid Ave, Upland, CA 91786
Upland Self Storage Upland CA – 2026 W Foothill Blvd, Upland, CA 91786
Foothill Self Storage Upland CA – 1041 Foothill Blvd, Upland, CA 91786
Extra Space Storage Upland CA – 775 S Mills Ave
Upland Public Storage – 5548 Arrow Hwy
Public Storage 91786 – 8949 Hermosa Ave
Public Storage 91784 – 4026 Mission Blvd
Storguard Upland Storage Benson – 1200 N Benson Ave, Upland, CA 91786
US Storage Upland – 1808 W Foothill Blvd, Upland, CA 91786
US Storage Centers Upland – 2500 W Hellman Ave
Access to Stored Belongings
Access is very easy and convenient. All we ask is for you to give us a 1-day notice. We will pull your storage unit from our warehouse and place it in a designated special access area. When you come, you will be able to drive up right to your storage units. This service is FREE to Box-n-Go customers. Hence, this service represents an incredible convenience—drive-up access at no extra cost! Box-n-Go provides self-storage units to the following ZIP Codes in Upland, CA: 91763, 91784, 91785, 91786. Find an Upland portable storage unit near you! In addition, Box-n-Go's simple and convenient business and household storage services are available in the following neighboring cities and communities:
Rancho Cucamonga, CA
,
Pomona, CA
,
Ontario, CA
,
Montclair, CA
,
Chino, CA
,
Chino Hills, CA
,
Claremont, CA
, and many other parts of
Riverside
,
Los Angeles
, and
Orange counties
.