RESERVE ONLINE IN MINUTES
RESERVE ONLINE IN MINUTES
Save 50% see how
No Truck Needed see why
No Heavy Lifting we can help load or move
200+ 5-STAR
REVIEWS
A+ BBB
RATING
LOWEST PRICE
GUARANTEE
Box-n-Go Storage & Moving - as Easy as 1-2-3
1
We Deliver
2
We Pick Up
3
We Store or Move
Store on your driveway or inside our secure facility. Load/unload only once. Ground level access.
I want to:
Are you a student?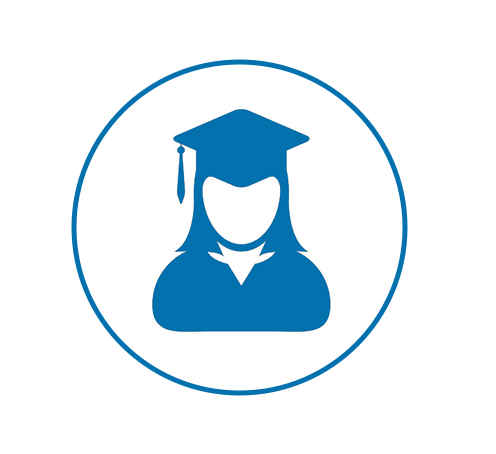 Available Sizes
Box-n-Go - XXL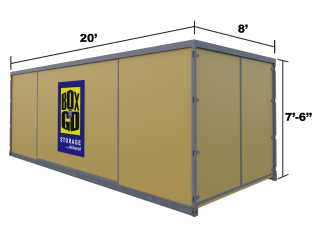 20' Container – all weather.
Perfect for 3-bedroom residence.
5-7 rooms, furniture, appliances, etc.
Learn More
Box-n-Go - XL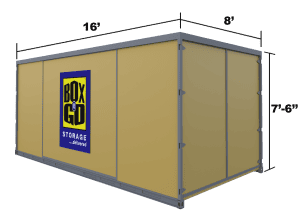 16' Container – all weather.
Perfect for 2-bedroom residence.
3-5 rooms, furniture, appliances, etc.
Learn More
Box-n-Go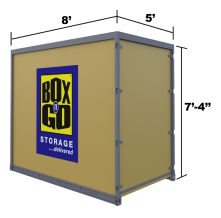 8' Container – all weather.
Modular – works for any need.
Each fits 1-1.5 rooms.
Learn More
I want to:
Are you a student?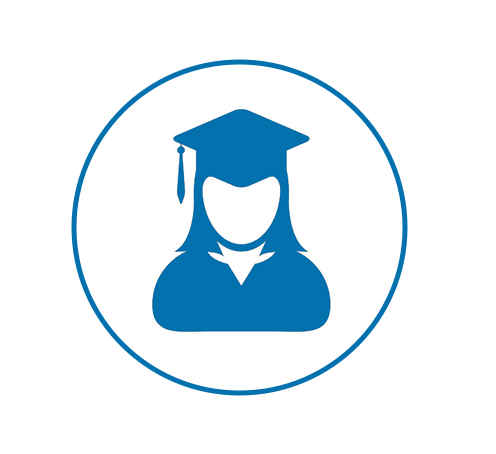 See How Our Services Can Work for You
I want to:
Are you a student?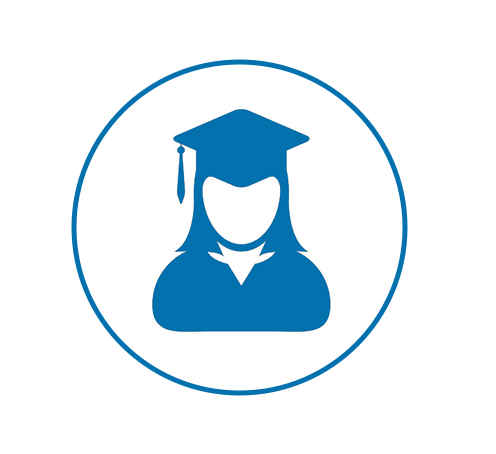 Our Services
Personal & Business Storage
Student Storage
Local & Nationwide Moving
Packing & Loading Help
Moving Boxes & Supplies
Do not see what you are looking for?
What Our Customers Think
I want to:
Are you a student?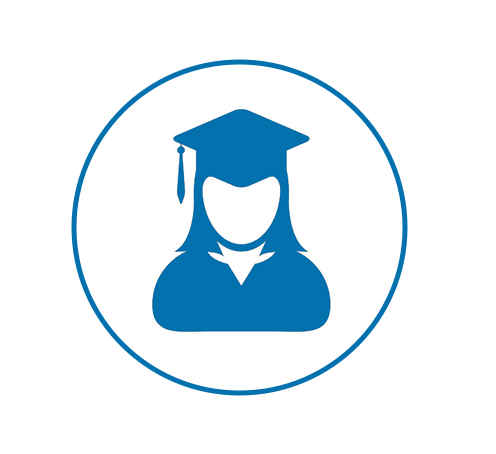 Why Box-n-Go? Here is Our Promise:
We are dedicated to deliver the best solution for almost any storage & moving need, with no gimmicks or hidden costs:
No truck to rent. We deliver storage to you!
Load/Unload only once.
Pay only for space you use.
Secure, climate-friendly facility.
Drive-up access
No Truck to rent…EVER!
Save money and time.
Reduce the risk of accidents and injuries.
No need to pay for gas, insurance & mileage!
Load ONCE Storage Solution!
You only need to load your belongings once!
No need to load and unload it all again into a storage unit.
All containers come with easy ground level access!
Pay Only for the Space You Use!


(if storing at our facility)
No not need to guess on how much space you actually need.
Order an extra 8' x 5' unit. Do not use it – do not pay for it.
Secure, Climate-Friendly Facility!
Highest degree of security and protection.
Our 8' x 5' units are breatheable – no mold or mildew.
No funky smell when your belongings return.
EASY Drive-Up Access!


(if storing at our facility)
Access your units at ground level.
No elevators, ramps, stairs to climb.
Schedule access appointment & drive straight to your units.
I want to:
Are you a student?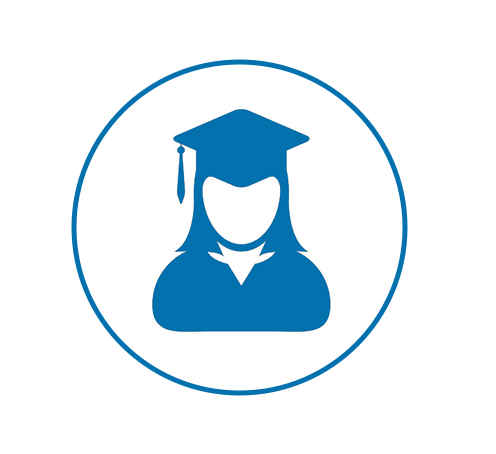 Self-Storage Units in Oak Park, CA 91377
Far too many of us use the garage not for our cars but as an extra storeroom for the over-spill of our households.  If you do need extra storage Oak Park residents should not take over the garage, but consider other solutions. Cars can get damaged by the sun and elements when they're left in the driveway all the time. Another issue is security as a garage will always offer a safer location and deter casual thieves.
The best way to tackle the issue is to follow these guidelines:
Tackle the organization of the garage after you have decluttered and organized the other rooms of your rest home.
Ruthlessly sell, discard or donate items that no longer have regular use.
Place regularly used items in the most accessible places in the garage.  This will at least ensure they are used.
Sort remaining items into appropriate categories and then purchase sturdy, properly sized storage containers.
Keep your sorted items together on shelves or in sections keeping parking free.
Make the most of wall space with wall-mounted peg boards, tool holders, and hooks.
Use small, stackable containers to hold small hardware and fixings.
When we need
extra storage
, Oak Park residents are well placed to take advantage of the mobile storage units supplied by
Box-n-Go Storage
.  These can be delivered to any Oak Park address for you to load at your own convenience. The access is very convenient as well. All you need to do is to call Box-n-Go schedule your access appointment in advance. We will pull your unit from a secure storage warehouse and set on the ground for you. You will be able to access your belongings on the ground level! This service is very easy and convenient. Very affordable as well.
Storage is a great solution to a pest problem
Creepy critters, bugs, rodents, call them whatever you want, but one thing is for sure: they don't belong in your Oak Park home. While you do everything to keep your house clean, there are some small insects like ants, cockroaches, and bugs that seem to make their way into your home. Over-the-counter bug sprays and pesticides are considered a temporary fix. They can only do so much. So, what do you do? Your best bet will be to call an Oak Park exterminator to help you eliminate your pesky pest problem. But, there's one problem:  Your furniture and valuable items are still in your home.  Most people opt to have their house sprayed. However, there are many people who are apprehensive about the harsh chemicals that are used to kill the bugs. This is why many people are searching for Storage Oak Park.
Storage to Help in Family Situations
The most common situation facing a couple who is divorcing is the upheaval of arranging new living arrangements for the family. Oak Park self storage its the option. The media often only portrays a man leaving a household when the marriage breaks down as the only outcome; however this is not always the case. How can using Oak Park self storage help this situation?  When a man leaves the home they often need to store items as they downsize to smaller living arrangements. 
Box-n-Go Storage
makes the process a lot easier at this stressful time by delivering mobile units directly to the home.  This saves any tiresome commute to a remote storage facility. The wife and the kids stay in the family home while a husband gets an apartment or smaller home in the area.  Many men actually do this before they even start any form of legal process towards divorce. They assume that the details will be worked out at a later date. Best advice is that a partner should never move out of the house voluntarily.
Why to avoid telling people you are moving out
You are telling everyone including the judge that you have the financial means to afford your own home and still support yourself.
You are inadvertently telling any judge that you have no issues with letting your wife have custody of the kids.
Carefully consider whether storage is an ideal solution when you eventually move away from the family home.
Why put your furniture into storage units Oak Park CA?
The ideal solution is to put your furniture in Oak Park self storage. The reason being is, you never know what kind of chemicals and treatments can harm your furniture. So, before you call your exterminator you want to search for Storage Oak Park, and ask about different storage options for your needs. In some cases, an infestation problem may be too large to handle. So it may require Oak Park residents to move out of their home temporarily.  If this is the case, you want to search for Storage Oak Park online that has portable storage units. We can deliver your items to you if you have to stay out of your Oak Park home longer than anticipated. Placing your items in Oak Park self storage is the ideal solution. However, you want to make sure that your furniture doesn't have pest and creepy critters as well.  Therefore, before you place your belongings in storage Oak Park CA, make sure your furniture is pest free.
Here are some steps to "de-bug" your furniture before placing it in Oak park self storage:
Spray and wipe down all wooden/glass furniture with disinfectant wipes and spray
Disassemble all furniture and shake out any parts necessary
Thoroughly wash pillows, sheets, and any other fabrics
Perform a thorough check before placing your items in self storage
Inform your storage of pests problems- they may have extra tips they can give you
Call Box-n- Go storage 91377 and store all your items today!
Getting rid of a bug problem is not the best reason to place your items in storage. But, it's still a good one. Put your mind at ease knowing that there is an Oak Park storage center minutes away from your home. Whether you need to store your furniture and other items for a few weeks, or a few months, let Box-n-Go self storage take care of you. Call us at 877-269-6461 and rent one of our storage units today! Box-n-Go services are in high demand because of their convenience and ease of use. Our customers come from
many parts
of Southern California, including many neighboring cities and communities:
Calabasas, CA
,
Topanga, CA
,
West Hills, CA
,
Chatsworth, CA
, 
Agoura Hills, CA
,
Westlake Village, CA
,
Thousand Oaks, CA
,
Simi Valley, CA
and many other parts of
Los Angeles, CA
and Ventura County and
Orange County, CA
.