RESERVE ONLINE IN MINUTES
RESERVE ONLINE IN MINUTES
Save 50% see how
No Truck Needed see why
No Heavy Lifting we can help load or move
200+ 5-STAR
REVIEWS
A+ BBB
RATING
LOWEST PRICE
GUARANTEE
Box-n-Go Storage & Moving - as Easy as 1-2-3
1
We Deliver
2
We Pick Up
3
We Store or Move
Store on your driveway or inside our secure facility. Load/unload only once. Ground level access.
I want to:
Are you a student?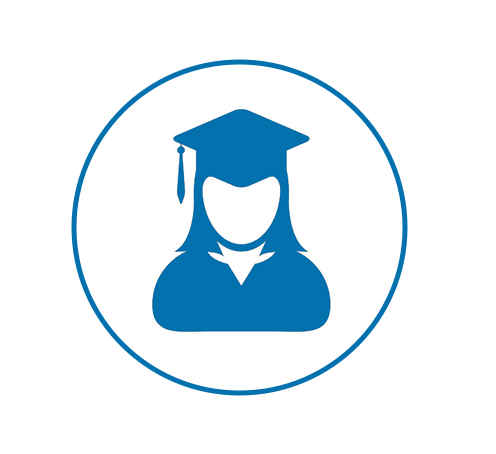 Available Sizes
Box-n-Go - XXL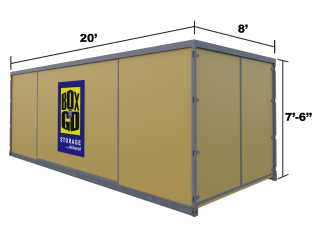 20' Container – all weather.
Perfect for 3-bedroom residence.
5-7 rooms, furniture, appliances, etc.
Learn More
Box-n-Go - XL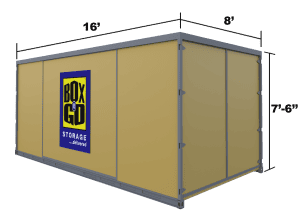 16' Container – all weather.
Perfect for 2-bedroom residence.
3-5 rooms, furniture, appliances, etc.
Learn More
Box-n-Go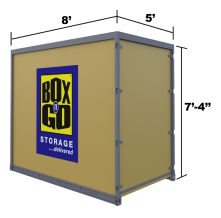 8' Container – all weather.
Modular – works for any need.
Each fits 1-1.5 rooms.
Learn More
I want to:
Are you a student?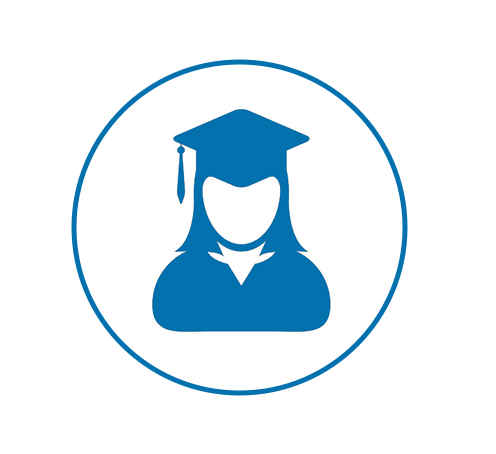 See How Our Services Can Work for You
I want to:
Are you a student?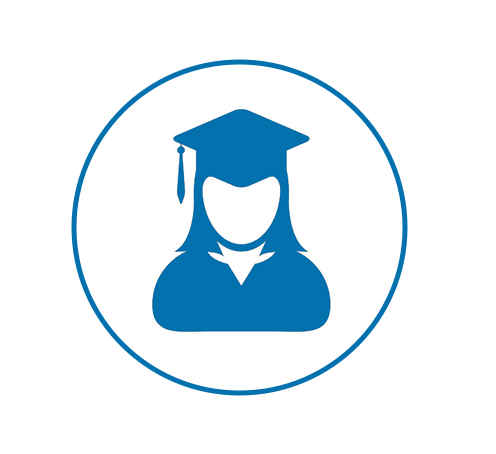 Our Services
Personal & Business Storage
Student Storage
Local & Nationwide Moving
Packing & Loading Help
Moving Boxes & Supplies
Do not see what you are looking for?
What Our Customers Think
I want to:
Are you a student?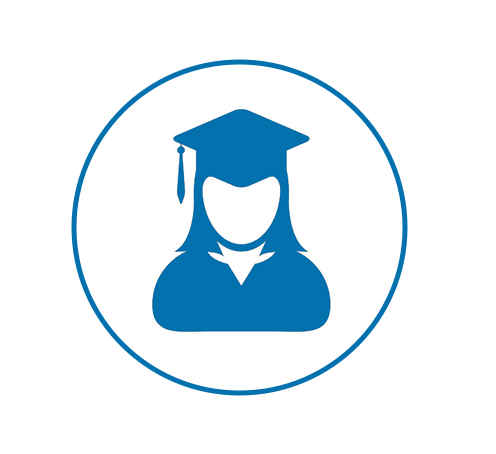 Why Box-n-Go? Here is Our Promise:
We are dedicated to deliver the best solution for almost any storage & moving need, with no gimmicks or hidden costs:
No truck to rent. We deliver storage to you!
Load/Unload only once.
Pay only for space you use.
Secure, climate-friendly facility.
Drive-up access
No Truck to rent…EVER!
Save money and time.
Reduce the risk of accidents and injuries.
No need to pay for gas, insurance & mileage!
Load ONCE Storage Solution!
You only need to load your belongings once!
No need to load and unload it all again into a storage unit.
All containers come with easy ground level access!
Pay Only for the Space You Use!


(if storing at our facility)
No not need to guess on how much space you actually need.
Order an extra 8' x 5' unit. Do not use it – do not pay for it.
Secure, Climate-Friendly Facility!
Highest degree of security and protection.
Our 8' x 5' units are breatheable – no mold or mildew.
No funky smell when your belongings return.
EASY Drive-Up Access!


(if storing at our facility)
Access your units at ground level.
No elevators, ramps, stairs to climb.
Schedule access appointment & drive straight to your units.
I want to:
Are you a student?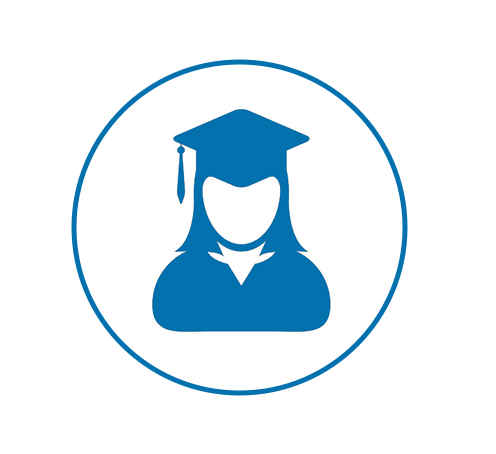 Self Storage Units in Temple City CA by Box-n-Go
If you are planning to downsize your belongings or are planning to move out of your city, then make sure you choose a well-known Temple City Self Storage. You would be impressed to know that we, at Box-n-Go, provide the best storage units Temple City CA that not only are safe and secure, but also quite reasonable. Our storage units 91780 will get delivered to your new location as well, thus making the process smooth and easy for you. Our reputation would convince you that we are the best option for storage units. If you want to learn more about self storage in Temple City CA, kindly keep reading this article.
Searching for Self Storage Temple City?
When it comes to searching for storage Temple City, there are some important factors you need to know before choosing the right storage for you. This is why we put together this little guide to help you understand more about mini storage, storage rentals, storage costs, and self storage in Temple City. Once you finished reading this short guide, you will be able to choose a storage facility that seems right for you.
Self storage
Whether you are moving across the country or simply decluttering your home, there are many reasons why you should consider using self storage in Temple City. It doesn't matter if you need to store your items for a few weeks or a few months; here are some common reasons why people choose to place their belongings in self storage:
Affordability
Convenience
It's safe and secure
Flexibility
Storage facilities
When it comes to searching for storage facilities, you have to realize not all of the facilities in Temple City are alike. Some provide you with traditional storage options where you actually have to place your items in a storage facility. Other storage centers, such as Box-n-Go provide you with portable storage units. This way you can have your storage units delivered to you or you can keep them in Box-n-Go storage facilities.
Tips to Pack Your Belongings before loading them into Storage Units Temple City CA
Here are four important packing tips for you to follow, which will help your moving in more ways than one. Take a look.
Start Early
Let's face it – the faster you start the easier it would be for you. Yes, otherwise, you might end up in a deep mess. So even if you are planning to move after a month, start looking for storage units temple city ca now. This would not only help you select the best but would give you enough time to pack as well. There is another tip for you – start with the things which you do not use on a regular basis. Then, target one room every week until and unless you are just left with the big furniture. This would really help you and is the first step towards a stress-free moving.
Pack Breakable Items Properly for the Storage near Temple City CA
While placing your thing in storage, make sure you wrap them properly so that they do not break because of the pressure of other items. While packing, you should take special care for Kitchen china, glassware, iron skillets, etc. Pack them together and try not to keep them at the bottom.
Mark the Boxes before placing them in storage near 91780
Another trick to successful moving is marking the boxes so that you know the items inside the box without having to open it. If you have any confusion related to this, our
Box-n-Go
employees can help you. Also, know that our storage 91780 are spacious enough for keeping all your stuff without having to cram them.
Packing electronics? Here are few tips for placing them into Temple City self storage
Follow manufacturers' advice for packing for storage and moving. They know the most about what it takes to protect the product while it is in storage or being moved. Consult the homeowner's manual or manufacturer's Web site for details.
If possible, save the original boxes and packing materials for re-packing. Otherwise, you won't find packing materials that fit as well.
If the original packing is not available, start with these essentials: sturdy cartons, newsprint for wrapping things up, tape, scissors and felt tip markers to number and label each box. You might even consider double boxing.
Public storage in Temple City
If you are looking for public storage, you want to make sure you are choosing the right storage space for your needs. This is why it's important to assess your needs and call different storage facilities and ask those questions about their public storage. Some important questions you should ask include but are not limited to:
Do you have modern security and surveillance systems?
Are options of long-term and short term rental offered?
Do you deliver storage units to anywhere I need you to?
Will you provide quick and easy access to retrieve my items?
Temple City Mini storage
There are many misconceptions about Temple City mini storage.  Many people think that a mini storage can only hold basic household items like glasses, dishes and house hold goods, however, mini storage can hold much more than that. Whether you have heavy exercise equipment, exceptional art paintings or antique furniture, you can place all of your belongings in L.A, mini storage without having to worry about the size of your items.  It starts with a simple search for storage units in L.A or cheap storage units Temple City.
Storage cost
When it comes to searching for storage in Temple City or cheap storage units, you are probably concerned about the costs.  While most storage facilities in Temple City offer many options, cost can add up quickly. This is why it's important to know if your storage offers cost-saving storage solutions. But, what exactly is cost- saving storage solutions? There are many, however, the most common cost savings you should look for is free ground level access, low monthly rent, and no hidden fees. Most storage facilities charge for ground level access and extra storage space (even if you are not using it).
Temple City storage rental
Renting a storage unit can be difficult if you don't know what questions to ask ahead of time.  As a rule of thumb, always call different Temple City storage facilities and ask them about their cheap storage units and
storage rental process
.
Storage space
When it comes to searching for a Temple City storage space or storage units in Temple City, you want to make sure that you have a storage space, that is clean, affordable, and near your home in Temple City While Box-n-Go offers portable and cheap storage units that can be delivered anywhere, we also have the option for you to leave your storage unit in one of our storage centers in Temple City.
How to use the Portable Self storage
Lastly, call us to use our portable self storage units. They are convenient, safe and accessible to you always. What more? You will have the keys with you as well. We deliver storage units to your doorstep without any headache. After you are done with keeping your belongings inside them, we will pick them up and store them until you ask us to move them to your new location. Pretty easy, right?
Box-n-Go
self storage can make it all easy for you. We have a team of experienced, friendly and dedicated staffs. In between homes? Give us a call! Downsizing? Then also we are the name to rely on. We even cater to clients who are moving out of town or the country. Starting at just $59 a month, we provide both temporary as well as permanent solutions. Box-n-Go provides self-storage units to the following zip codes in Temple City, CA: 91780, 91007, 91775, 91776. Find a portable storage unit near you!
Storage Near Temple City – Compare Your Options
Certainly you know that Box-n-Go is not your only option. While we beleive Box-n-go offers the best combination of services at affordable rates, do not just take our word for it. Drive by the below listed facilities and compare for yourself:
Public Storage – 550 S San Gabriel Blvd
Dollar Self Storage – 8717 Pioneer Blvd
San Gabriel Self Storage – 126 E Las Tunas Dr
Box-n-Go delivers its innovative and convenient storage and moving services in the cities and neighborhoods near you:
San Gabriel, CA
,
Monrovia, CA
,
Baldwin Park, CA
,
Covina, CA
,
West Covina, CA
,
City of Industry, CA
,
Duarte, CA
,
Irwindale, CA
,
Azusa, CA
as well as most of the greater
Los Angeles, CA
and
Orange County, CA
. Article tags:  storage units Temple City, cheap  storage units Temple City