RESERVE ONLINE IN MINUTES
RESERVE ONLINE IN MINUTES
Save 50% see how
No Truck Needed see why
No Heavy Lifting we can help load or move
200+ 5-STAR
REVIEWS
A+ BBB
RATING
LOWEST PRICE
GUARANTEE
Box-n-Go Storage & Moving - as Easy as 1-2-3
1
We Deliver
2
We Pick Up
3
We Store or Move
Store on your driveway or inside our secure facility. Load/unload only once. Ground level access.
I want to:
Are you a student?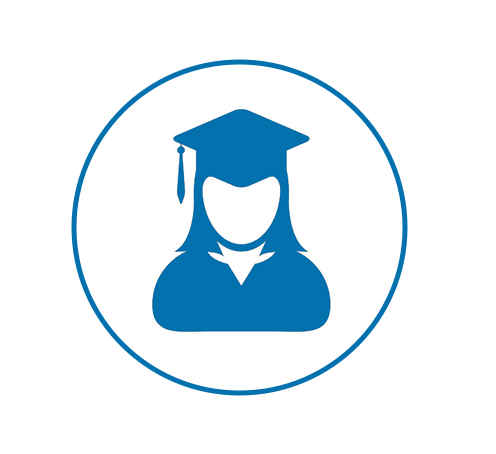 Available Sizes
Box-n-Go - XXL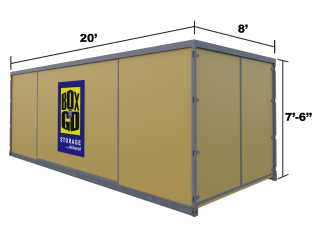 20' Container – all weather.
Perfect for 3-bedroom residence.
5-7 rooms, furniture, appliances, etc.
Learn More
Box-n-Go - XL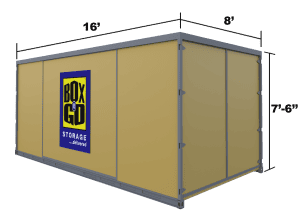 16' Container – all weather.
Perfect for 2-bedroom residence.
3-5 rooms, furniture, appliances, etc.
Learn More
Box-n-Go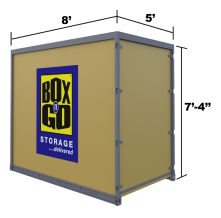 8' Container – all weather.
Modular – works for any need.
Each fits 1-1.5 rooms.
Learn More
I want to:
Are you a student?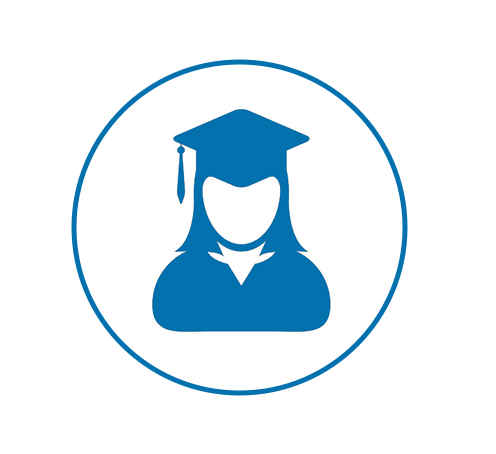 See How Our Services Can Work for You
I want to:
Are you a student?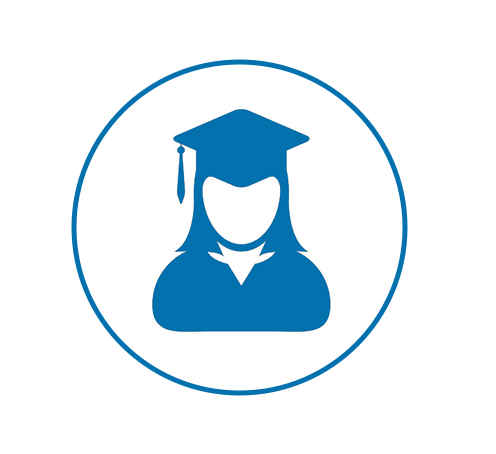 Our Services
Personal & Business Storage
Student Storage
Local & Nationwide Moving
Packing & Loading Help
Moving Boxes & Supplies
Do not see what you are looking for?
What Our Customers Think
I want to:
Are you a student?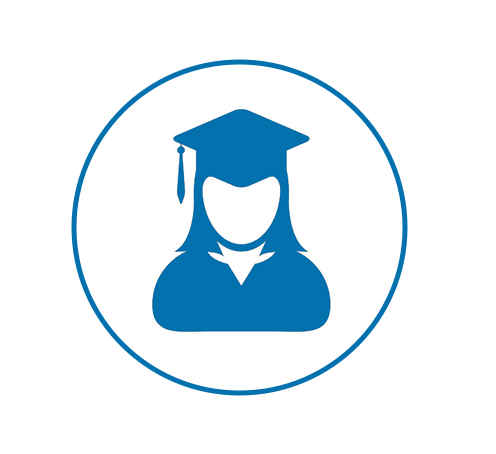 Why Box-n-Go? Here is Our Promise:
We are dedicated to deliver the best solution for almost any storage & moving need, with no gimmicks or hidden costs:
No truck to rent. We deliver storage to you!
Load/Unload only once.
Pay only for space you use.
Secure, climate-friendly facility.
Drive-up access
No Truck to rent…EVER!
Save money and time.
Reduce the risk of accidents and injuries.
No need to pay for gas, insurance & mileage!
Load ONCE Storage Solution!
You only need to load your belongings once!
No need to load and unload it all again into a storage unit.
All containers come with easy ground level access!
Pay Only for the Space You Use!


(if storing at our facility)
No not need to guess on how much space you actually need.
Order an extra 8' x 5' unit. Do not use it – do not pay for it.
Secure, Climate-Friendly Facility!
Highest degree of security and protection.
Our 8' x 5' units are breatheable – no mold or mildew.
No funky smell when your belongings return.
EASY Drive-Up Access!


(if storing at our facility)
Access your units at ground level.
No elevators, ramps, stairs to climb.
Schedule access appointment & drive straight to your units.
I want to:
Are you a student?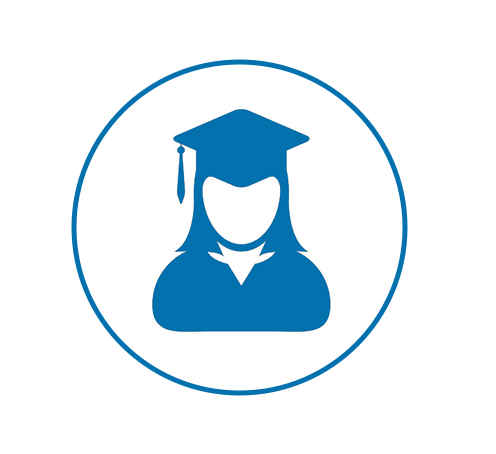 10 Items ideal for West Covina Storage
We all have reasons for clearing space within our homes. When you need to remove some items,
Box-n-Go Storage
can provide West Covina residents with affordable storage units at their location. Whether you're moving to a new house, renovating part of your current house, or simply want extra space to store your things, West Covina storage units can be exactly what you need. However, you shouldn't simply jump at the first storage facility you happen to drive past. Instead, it's best to know what you're getting into before you rent self-storage units. Here are some things you should know before renting storage units in West Covina.
Things you may want to store can include:
Vacation clothes that will only be needed when away
Cherished furniture you want to pass along to your children when they leave home or that will be put in a room that is currently under renovation
Any tax documents that need to be kept but take up too much space at home
Old appliances that work and you expect to give to a family member or use in a holiday home
Items left by children with you for safekeeping while they are away working or studying
Bikes during cold weather
Garden tools
Recreational vehicles
Large collections such as antiques or paintings
Nursery items and toys in between children
What You Need to Know Before Renting Storage Units in West Covina
You shouldn't simply jump at the first self-storage facility you happen to drive past. Instead, it's best to know what you're getting into before you reserve storage units in West Covina. Here are some things you should know before renting self-storage units in West Covina, CA.
Storage Unit Sizes
Traditional storage containers come in many sizes. Before you rent a storage unit, make sure you know how much room you need. If you have one particularly large item you're going to store, then choose a storage unit to fit that. However, it's never a bad idea to have a bit of extra room, especially if you're going to use storage in West Covina long term. You can also figure out how much space you need by using one of the storage unit size calculators online. Typical self-storage units in West Covina, CA range from as small as 5 x 5 to as large as 10 x 20. If you are considering using mobile storage units from Box-n-Go, they all come in a standard size of 8 x 5. Each unit fits about one room to a room and a half of furniture, appliances, and belongings. Box-n-Go can deliver as many storage containers as you wish.
The Type of Storage Unit
Another thing you'll need to consider when you rent from traditional storage facilities is which type of storage units you need. Standard self-storage units are usually box-shaped. You can drive right up to it, normally for an additional fee. Some storage units in West Covina, however, are climate-friendly. These climate-controlled storage units can hold valuables that need extra protection from temperature change, such as furniture and artwork. On the other hand, mobile storage units are modular and offer drive-up access for free. These units do not have moisture build-up inside when temperature changes. A commercial-grade insulated storage facility will contain these units, where inside temperature does not fluctuate.
The Location of the Storage Facility
Location is also a big factor if you're trying to decide between two West Covina self-storage facilities. Ideally you want something that's close to your home, but you may want to find one in between two houses if you're going to move. If you're going to use your storage unit for dirt bikes and ATVs, you might want to look for West Covina self-storage facilities that are on the way to your favorite riding destination. In any case, location plays a large role in how well a West Covina storage unit works for you. Again, this consideration is not as applicable to mobile storage. The units are delivered right to your home!
Mini Storage – The Contract
This is especially important if you're considering renting a storage unit for long-term use. Although contracts used by temporary storage facilities in West Covina aren't generally complicated, there are some things you need to watch out for to make sure you get a good deal. For example, you will have to pay an admin fee to rent storage units, and there may also be a late fee if you don't make a payment on time. Make sure you pay on time. The owner can seize your storage unit and its contents if you don't pay. These are all important parts of your contract that you need to be aware of if you're looking for storage locations in West Covina. One of the tricky aspects of packing and storing is how to pack mirrors and other glass-framed items to avoid damage. The superstition of seven years bad luck may be doubtful, but a breakage of a mirror or glass can be costly and also dangerous to those around it.
Avoid Messy Problems
When you use local storage services, residents can follow the tips below to avoid this costly, messy problem.
Apply masking tape diagonally to the glass front of framed items and mirrors to prevent shifting of the glass in transit, which can cause breakage. These items are more vulnerable at the corners, so they need added protection in those areas with additional packing.
You should group thinner pieces together, separating them with layers of bubble wrap or polyethylene foam.
You can obtain specialist mirror boxes allowing you to pack individual pieces or groups surrounded by adequate packing materials to ensure a safe transit.
Crate especially valuable, costly, or cherished mirrors and works of art to protect your investment. Label the boxes as "Fragile" alongside the room destination.
Packing Tips for Your Electronics
Electronic items, like video game consoles, computers, and sound systems, require special handling to prevent them from becoming damaged during the moving and storage process. The following packing tips will help you pack without any risks:
If possible, place computer and audio-visual components in the original boxes; otherwise, use a box that is slightly larger than the item you're packing.
Pack each component individually to keep them from scratching each other.
Remove any media such as CDs from the units before packing. Secure the arm of your stereo turntable and lock the laser of the CD player.
Back up all files and remove disks from your computers before packing.
Label all wires, jacks, and connectors of your components so you'll later be able to reconnect the system easily.
Label boxes "Fragile." It's also a good idea to mark boxes with the location where they should be returned, e.g., LOUNGE – DVD; OFFICE – MONITOR.
Your West Covina storage units will then be collected and taken to a secure storage site for safekeeping.
Prohibited Goods List
Aerosol cans
Ammonia
Ammunition
Car batteries
Charcoal and lighter fluid
Chemistry sets
Kerosene
Liquid bleach
Loaded guns
Matches
Nail polish and nail polish remover
Paint thinners
Paints and varnishes
Pesticides
Poisons
Pool chemicals
Propane and butane tanks
Weed killer
Cleaning solvents
Darkroom chemicals
Fertilizer
Fire extinguishers
Fireworks
Fuels and oils
Household batteries
Collectibles
Cash
Items of sentimental value
Live plants
Your Best West Covina Storage Facility Option
Box-n-Go Storage
delivers a mobile storage unit for you to pack, it is then collected at your convenience to be placed in our secure self-storage facility. Households can be assured their mirrors and other glass-framed fragile possessions are safe in the specially designed mobile storage unit. This storage unit allows you to carefully pack and place your belongings in the container in your own time. The container is low loading with easy access, so you should have no lifting problems. The benefit over dealing with a traditional West Covina mini storage site is that you do not have to pack items into a truck and then drive them to a storage company to unpack into a regular storage locker. You save time because you will not be packing and commuting to a remote storage facility.
Storage Units in West Covina – Try Box-n-Go
If you are not sure on how many storage containers you need, the best thing you can do is to ask questions; don't be afraid. Box-n-Go's friendly customer service will be glad to answer any questions or concern you may have. Moving is stressful; however, Box-n-Go will make your storage experience hassle-free with peace of mind. Before you choose Box-n-Go, compare us to other local self-storage facilities:
My Self Storage – 901 W Service Ave, West Covina, CA 91790
Extra Space Storage – 318 N Vincent Ave, Covina, CA 91722
West Covina Mini Storage – 2221 W San Bernardino Rd, West Covina, CA 91790
West Cargo Self Storage Space – 901 W Service Ave, West Covina, CA 91790
Public Storage 91790 – 2710 E Garvey Ave S, West Covina, CA 91791
My Self Storage Space West Covina – 901 W Service Ave, West Covina, CA 91790
Box-n-Go
delivers its innovative, convenient, and low-cost storage and moving services in these cities and neighborhoods near you:
San Gabriel, CA
,
Monrovia, CA
,
Temple City, CA
,
Baldwin Park, CA
,
Covina, CA
,
City of Industry, CA
,
Duarte, CA
,
Irwindale, CA
,
Azusa, CA
,
El Monte, CA
,
Walnut, CA
, as well as most of the greater
Los Angeles, CA
and
Orange County, CA
.