RESERVE ONLINE IN MINUTES
RESERVE ONLINE IN MINUTES
Save 50% see how
No Truck Needed see why
No Heavy Lifting we can help load or move
200+ 5-STAR
REVIEWS
A+ BBB
RATING
LOWEST PRICE
GUARANTEE
Box-n-Go Storage & Moving - as Easy as 1-2-3
1
We Deliver
2
We Pick Up
3
We Store or Move
Store on your driveway or inside our secure facility. Load/unload only once. Ground level access.
I want to:
Are you a student?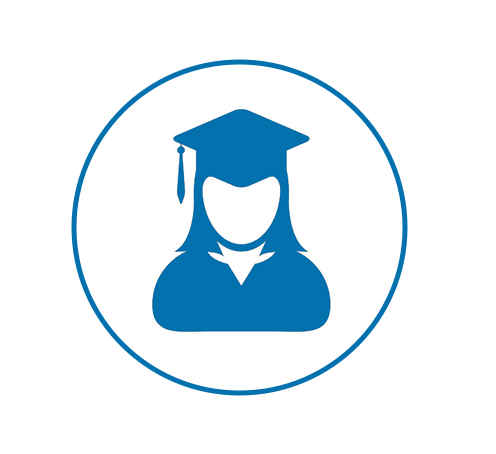 Available Sizes
Box-n-Go - XXL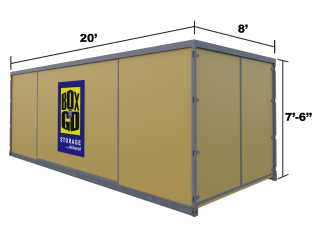 20' Container – all weather.
Perfect for 3-bedroom residence.
5-7 rooms, furniture, appliances, etc.
Learn More
Box-n-Go - XL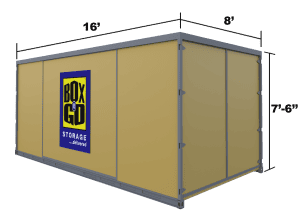 16' Container – all weather.
Perfect for 2-bedroom residence.
3-5 rooms, furniture, appliances, etc.
Learn More
Box-n-Go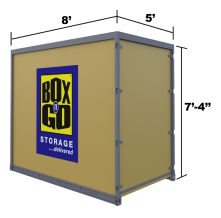 8' Container – all weather.
Modular – works for any need.
Each fits 1-1.5 rooms.
Learn More
I want to:
Are you a student?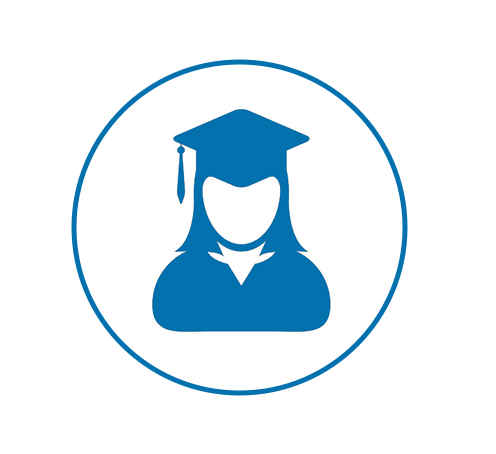 See How Our Services Can Work for You
I want to:
Are you a student?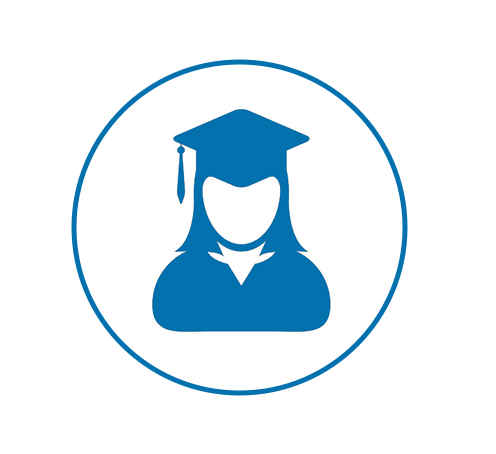 Our Services
Personal & Business Storage
Student Storage
Local & Nationwide Moving
Packing & Loading Help
Moving Boxes & Supplies
Do not see what you are looking for?
What Our Customers Think
I want to:
Are you a student?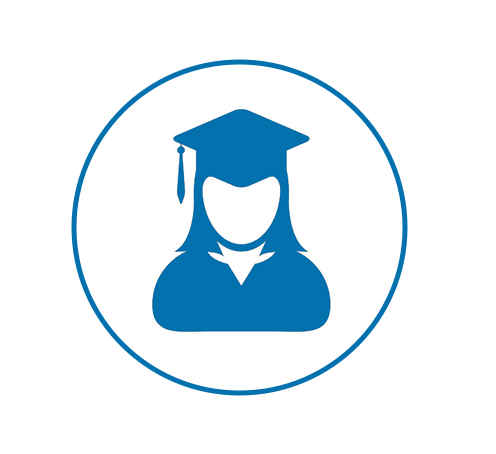 Why Box-n-Go? Here is Our Promise:
We are dedicated to deliver the best solution for almost any storage & moving need, with no gimmicks or hidden costs:
No truck to rent. We deliver storage to you!
Load/Unload only once.
Pay only for space you use.
Secure, climate-friendly facility.
Drive-up access
No Truck to rent…EVER!
Save money and time.
Reduce the risk of accidents and injuries.
No need to pay for gas, insurance & mileage!
Load ONCE Storage Solution!
You only need to load your belongings once!
No need to load and unload it all again into a storage unit.
All containers come with easy ground level access!
Pay Only for the Space You Use!


(if storing at our facility)
No not need to guess on how much space you actually need.
Order an extra 8' x 5' unit. Do not use it – do not pay for it.
Secure, Climate-Friendly Facility!
Highest degree of security and protection.
Our 8' x 5' units are breatheable – no mold or mildew.
No funky smell when your belongings return.
EASY Drive-Up Access!


(if storing at our facility)
Access your units at ground level.
No elevators, ramps, stairs to climb.
Schedule access appointment & drive straight to your units.
I want to:
Are you a student?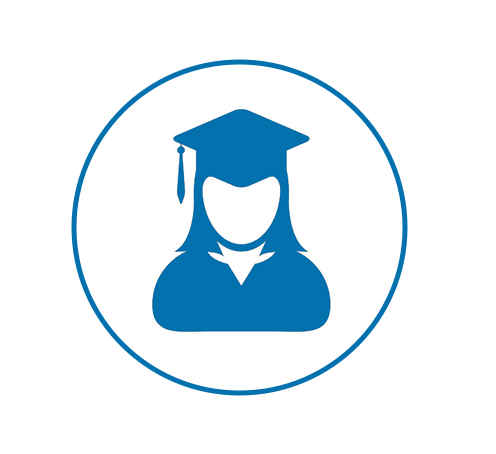 Affordable Self Storage Units in Bellflower, CA
If you live in the beautiful city of Bellflower, you will probably need to use storage at some point, much like residents of any other city. Not sure about the merits of self-storage facilities? You're not alone. There are many misconceptions that people believe in. It's too expensive. It's not safe. Storage units are not worth it. The list goes on and on. However, self-storage facilities can supply an effective solution for people who need a place to store some of their favorite things. So when you need to pack up stuff and find storage units in Bellflower, call us. Box-n-Go will provide you with everything you need. However, if you are still not sold on the benefits that Box-n-Go has to offer, read on. Considering traditional storage locations in Bellflower, CA? Here is what you want to look for in traditional self-storage facilities.
What to Look for in Storage Units
It is no wonder that searching for the right storage units in Bellflower might be a difficult task. There seem to be many options. However, there are really two main choices to decide on first. Indoor or outdoor? An indoor storage unit is typically located inside of a large facility while an outdoor unit is usually a one-level facility. Usually you will be provided with access where you can drive right up to the door. Bellflower has tons of residential and business storage facilities of varying sizes. When you want to know which one will suit your requirements the best, you need to look for a few features. Here are a few suggestions.
Consider Climate-Controlled Storage Units
Bellflower has more than 73% of sunny days in a year. Controlling the temperature within a storage unit is important to keep your valuables safe. Although humidity is not too high, you should look for a climate-friendly facility, especially if you are storing sensitive items like medicine. This will help reduce the risk of damage. Even if you get the storage with climate control, ask about pest control. Storage units in Bellflower should provide pest control treatments on a regular basis.
On-Site Supervisor
Check if they have managers or not. You want someone there to answer questions and handle emergencies. There are many facilities that have on-site managers. This means that there is a qualified person nearby to handle all your issues.
Cleanliness
When you are looking for local storage units, you need to check how clean and well maintained they are. Visit an empty unit before you actually place your belongings into one, so that you get to see the real picture.
Security Is Essential
Security is a must when it comes to keeping your investments safe. Your Bellflower storage facility should be equipped with modern security features. It also should have proper lighting, especially if you need to visit your unit after dark. A gated storage unit is an even better deterrent to theft. Most gated storage facilities are only accessed through an electronic numerical coded system. There are also usually motion-activated cameras available to keep your assets safe. Many places now have video security systems that can be accessed by a manager or customers' mobile devices. An alarm system is always an effective solution too to alert the security of any incident. This helps to give you a stress-free experience and peace of mind.
Don't Forget Insurance!
People who want to reserve storage units in Bellflower are often confused about insurance. What type of insurance is needed to protect your valuables? The law is that a facility's property insurance protects the building that houses the storage containers. However, it does not protect the contents, meaning your belongings. Renters must have their own renters' insurance policy for their goods. You can also get a standard homeowner's insurance policy or a business insurance policy. Some places also offer a protection plan that works similarly to insurance.
Size Matters
Storage units in Bellflower, California, are as unique as this international city itself. Renters can choose between small, medium, or large facilities and units. Available features vary, depending on your location and the type of self-storage facility you select. A large facility with multiple units usually has a drive-in feature. Some of the biggest spaces are housed in tall, tiered, state-of-the-art facilities. These may feature elevators, fire sprinklers, security cameras, and moving supplies. When you contact your Bellflower storage facility, ask about the size of their containers. Sizes vary from small to very large storage units. In other words, there are 5×5 feet units as well as 10×30 feet units. A facility manager will work with you to help decide what size you need.
Read the Contract
Storage facilities in Bellflower and neighboring communities tend to be customer-friendly. However, different storage places opt for different types of agreements. You need to decide how long you can rent self-storage units. Renting storage containers is like renting a living space. You decide how long you want to keep your valuables stored until you no longer need to rent the unit. Your Bellflower storage facility should not bog you down with lengthy contracts and they should be flexible regarding the size of unit if you need to change. Renters can secure either a short-term storage contract or a long-term storage contract with a month-to-month lease. Bellflower storage units are available for student, military, and document storage. Some storage containers are large enough to accommodate vehicles. Some can even fit trucks, motorcycles, and boats. Customers will have to drain fluids such as lubricants and coolant first while storing their vehicles. So make sure you're aware of those requirements before storing a vehicle.
Mobile Storage Units in Bellflower: Another Option
There is another option worth mentioning – mobile storage units. If you are moving to Bellflower from another state or just need extra room, try mobile storage units. Box-n-Go is a perfect storage solution. Not only do mobile storage companies provide affordable units, they also offer many extra services like loading and full-service moving.
What are some benefits of using storage in Bellflower?
While there are many benefits to using self storage, the most common include the following:
Flexibility – You can rent as little or as many storage units as you need. You can also rent the units for as long as you need.
Pickup and delivery – There are many local storage places, but not many provide pickup and delivery of your packed storage unit.
Security – Many storage facilities near Bellflower, CA have modern, up-to-date security, as well as surveillance systems that protect your items from theft at all times.
Affordability – Many traditional facilities in the Bellflower area charge you for extra storage space, even when you are not using it. With Box-n-Go, you only pay for the space you need. That way you minimize your storage unit costs.
Accessible temporary storage near 90706
When you search for local storage facilities, you will quickly discover that Box-n-Go offers flexible and convenient options. Options for you to retrieve your items at any time. While most storage units near 90706 have restricted pick-up hours, Box-n-Go provides you with free and easy ground-level access to retrieve your items in a short amount of time. When you choose Box-n-Go, you can be assured that your storage units can be delivered to you wherever you are. Box-n-Go self storage in Bellflower, CA will deliver your packed unit right to your doorstep!
Packing the Right Way
When considering storage places, a key factor is your ability to pack and load the unit effectively. Remember these tips:
Bubble wrap is your friend when you are packing fragile items. It protects the goods effectively. Also, unlike newsprint, no ink transfers to your precious delicate items.
It is important to carefully plan the way you pack your items into the unit. This helps maximize the full capacity of the space.
Cover sofa and mattress with covers or use old bed linens to protect them. Avoid using plastic, as moisture can collect and cause mold and mildew.
Always leave the doors of kitchen appliances like fridges and freezers open. This will prevent any mold build-up. Make sure you've cleaned them thoroughly before storing.
Do not pack any important personal documents in the unit. It is always best to keep those with you. If not possible, pack these at the front of the unit. This way you can reach them easily if required.
Search for storage units near 90706 and choose Box-n-Go as your center of choice
Whether you have been thinking about placing your items in storage or if you are ready to place your belongings in storage, contact
Box-n-Go
. At
Box-n-Go storage
, we can provide you with everything you need for the moving and storage process. Call us at 877-269-6461 and ask about our self-storage unit prices in Bellflower. Searching for self storage in Bellflower may be a time-consuming task. We hope the above information helps in your endeavor. We also hope that Box-n-Go's convenient and affordable storage services will meet your needs. However, we fully recognize that our service may not meet all your needs and you may rather rent from a facility next door to your business or house. If this is the case, here are some options for you:
Public Storage Bellflower CA – 12302 Bellflower Blvd, Downey, CA 90242
Bellflower Self Storage – 14822 Lakewood Blvd, Bellflower, CA 90706
Extra Space Storage – 17701 Ibbetson Ave, Bellflower, CA 90706
Storage Outlet Bellflower CA – 10326 Foster Rd, Bellflower, CA 90706
Extra Space Storage – 15125 Lakewood Blvd, Paramount, CA 90723
Please check these facilities and compare. Choose what works for you.
Call Box-n-Go Today
Box-n-Go
offers mobile storage units in Bellflower, CA that can be delivered to your door. You then can pack it at your convenience. Then Box-n-Go will pick it up and take it to a secure facility. This will save you the hassle of taking stuff to the storage unit yourself. Box-n-Go provides self storage near Bellflower, CA to the following ZIP Codes: 90706, 90707. Find a portable storage unit near you! In addition, Box-n-Go offers its storage units and services in the following nearby cities:
Artesia, CA
,
Downey, CA
,
Compton, CA
,
La Habra Heights, CA
,
La Mirada, CA
,
Lakewood, CA
,
Norwalk, CA
,
Paramount, CA
,
Pico Rivera, CA
,
Santa Fe Springs, CA
,
Whittier, CA,
other parts of
Los Angeles, CA
and
Orange County, CA
, and many others.