RESERVE ONLINE IN MINUTES
RESERVE ONLINE IN MINUTES
Save 50% see how
No Truck Needed see why
No Heavy Lifting we can help load or move
200+ 5-STAR
REVIEWS
A+ BBB
RATING
LOWEST PRICE
GUARANTEE
Box-n-Go Storage & Moving - as Easy as 1-2-3
1
We Deliver
2
We Pick Up
3
We Store or Move
Store on your driveway or inside our secure facility. Load/unload only once. Ground level access.
I want to:
Are you a student?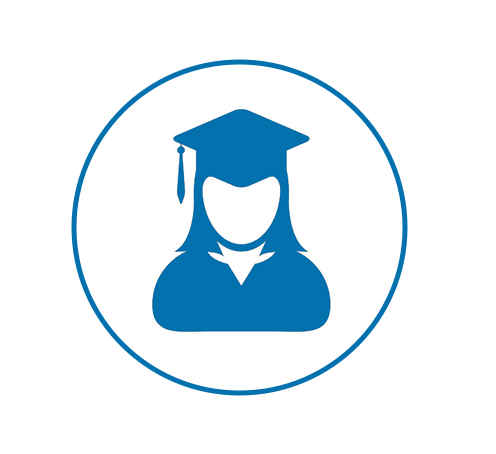 Available Sizes
Box-n-Go - XXL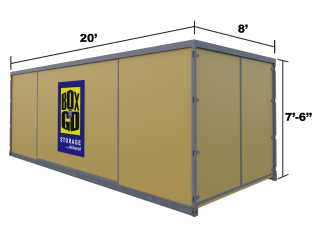 20' Container – all weather.
Perfect for 3-bedroom residence.
5-7 rooms, furniture, appliances, etc.
Learn More
Box-n-Go - XL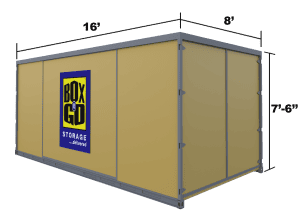 16' Container – all weather.
Perfect for 2-bedroom residence.
3-5 rooms, furniture, appliances, etc.
Learn More
Box-n-Go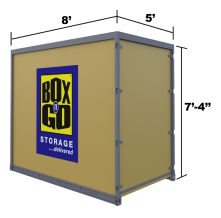 8' Container – all weather.
Modular – works for any need.
Each fits 1-1.5 rooms.
Learn More
I want to:
Are you a student?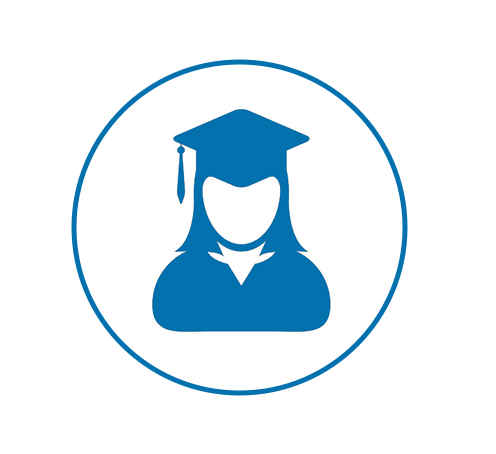 See How Our Services Can Work for You
I want to:
Are you a student?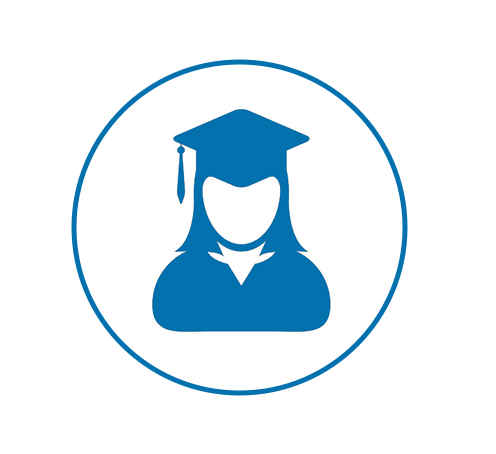 Our Services
Personal & Business Storage
Student Storage
Local & Nationwide Moving
Packing & Loading Help
Moving Boxes & Supplies
Do not see what you are looking for?
What Our Customers Think
I want to:
Are you a student?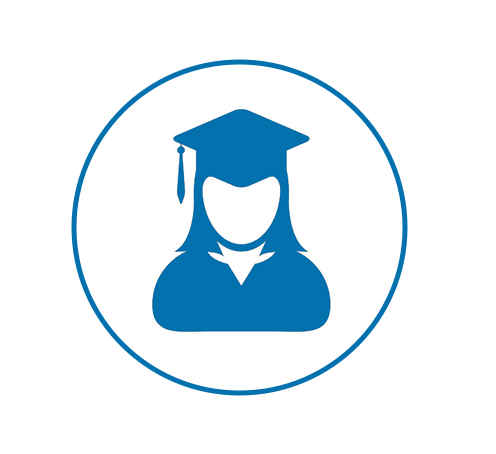 Why Box-n-Go? Here is Our Promise:
We are dedicated to deliver the best solution for almost any storage & moving need, with no gimmicks or hidden costs:
No truck to rent. We deliver storage to you!
Load/Unload only once.
Pay only for space you use.
Secure, climate-friendly facility.
Drive-up access
No Truck to rent…EVER!
Save money and time.
Reduce the risk of accidents and injuries.
No need to pay for gas, insurance & mileage!
Load ONCE Storage Solution!
You only need to load your belongings once!
No need to load and unload it all again into a storage unit.
All containers come with easy ground level access!
Pay Only for the Space You Use!


(if storing at our facility)
No not need to guess on how much space you actually need.
Order an extra 8' x 5' unit. Do not use it – do not pay for it.
Secure, Climate-Friendly Facility!
Highest degree of security and protection.
Our 8' x 5' units are breatheable – no mold or mildew.
No funky smell when your belongings return.
EASY Drive-Up Access!


(if storing at our facility)
Access your units at ground level.
No elevators, ramps, stairs to climb.
Schedule access appointment & drive straight to your units.
I want to:
Are you a student?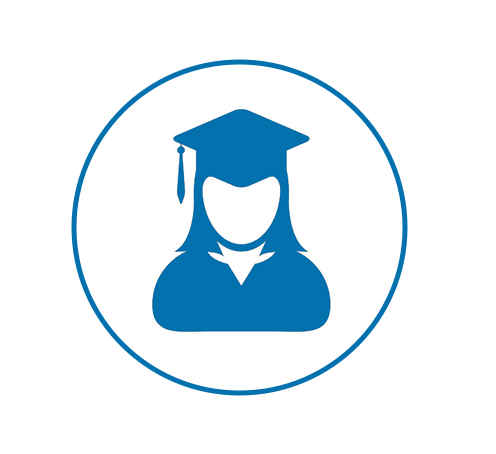 Local Storage Units in Downey, CA
Storage units can become extremely important once people begin making preparations to move into a new house. Some locals end up using  storage near Downey CA for other purposes as well, but most of the time, it involves storing precious items and documents in order to keep them safe. A lot of people take the right precautions when they plan to move their items into small storage units near Downey CA. Do not forget about properly viewing the facilities beforehand, getting the key code, and buying a proper lock for the door to secure your storage unit. These are the most basic items that you will need to take care of. However, this is just the beginning. There are a lot of other factors that could end up negating all of these important precautions. There are multiple storage near Downey CA options that people can choose from. None of them will prove beneficial unless you know how to maximize them for yourself. So here are the top tips on how you can avoid some rookie mistakes and make the most out of your storage near Downey CA.
Storage Downey CA – The Sheets
Storage units are meant to protect your items from all sorts of intruders. While there can be no denying the results when it comes to thwarting human intruders, storage lockers can prove a bit lacking when it comes to insects. If you plan to have important documents or clothes stored in your storage units near Downey CA, then the best option would be to use dryer sheets. These add a layer of protection against insects. These sheets should be placed near the corners as well as on top of the boxes. Not only does this method make the boxes resistant to any insect attacks, but it also keeps your items smelling fresh while in public storage.
Downey Storage Unit – The Boxes
This is often an overlooked detail that can lead to unnecessary damage. For some reason, there seems to be a belief that plastic boxes are the best because they offer the most physical protection against the environment as well as any other dangers. However, plastics are not as breathable as cardboard. Using plastic or airtight containers will probably trap moisture inside and lead to possible damage if your items remained stored for long in Downey storage unit.
Storage Downey CA – Properly Store
Most storage units near Downey CA come with a lot of space available. However, a problem that a lot of people face is properly managing this space. The reason is that many people choose to arrange their boxes without any coherence or sequence. The result is that once you want to remove boxes, or even if you want to check them out while in storage, it will cause you tremendous problems. There's the possibility that you might actually end up damaging the items in these boxes if you do not place them carefully inside the storage container.
Storage Downey CA – The Moisture
As mentioned above, the moisture that may remain trapped inside the storage containers could end up causing a great deal of harm when it comes to long-term storage. However, what about the moisture in the atmosphere? There are multiple storage units near Downey CA that offer climate-friendly storage. However, in the case that such units are not available, you'll have to deal with this realistic problem. A simple and proven technique is to simply leave a piece of charcoal in a saucepan inside your storage unit. It has proven useful in removing moisture from the atmosphere and creating the ideal conditions for your items to be stored.
Storage Downey CA – Cover Up
The boxes are meant to protect your invaluable items, but none of that will matter if you leave them uncovered in your storage space. Dust has the tendency to easily penetrate cardboard boxes if they're not properly secured. The best way to avoid such a scenario with your Downey storage unit is to additionally cover these boxes with mattress covers or other kind of cloths. This is a proven technique to keep the dust away and ensure that you won't have to worry about opening your storage near Downey CA after some time and discovering that you have dust on all your items. This can in some ways undo the entire purpose of using
self-storage units
in the first place.
Downey Storage Unit – Ventilation
Your storage near Downey CA provide a lot of options for ventilation inside them. However, there are certain precautions that you'll need to take as well. One of these precautions is to ensure that you maintain a significant gap between the boxes and the wall. There's always the danger of mold developing, and that could end up damaging your boxes. Similarly, use wooden pallets to elevate your cardboard boxes off the floor and keep them safe from any mold-related damage.
Storage Downey CA – Fuels
This is another silly mistake made by a lot of people who use Downey storage unit. If you plan on storing items that use fuels, such as leaf blowers, lawn mowers, or any other such items, then make sure you properly drain them of fuel. Not doing so can lead to condensation if not properly dealt with. It is not unusual for people to accumulate items over the years and then find that available space quickly runs short. There are only so many spots you can squeeze boxes and totes into before they take over the whole apartment or house. Instead of waiting until it gets to this point, there is an affordable solution. Storage units near Downey CA service by Box-n-Go offers the perfect answer to solving your space needs. The best part is that these mini storage units can come to you for easy loading and then be picked up for safekeeping at the central location. Whenever you are ready to unpack, just make a phone call to the office and your Downey storage unit is delivered back to you.
Storage Downey CA – Other Concerns
For those who need a long-term storage solution in the Downey area, this is still the ideal method as you can access the units during business hours, which can vary by location. When deciding which Downey storage unit to work with, it is necessary to ask about hours, prices, and storage unit sizes. Each of these factors will determine how many self-storage units you may need. It will also help to work out the best financial deal for your storage needs. You can check vendors online for price comparison and reputation through posted comments and reviews. That way, you can focus only on the reliable options. Finding the right Downey storage unit does not have to be a burden. You should never feel like your personal belongings are taking over your home or office. If you need storage units near Downey CA, contact Box-n-Go Storage for the best services in town. Our storage units for rent are breathable. This eliminates your ventilation, moisture, and mold concerns straight off the bat. Our facility is insulated. This helps immensely with your climate-control needs. On top of this all, we offer home delivery of your storage units to you. There is no need to rent a truck, load/unload twice, rush, etc. It's a modern storage option that offers all kind of conveniences—that's one reason why we're the best moving company in Downey CA. Call and speak with a Box-n-Go representative today so you can schedule your delivery as soon as possible. Take space back in your home without having to throw items away.
Use secure self storage units in Downey CA, to handle all of your storage needs!
Your parents took care of you when you were younger; now it's your turn to take care of them. While your family suggests that your parents would be better off in a nursing home, you beg to differ. You really want your parents to have the best care while still living in Downey, and you believe the only way to do that is by your side. However, there is one problem: You don't have enough space in your home. So what do you do? Search for self-storage units in Downey!
Why do many locals search for Downey storage unit?
People prefer to look for a storage Downey CA that is able to offer the following:
Safety
Convenience
Affordability
Flexibility
Quick and easy access
At Box-n-Go, we offer that and more
. Whether you need short- or long-term storage, we're certain we can accommodate you. In our storage Downey CA center, we offer a wide array of storage solutions that are convenient, flexible, and affordable. Searching for storage near Downey CA can be time-consuming. We hope the above information helps. We also hope that Box-n-Go's convenient and affordable storage rentals will meet your needs. However, we fully recognize that some situations require solutions that we are not offering. If this is the case here are some options for you:
12302 Bellflower Blvd – Public Storage Downey CA
12245 Woodruff Ave, Downey, CA 90241 – Public Storage Downey CA
9641 Imperial Hwy, Downey, CA 90242 – Stor-It Self Storage Downey CA
Nova Storage Downey – 7349 Suva St, Downey, CA 90240
Storage Park Downey -10050 Imperial Hwy, Downey, CA 90242
Storage Outlet Downey – 10326 Foster Rd
Please check these Downey storage companies and compare. Choose what works for you.
Call Box-n-Go Storage and Moving in Downey and let us handle all of your moving services and local storage unit needs today!
Box-n-Go
provides storage near Downey CA to the following ZIP Codes: 90239, 90240, 90241, 90242. Find low-cost Downey portable storage units near you! In addition, Box-n-Go offers cheap storage units and self-storage services in the following nearby cities:
Bellflower, CA
,
Compton, CA
,
La Habra Heights, CA
,
La Mirada, CA
,
Norwalk, CA
,
Paramount, CA
,
Pico Rivera, CA
,
Santa Fe Springs, CA
,
Whittier, CA
, and many other local communities including
Bell
,
Cudahy
,
Maywood
,
Los Angeles, CA
and
Orange County, CA
.