RESERVE ONLINE IN MINUTES
RESERVE ONLINE IN MINUTES
Save 50% see how
No Truck Needed see why
No Heavy Lifting we can help load or move
200+ 5-STAR
REVIEWS
A+ BBB
RATING
LOWEST PRICE
GUARANTEE
Box-n-Go Storage & Moving - as Easy as 1-2-3
1
We Deliver
2
We Pick Up
3
We Store or Move
Store on your driveway or inside our secure facility. Load/unload only once. Ground level access.
I want to:
Are you a student?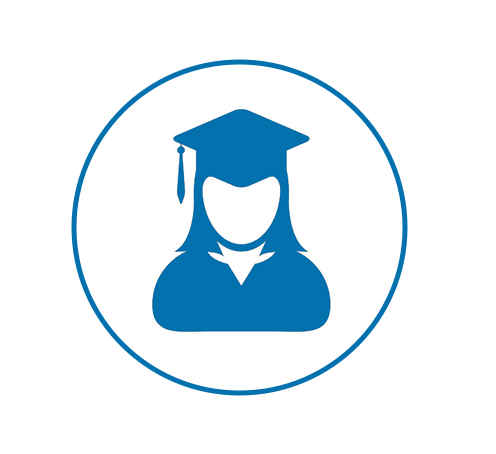 Available Sizes
Box-n-Go - XXL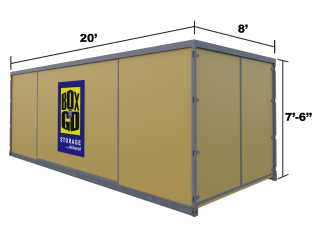 20' Container – all weather.
Perfect for 3-bedroom residence.
5-7 rooms, furniture, appliances, etc.
Learn More
Box-n-Go - XL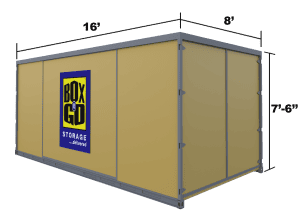 16' Container – all weather.
Perfect for 2-bedroom residence.
3-5 rooms, furniture, appliances, etc.
Learn More
Box-n-Go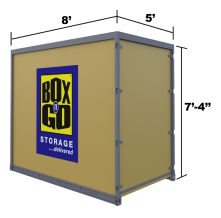 8' Container – all weather.
Modular – works for any need.
Each fits 1-1.5 rooms.
Learn More
I want to:
Are you a student?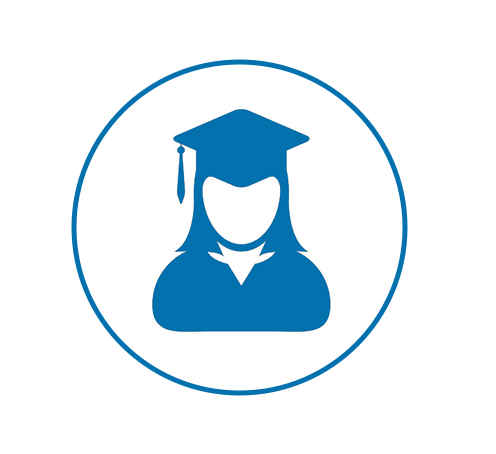 See How Our Services Can Work for You
I want to:
Are you a student?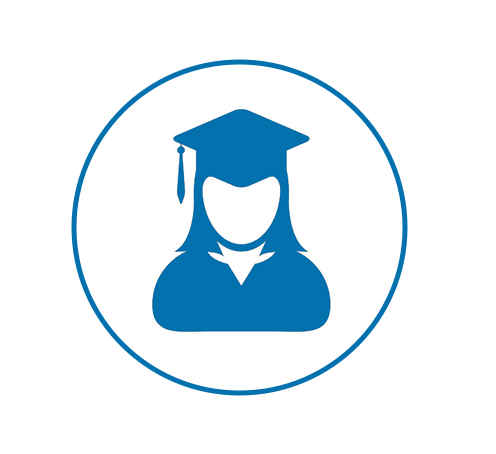 Our Services
Personal & Business Storage
Student Storage
Local & Nationwide Moving
Packing & Loading Help
Moving Boxes & Supplies
Do not see what you are looking for?
What Our Customers Think
I want to:
Are you a student?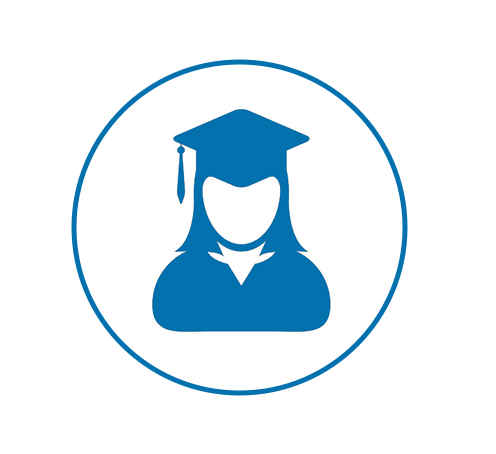 Why Box-n-Go? Here is Our Promise:
We are dedicated to deliver the best solution for almost any storage & moving need, with no gimmicks or hidden costs:
No truck to rent. We deliver storage to you!
Load/Unload only once.
Pay only for space you use.
Secure, climate-friendly facility.
Drive-up access
No Truck to rent…EVER!
Save money and time.
Reduce the risk of accidents and injuries.
No need to pay for gas, insurance & mileage!
Load ONCE Storage Solution!
You only need to load your belongings once!
No need to load and unload it all again into a storage unit.
All containers come with easy ground level access!
Pay Only for the Space You Use!


(if storing at our facility)
No not need to guess on how much space you actually need.
Order an extra 8' x 5' unit. Do not use it – do not pay for it.
Secure, Climate-Friendly Facility!
Highest degree of security and protection.
Our 8' x 5' units are breatheable – no mold or mildew.
No funky smell when your belongings return.
EASY Drive-Up Access!


(if storing at our facility)
Access your units at ground level.
No elevators, ramps, stairs to climb.
Schedule access appointment & drive straight to your units.
I want to:
Are you a student?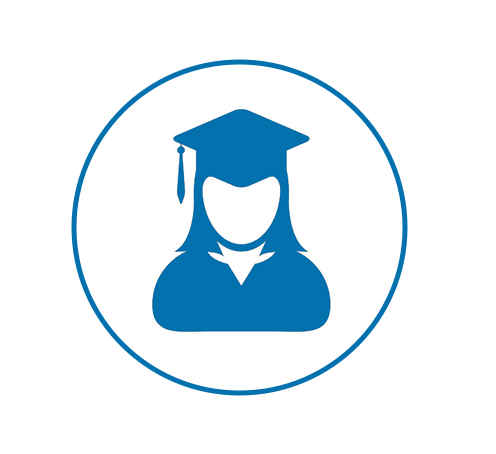 Self Storage Units in El Segundo, CA
In luxurious California neighborhoods like El Segundo, storage can be an issue for many homeowners. A lot of locals find that they do not have enough space in their homes for all their belongings. Fortunately, storage facilities have come a long way from simply offering stationary units, much to the delight of the beach town's residents. Now, with the introduction of mobile storage units, customers have a much more practical and convenient option. Discover how you can use self-storage facilities to throw a surprise party! It's that time of year, and your little one is no longer little. They are graduating from high school and ready to head off to college, or abroad for the summer. You want to make sure they are celebrated and appreciated. Even though they say they don't want a graduation party, you know they do! So you do what you do best. Put your party planner hat on and get to work. But how do you throw a surprise party without them knowing? You find a storage unit for all your graduation party needs. Searching for climate-friendly storage facilities in El Segundo? It's always a good idea to choose a self-storage facility near your home, so you can have quick and easy access to your favorite belongings. Many people use a storage facility when they are planning a big move. However, there are so many different reasons why people use self-storage facilities.
What do people store inside their storage units in El Segundo?
If you are worried that your pets or young children are going to damage some of your most valuable possessions, you should consider storage places near 90245 to keep your belongings safe and secure.
If you run a business from your home, you can free up your space. You can put your inventory in an El Segundo storage facility! This way, when you receive your orders, you are only a few minutes away from your inventory! With quick and easy access, you can retrieve your items any time you make a sale!
If you love shopping at Costco or big box stores, you can buy your items and bulk, and then put them in your El Segundo storage facility. This way, you can grab your household items when you need them and go!
If you have limited closet space or live in a small apartment, it may be difficult for you to store items that you don't use. You may have even purchased extra furniture with hidden storage space for your belongings. However, buying so many different furniture pieces can clutter your home. That's why many people search for self-storage facilities because they know they will get a safe and secure self-storage unit they can access at any time!
What kind of party goods can you place inside storage units in El Segundo?
When it comes to throwing a surprise party, you have to be very discreet. That's where those storage locations in El Segundo come in handy. Whether you are throwing a graduation party, birthday party, or just a normal fun party, you can store all your party gear and gifts in storage containers. You can store many types of items, including the following:
Graduation hats
Tablecloths
Napkins
Plastic forks, plates, or cups
Board games
Piñatas
Deflated balloons (you can inflate them on party day)
What is the benefit of placing your party items in El Segundo storage units?
There are many storage centers in El Segundo; however, there are some that differ from the others. One such El Segundo storage company is Box-n-Go. At
Box-n-Go
storage, you don't have to worry about a thing, due to the fact that we deliver to your home. You only need to pack your mobile storage unit. In fact, if you plan on throwing your party outside of El Segundo, we can deliver your packed storage container to wherever you are. This way you can focus on surprising your children and giving them the time of their life before they start their new ventures.
You can stop searching for self storage – we are here to help!
Whether you want to declutter your home, organize your closets, or store inventory, self storage is not too far away! Call us today for help with all of your storage needs. You can also find
Box-n-Go
on our social media sites! Many of our clients prefer our storage solutions due to the following:
We have a safe and secure self-storage facility that has 24-hour surveillance—this prevents items from being lost or stolen
We have breathable storage units that prevent the growth of mold and mildew
Our storage containers are just a few steps away from our client's place of residence, so it's easy to grab and go
Portable storage units can be delivered right to your doorstep
Storage units that are spacious and can hold some of your largest furniture and equipment
Flexible storage options
Many prefer mobile storage to stationary storage, and it's not difficult to understand why.
Top 5 reasons why people use mobile storage units
1. It is much more convenient for homeowners.
As mentioned before, in El Segundo storage at home can be quite a problem. But with mobile storage units, El Segundo Beach residents will not face this issue anymore. Not only will you have space to store your belongings but also that space will come to you. This means that you don't have to drive a truck all the way to a storage locker. The mobile unit will be directly delivered to your house, and you can put in anything you want. For those looking for the best storage containers in El Segundo, California, this is the ideal solution.
2. Transportation becomes easier.
With mobile storage units, you don't have to go through the added trouble of finding a moving truck since the portable container is delivered to your doorstep. You don't even have to unload the truck once it reaches the storage site. You pack the unit at home, and it will be closed up and transported when you're ready. This means that you don't have to worry about hiring a truck, loading, unloading, and actually storing stuff. It's an all-in-one process when you choose mobile storage.
3. You have easy storage access.
When you have mobile storage containers, you only have to go right outside your house. Just take the time to add or remove anything from your storage unit at your pace. All you have to do is call us and we'll bring your unit right to your house. This is one of the reasons why storage containers that are portable are so useful. You just have to make a phone call twenty-four hours in advance, and you can load or unload at your doorstep.
4. Storage units protect and prevent damage to your belongings.
Just because it's a mobile unit does not mean it compromises on safety and security. In fact, mobile storage units are as safe and secure as traditional static units. You can be assured that your belongings are stored and protected in a secure place and will not be subject to any kind of damage.
5. You have a range of options to choose from.
A great thing about mobile storage units in El Segundo is that they are extremely versatile and leave you with a wide range of options to choose from when it comes to usability. You can use it for a short or long period of time, use it for a number of different reasons such as moving, renovations, or simply for extra storage. There is one standard size in the mobile storage industry, contrary to the traditional stationary storage industry. El Segundo Beach residents can order more units if they have more belongings to store.
Box-n-Go storage in El Segundo helps you with all your self storage needs.
When it comes to seeing your little one off, you only want the best for them. Throwing a graduation party, therefore, shows them that you truly care and love them. It doesn't matter if your children just graduated from high school, are heading to college, or going abroad for the summer. You can rest assured that
Box-n-Go storage
has solutions that can accommodate your needs. Call 877-269-6461 and reserve storage units in El Segundo today! It doesn't matter if you need a storage unit for a few months or a few years, we have affordable solutions that match your needs and budget. The best thing about having storage is you can access your items at any time. If you need to retrieve items or put more items in your temporary storage unit, we make it as easy as possible to do so. Call Box-n-Go storage and talk to one of our staff members to explore all of your options today!
Compare Box-n-Go to Other Local Options
While we firmly believe Box-n-Go offers you the best value in moving and storage services, do not just take our word for it. Check out the below local facilities that rent self-storage units. Compare their self-storage unit prices in El Segundo to Box-n-Go's and choose the best option for you:
Extra Space Storage – 1017 E El Segundo Blvd, El Segundo, CA 90245
Public Storage – 1910 S Hughes Way, El Segundo, CA 90245
Everest Self Storage – 871 Aviation Blvd, El Segundo, CA 90245
California Storage Masters – 1921 E Maple Ave, El Segundo, CA 90245
California Storage Masters – 601 S Douglas St, El Segundo, CA 90245
Box-n-Go provides low-cost self-storage units to the following ZIP Codes in El Segundo, CA: 90245. Find an El Segundo portable storage unit near you! Box-n-Go storage containers are readily seen on a daily basis in many of Southern California cities, including
Torrance, CA
,
San Pedro, CA
,
Redondo Beach, CA
,
South Bay, CA
,
Manhattan Beach, CA
,
Hermosa Beach, CA
,
Rancho Palos Verdes, CA
,
Hawthorne, CA
,
Lennox, CA
,
Playa Del Rey, CA
,
Lawndale, CA
, and many other areas in
Los Angeles, CA
and
Orange County, CA
.