RESERVE ONLINE IN MINUTES
RESERVE ONLINE IN MINUTES
Save 50% see how
No Truck Needed see why
No Heavy Lifting we can help load or move
200+ 5-STAR
REVIEWS
A+ BBB
RATING
LOWEST PRICE
GUARANTEE
Box-n-Go Storage & Moving - as Easy as 1-2-3
1
We Deliver
2
We Pick Up
3
We Store or Move
Store on your driveway or inside our secure facility. Load/unload only once. Ground level access.
I want to:
Are you a student?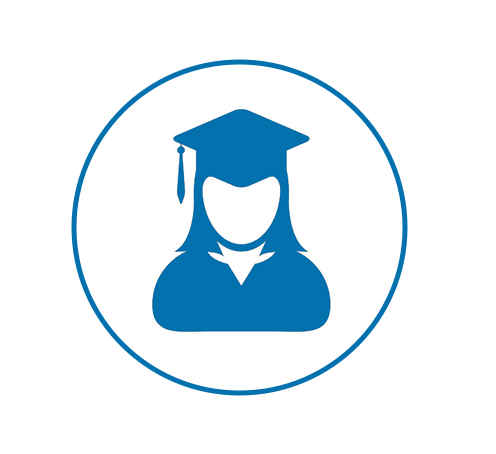 Available Sizes
Box-n-Go - XXL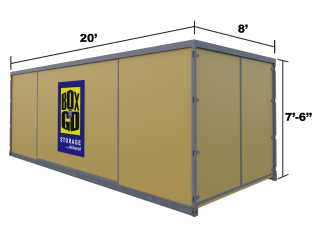 20' Container – all weather.
Perfect for 3-bedroom residence.
5-7 rooms, furniture, appliances, etc.
Learn More
Box-n-Go - XL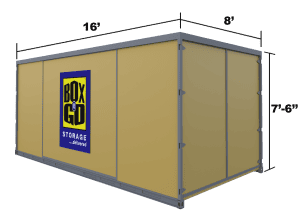 16' Container – all weather.
Perfect for 2-bedroom residence.
3-5 rooms, furniture, appliances, etc.
Learn More
Box-n-Go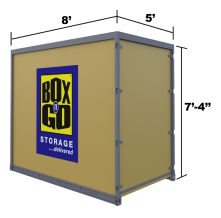 8' Container – all weather.
Modular – works for any need.
Each fits 1-1.5 rooms.
Learn More
I want to:
Are you a student?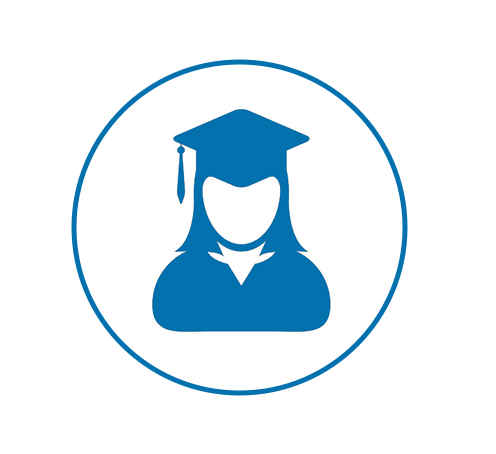 See How Our Services Can Work for You
Call or order online in minutes
We deliver storage to you
Pack at home, at your convinience
Store on your property or at indoor facility
Move locally or nationwide
I want to:
Are you a student?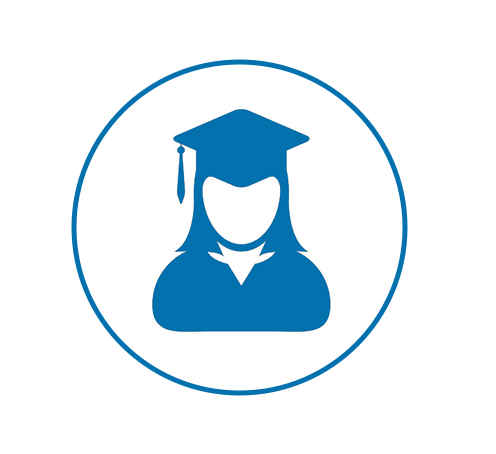 Our Services
Personal & Business Storage
Student Storage
Local & Nationwide Moving
Packing & Loading Help
Moving Boxes & Supplies
Do not see what you are looking for?
What Our Customers Think
I want to:
Are you a student?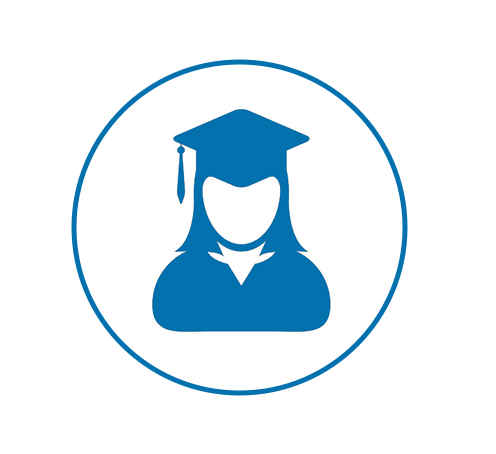 Why Box-n-Go? Here is Our Promise:
We are dedicated to deliver the best solution for almost any storage & moving need, with no gimmicks or hidden costs:
No truck to rent. We deliver storage to you!
Load/Unload only once.
Pay only for space you use.
Secure, climate-friendly facility.
Drive-up access
No Truck to rent…EVER!
Save money and time.
Reduce the risk of accidents and injuries.
No need to pay for gas, insurance & mileage!
Load ONCE Storage Solution!
You only need to load your belongings once!
No need to load and unload it all again into a storage unit.
All containers come with easy ground level access!
Pay Only for the Space You Use!


(if storing at our facility)
No not need to guess on how much space you actually need.
Order an extra 8' x 5' unit. Do not use it – do not pay for it.
Secure, Climate-Friendly Facility!
Highest degree of security and protection.
Our 8' x 5' units are breatheable – no mold or mildew.
No funky smell when your belongings return.
EASY Drive-Up Access!


(if storing at our facility)
Access your units at ground level.
No elevators, ramps, stairs to climb.
Schedule access appointment & drive straight to your units.
I want to:
Are you a student?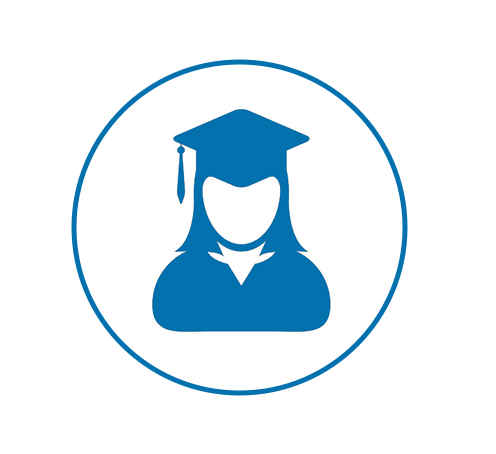 Self Storage Montebello CA 90640
There's no shortage of stories about how unsafe self storage Montebello CA facilities can be. However, for every "bad story," there are good stories about self storage. The problem is, when most people place their items in storage, they often choose the most affordable storage facility they find without doing their research. If you want to ensure that your items will be safe and secure while in storage, you have to search around. It's the best way to find the right Montebello storage facility for you.
How can you tell if your items are safe and secure in storage?
On site security
You worked very hard for your belongings, and you don't want anything to happen to them. We know that placing your belongings in a self-storage facility may seem like a foreign idea. Even so, it's likely that your best option is to rent storage units in Montebello for your belongings. When you are searching for storage facilities in Montebello, you want to make sure they have state-of-the-art security. For that, you need to ask a few questions to the provider of the storage facility. Important questions to ask include:
Do you have 24-hour security at your storage locker?
Do you have actual security guards or video monitoring at your storage warehouse?
How reliable are your security cameras and motion detectors at your storage facility?
Insurance
You are responsible for getting your own insurance in most cases. It will be in your best interest to ask your Montebello storage facility whether they offer any insurance policy for the safekeeping of your belongings. They might have insurance policies in place. You need to know who will be responsible if your items are damaged while in storage. Most storage locations in Montebello have content protection plans. You want to read the fine print to determine if it's worthwhile putting your items in storage. If they don't offer such options, then find some other self-storage facility that can provide you with it. Or you can get your own insurance.
Easy access
While easy storage access may not seem like it is important, it plays a vital role in choosing from all the self-storage facilities in the area. If you can access your items whenever you need to without any bottleneck, so can anyone else. Hence, you must keep a close eye on your belongings and monitor them when needed. By having daily or weekly access to your storage units, you can decrease the chances of your items being stolen or damaged.
Using storage units in Montebello, California
When you are looking for a new start after a divorce, moving forward is often hindered by past experiences. The "baggage" gathered in our previous lives does not help either. With the help of storage units, Montebello residents can successfully move on towards a better life. It does not matter what your age is, as long as you are open and available to change. All you have to do is to leave the baggage in the storage unit so that it remains safe yet not within your close proximity to remind you of the past. Using self storage may not be an obvious factor in the mix. But the local climate-controlled storage facilities provided by
Box-n-Go Storage
can help in a surprising number of ways. Take a trip. Traveling alone is a fantastic way of re-discovering the single life. When you have the courage and confidence of traveling alone as an independent traveler, you can only enhance your chances of surviving in the world that can be difficult for singles for sure. A storage unit is ideal to use for storing goods when you take an extended break.
Reserve storage units in Montebello CA
Do what you enjoyed doing before you got married. Many people put themselves aside for their partners and children. Over many years, they forget who they were. If you enjoy dancing, painting, riding a motorcycle, or skiing, you can resume that activity. If you do take any of this advice, storage units will make taking a trip or restarting a previous hobby a lot more straightforward and smoother. Mobile storage units make the process a lot easier after divorce. Box-n-Go delivers the units directly to your home. This means there is no lengthy commute to a remote storage facility. This will save you at least 50% of time, if you are packing and loading yourself. If you decide to hire movers, this will save you 50% of the moving cost! Less handling of your furniture will also save it from wear and tear.
Call Box-n-Go Self Storage–the place for simple storage solutions!
It's highly unlikely that your items will get damaged or stolen while they're inside your self-storage units in Montebello, CA. However, it's good to know that they have safety options in place to protect your items. If you are still skeptical about storing your items in self storage, call Box-n-Go. We can help you put your mind at ease. We will explain the entire moving and storage process. Whether you need to store a few small items or a few large items, we have you covered.
Call us today
and discover why many residents trust our storage units with their belongings. You can rent self-storage units today! Ask about our self-storage unit prices in Montebello. If you are looking for storage, call Box-n-Go self storage Montebello CA service. We have affordable, convenient, and secure self-storage solutions that match your needs.
Compare Box-n-Go to other Montebello storage facilities
When it comes to storage there are plenty of options. While we firmly believe we have the best deal for you, we always recommend for you to shop and compare. Check out the below facilities. See their units. Learn about their prices, polices, amenities. Should Box-n-Go's services not fit the bill for you, here is the list of some of the best local self-storage facilities that you should check out:
8551 Beverly Blvd – Public Storage Montebello CA
1012 S Maple Ave – Public Storage near 90640
SmartStop Self Storage – 404 Potrero Grande Dr
240 E Whittier Blvd – Public Storage Montebello CA
Handy Self Storage – 1500 Washington Blvd, Montebello, CA 90640
1985 Potrero Grande Dr – Public Storage near 90640
Make sure your Montebello storage unit doesn't have pests!
While it's a good idea for you to inspect your belongings, it's an even better idea to ensure your storage unit in Montebello doesn't have pests. After all, there are a wide variety of people placing and removing their stored items on a daily basis. Therefore, if you are apprehensive about using public storage places, here are some things you can do to ease your mind and protect yourself from pests:
Don't be afraid to ask your storage facility about their pest policy and how they handle bed bugs if they are present
Store your items in plastic and sealed containers to prevent bed bugs from entering
Inspect the storage space carefully to see if there are any bed bugs present
After removing your items from storage, clean everything thoroughly
Box-n-Go
provides self-storage units to the following ZIP Codes in Montebello, CA: 90640, 91755. Find a Montebello portable storage unit near you! Box-n-Go's convenient, low-cost storage services are also available in the following nearby cities:
Bell, CA
,
Bell Gardens, CA
,
Commerce, CA
,
Cudahy, CA
,
El Monte, CA
,
Huntington Park, CA
,
Lynwood, CA
,
Maywood, CA
,
Monterey Park, CA
,
Pico Rivera, CA
,
South Gate, CA
,
Vernon, CA
, and
Whittier, CA
, as well as other towns throughout
Los Angeles, CA
 and
Orange County, CA
.